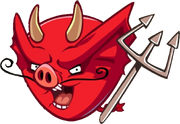 Beast Pig is an Angry Birds Friends boss pig who had appeared in the Underworld Tournament of the Iron Maiden Tournaments.
Appearance
Based on the Beast from Iron Maiden, he is just like Chef Pig, but red, with web-like ears, a pointy devil tail, red horns, light snout and sharp teeth. He often comes with a red trident.
Gameplay
In the game, he appeared in the tournament as a boss. He was hard-to-defeat like other boss pigs, but Terence or Bomb could defeat him easily, there was also runes that would launch a lightning bolt on him when all of them were activated. He had three injury states and when he was defeated his organs and eyes would fall.
Trivia
Wizpig from Angry Birds Epic in his demonic form: Demonic Wizpig, looks similar with Beast Pig. His only differences were that Demonic Wizpig has a dark cloud below him, a wizard's hat on his head, and his weapon is a hook.
v • e Pigs/Enemies
Game Introductions

Media Introductions

Others
v • e
Playable characters
• • ( • ) • () • • • • • () •
Non-playable characters
• • • • • Sonam Kapoor Bird • Matt Damon Bird • • • VIXX • • • • • • • • •
Enemies (Accessorized Pigs)
( • • • ) • • • • • • • • • • • • • • • • • • • • • • • • • • • • • • • • • • • • • • • • • • • • •
Materials and Objects
• • • • • • • • • • • • • •
Power-Ups
• • • • • • • • • • • • • •
Episodes

Other
Tournaments • Events • Star Cup • Bird-O-Matic • Ports (Mobile Port • Windows 10 Port) • Achievements • • • Angry Birds Shop • Gallery • Glitches • Unused Content • Version History • Angry Birds: Hatching a Universe