The Bird-O-Matic was a feature in Angry Birds Friends! for Facebook where you can pick a character to be your avatar and put accessories on them. these were removed in 2018 along with Story Mode.
the avatar creator was first implemented in Angry Birds Flash.
Gameplay
In the game, it used to be accessed by clicking the ''Avatar'' button, then the first character chosen is Red but other characters could be chosen or bought with Bird Coins. (formerly real money) The characters are these, the ones that are bought with coins doesn't have the ''free'' information: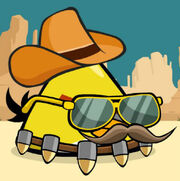 A background could be chosen, which could be one of those:
Easter Background
Wingman Tournament Background
Valentine's Day 2014 Tournament Background
Winter Tournament 2013 Tournament Background
Pig Tales Background
Pig Bang Moon Background
Hogs and Kisses Background
Surf and Turf Background
Season's Greedings Background
Ham'em High Backgound
Mighty Hoax Background
Poached Eggs Background
Bronze Wreath Background (100 Stars Required)
Silver Wreath Background (200 Stars Required)
Golden Wreath Background (300 Stars Required)
Diamond Background (400 Stars Required)
The player could customize their bird with accessories, which are for head, eye, beak and torso. It varies from tuxedos, hair to Zombie Pig pets. They cost coins. The player could modify his bird all him wants and after saving it, his avatar will be the bird with the accessories that will also appear on a tree in the starting screen and in the Story Mode menu.
Gallery
v • e
Protagonists
• • ( • • ) • () • • • • • () • • • • • • Sonam Kapoor Bird • Matt Damon Bird • • • VIXX • • • • • •
Antagonists (Accessorized Pigs)
( • • • ) • • • • • • • • • • • • • • • • • • • • • • • • • • • • • • • • • • • • • • • • • • •
Materials and Objects
• • • • • • • • • • •
Power-Ups
• • • • • • • • •

TNT Presents

• • • •
Episodes

Other
Tournaments • Events • Star Cup • Bird-O-Matic • Ports (

Mobile Port

• Windows 10 Port) • Achievements • • • Gallery (Textures & Sprites) • Glitches • Unused Content • Version History