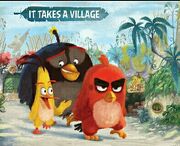 Bird Village (Or Bird Town)
is a village (town in
Angry Birds Evolution
) seen in the
Angry Birds
universe.
Overview
Many of the village's major landmarks, which are naturally crafted and constructed from plant-based materials (such as wood and straw), are linked by a major, arterial footpath. Various public services are offered at the village, which is bustling with activity on any given, typical day.
However, the Birds did not continue their simple, primitive way of life indefinitely. Years after the Battle of Pig City, the village's inhabitants have adopted modern technology. The village also expanded by that time and also utilized slingshots to form a rapid transit system that quickly propels Birds from one place to another.
On Angry Birds Evolution, Bird Village is called Bird Town and has a more modern building design, with buildings and roofed houses, even having internet, light and electricity poles.
Points of interest
On Main Street
The following landmarks, listed in approximate geographic order, are easily accessed from Main Street, as well as descriptions of these buildings.
Other
There are other buildings and locations in the village whose precise location is not known.
Police station: Bird Village's small police force is stationed here. Officer Bill Beakins is the only known member shown on-screen. Appears in a flashback when Matilda reads off accounts of Chuck's misbehavior.
Cafe: A casual dining place for birds, where coconut juice is a staple beverage. First appears in a flashback from accounts of Chuck's misbehavior.
Doctor's Office: The office of Dr. Wingstein.Appears during a scene where the said bird tests Red's reflexes and is unexpectedly knocked out by them.
School: The village is known to have a school for young birds to learn about the world around them. Appears in a flashback montage of Red's early life.
Mall: The village is known to have a mall for shopping, Angry Santa formerly worked there before he start gulping thousands of bacon juice cans and turned into a monster. Is mentioned in Angry Santa's bio on Angry Birds Evolution.
Behind the scenes
The film's concept art, as seen in The Art of The Angry Birds Movie, the The Angry Birds Movie official guidebook and a few other tie-in books, suggests that the following services and places were going to be in the village, but never made the final cut:
Bird bath fountain: A fountain where birds would bathe, either to clean themselves or to play in the water. A similar facility, functioning more like a swimming pool, appeared in the third short story of the comic book collection Angry Birds: Big Movie Eggstravaganza, titled "Life Guards".
Birdfeeder Restaurant: A restaurant where seeds and other plant-based food are served to birds, as an alternate to the meat from the Early Bird's worms.
Nap Bar: A place where Birds can go to take naps. It appeared on both first movie and in the sequel.
Gallery
Community content is available under
CC-BY-SA
unless otherwise noted.