Birdday 5 is a bonus (formerly the twelfth) episode of the original Angry Birds released on December 11, 2014. This episode consists of 30 levels created based on the fan-made levels in the Make the Next Level competition, and until the debut of Bird Island which relocated the levels into Birdday Party, it was recognized as the 30th theme.
Characteristics
[1]The episode is based on a #MaketheNextLevel competition, that calls the Angry Birds fans to create their own level with a theme that can be select from the competition, and from those levels, Rovio has fixed some levels and place blocks and pigs into the paintings and pictures, and 30 levels are created with some Golden Egg levels.
Each level is based on the levels that the fans have designed and the background is a blueprint with many drawings of the constructions there.
Rhinoceros appear in level 4 of Theme 30 and in 12 of Theme 31.
In recent updates, the episode has been moved to the Birdday episodes as Cake 5.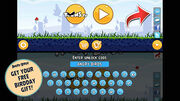 In its release, the player could use the code ANGRY-BIRDS in the Code section to get a reward. Before the update, players had to tap the episode as a present to open it.
Levels
Cake 5-2

Cake 5-4

Cake 5-5

Cake 5-6

Cake 5-7

Cake 5-8

Cake 5-9

Cake 5-10

Cake 5-11

Cake 5-12

Cake 5-13

Cake 5-14

Cake 5-15

Cake 5-16

Cake 5-17

Cake 5-18

Cake 5-19

Cake 5-20

Cake 5-21

Cake 5-22

Cake 5-23

Cake 5-24

Cake 5-25

Cake 5-26

Cake 5-27

Cake 5-28

Cake 5-29

Cake 5-30
Gallery
References
v • e Episodes
• • • • • • • • • • • • • *** • • • • • Power-Ups University*** • * • * • Happy New Year* • Christmas* • Pig Spring* • Earth* • Summer Beach* • * • *** •
• • • • • • • • • • • • • • • • • • • • • • • • Marie Hamtoinette • Summer Camp • Piggywood Studios • Hammier Things • Ragnahog • • • • ***
• • • Carnival Upheaval • Airfield Chase • Smugglers' Plane • Market Mayhem • Golden Beachball • Rocket Rumble • High Dive • Blossom River • Timber Tumble • Hidden Harbor • Treasure Hunt • Playground
• • • • • • • • • • •
*** • *** • *** • Pigini Beach*** • Pig Tales*** • *** • Green Day*** • Power-Up Practice*** • Piggy Tower
• • • • • • • • • • • • ***
• • • • • • • ( • • • )
• • • • • • • • • • ** • Free
Naboo Invasion

 ·

Escape to Tatooine

 ·

Battle of Naboo

 ·

Rise of the Clones

 ·

Revenge of the Pork

 ·

Rebels

 ·

Reward Chapter

 ·

Master Your Destiny
• • • • • *** •

 ·

Sandy Beach

 ·

Rocky Climb

 ·

Snowy Slopes

 ·

Party Peak

 ·

Maliboo Beach

 ·

Creepy Climb

 ·

Slimy Slope

 ·

Terror Peak

• • Party Crashers • Bacon Beach • Bamboom Forest • Wrecks & The City • Pigs In A Banquet • Frenemies • Enter The Volcano • The Frozen Heart • Off The Menu • Pie Hard • Daft Piggies • Birdnapped • Finding Zeta • Midsummer Mayham • Piglantis
Ancient Ruins • Crystal Clouds • Starry Desert • Sleepy Meadows • Sacred Springs • Rocky Canyons • Coming Soon! • Gaia's Challenge
Other

 ·

*

 ·

*

 ·

North America

 ·

South America

 ·

Europe

 ·

Middle East

 ·

Asia

 ·

• Chapters (AB Evolution) • Chapters (AB Match) • Classic Mode
Key

* - Only in the Chinese version, ** - Unused, *** - Removed
(view: v)
Main article | Gallery | Beta elements | Credits | Glitches | Version history | Achievements | Re-releases (Lite, Lite Beta, Free, HD Free, Free with Magic, HD, PSP, Roku, Free with Magic, Trilogy, Samsung Smart TV, Kakao, China, Hatch, Time Travel, Tencent QQ, Talkweb, Rovio Classics)
Playable characters
Angry Birds (Bomb (Shockwave), Bubbles, Chuck, Hal, Matilda, Red (Mighty Feathers Red), Stella, Terence, The Blues) | Minion Pig | Small Pig | Jetpack Pig | Bomb Pig | Bowling Ball Pig | Beaked Pig | Fat Pig | Balloon Pig | Female Pig
Non-playable characters
Mechanic Pig | Mighty Eagle | Ross | Rhinoceros
Enemies
Corporal Pig | Egg | Foreman Pig | King Pig | Leonard | Minion Pigs
Episodes
Normal
Tutorial | Poached Eggs | Mighty Hoax | Danger Above | The Big Setup | Ham 'Em High | Mine and Dine | Surf and Turf | Bad Piggies | Red's Mighty Feathers | Short Fuse | Flock Favorites | Bird Island | Piggy Farm | Jurassic Pork | Birdday Party (Birdday 5) | Golden Eggs | Bonus Levels*** | Magic**
New World*
Happy New Year | Naughty Christmas | Lunar New Year of the Golden Pig | Wandering Planet | Summer: Back to the Beach
Classic World*
Year of the Goat | Moon Fest
Other
Power-up University | Mighty Eagle University
Items
Coins | Egg | Gems | Golden Egg | Power-up (Birdquake, King Sling, Power Potion, Score Doubler*, Shockwave, Sling Scope,

TNT Shield

) | Sardine | Slingshot | Lives****
Gimmicks and obstacles
Balloon | Beach ball | Cake | Cardboard cutout | Dice | Gift | Glass | Greek pillar | Potion | Stone | TNT | Treasure chest | Water* | Wood
Modes
Daily Challenge (Angry Birds Time Travel**) | Golden King Pig | The Mighty League
Music
Albums
Angry Birds (Original Game Soundtrack)
Tracks
"Angry Birds Theme"
Other
"Angry Birds Cinematic Trailer" | "Angry Birds & the Mighty Eagle" | "Angry Birds Bing Video" | "Bomb Bird: Short Fuse" | Box2D |

Destruction gauge

| Earth (Bird Island (Bird Island Beach, Eagle Mountain), Piggy Island) | Level Failed | Piggy kingdom | Rovio Account | Angry Birds: Hatching a Universe | Winnable Objects
*Appears in the Chinese version only
**Appears in Angry Birds Time Travel only
***Appears in Angry Birds Trilogy only
****Appears in Angry Birds for Kakao only
Birdday 5 (Cake 5) Levels
Page 1
Page 2

Cake 5-16

 ·

Cake 5-17

 ·

Cake 5-18

 ·

Cake 5-19

 ·

Cake 5-20

 ·

Cake 5-21

 ·

Cake 5-22

 ·

Cake 5-23

 ·

Cake 5-24

 ·

Cake 5-25

 ·

Cake 5-26

 ·

Cake 5-27

 ·

Cake 5-28

 ·

Cake 5-29

 ·

Cake 5-30