Birdday Party 18-15 (or Birdday Party Cake 2 Level 15) is the final level of Birdday Party. There is a secret colorful cake next to the left of the bottom-left TNT along with three balls. Collect it and you'll get the hidden "Cakemonger" achievement which grants you 10 Game Center points. Click on this link for tutorials to get that cake.
Strategy
Fire the Yellow bird horizontally, just below the stone blocks on the far left. Be sure the wooden arm breaks. Next, loft the Orange bird as far as possible so its expansion destroys the right side of the level. Finally, drop the bomb of the White bird just right of, but as close as possible to, the tower on the left side.
Video Walkthrough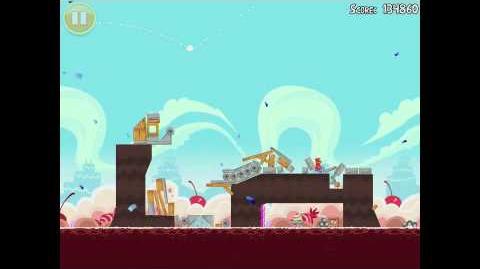 Trivia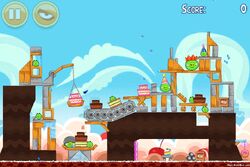 In the old version, after you completed the level, the cutscene has shown that King Pig has been defeated but there were no King Pig in the level. Some people think that the Large Pig wearing a crown was King Pig, but it was not.
Community content is available under
CC-BY-SA
unless otherwise noted.