Template:Theme InfoboxBirdday Party 19-13 (or Birdday Party Cake 3 Level 13) is the thirteenth level of Cake 3 in Birdday Party.
Strategy
Loft a Yellow bird nearly straight up, speeding through the two hanging pigs and into the base of the rightmost tower. Try to clean as much debris as possible on the right side of the second tower (counting from left to right) and open the way for that second tower too fall down there. Then, loft the Pink bird, landing her between the two peaks of the left structure. Trigger the bubbles about half way down the structures, clearing the level. Try to get as lowest as you can to the horizontal wooden block. If needed, you have some room to spare with the 3-star score.
Video Walkthrough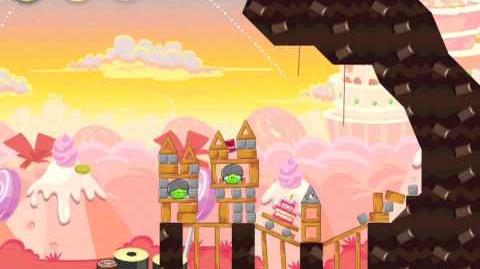 Community content is available under
CC-BY-SA
unless otherwise noted.