Template:Theme Infobox Birdday Party 19-2 (or Birdday Party Cake 3 Level 2) is the second level in the third cake of Birdday Party.
Strategy
Toss the Pink bird through the two balloons on the left side. She should settle atop the large pig in the middle of the structure, clearing most of the structure with mighty bubbles. If needed, use one more Pink bird to clear any pesky pigs. Try to be at the middle of the level when she starts to blow the bubbles and destroy as much as you can because destroying the middle is even more important than popping all pigs. The most important thing is the brown TNT box at the far-right. This TNT must be exploded by the fall of the structure and the explosion must clear all of the structure. If you need help, please visit AngryBirdsNest for detail strategies to beat this level.
Video Walkthrough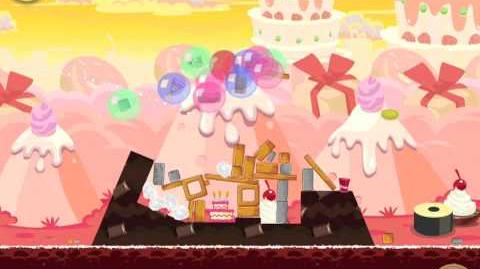 Community content is available under
CC-BY-SA
unless otherwise noted.