Birdday Party Cake 3-7
Episode
Level Number
310
Birds Sequence
No. of Pigs
x3 x4
x2
3-Star Score
: 114,000 points
Blocks
Unknown
Other features
Unknown

Previous

Next

Birdday Party 19-6
Birdday Party 19-8
Birdday Party 19-7 (or Birdday Party Cake 3 Level 7) is the seventh level of Cake 3 in Birdday Party.
Strategy
Toss the first Black bird into the top structure, blasting it off its perch. Loft the next bird nearly straight up, landing it on the ice blocks in the middle of the level and toppling towers nearby. Send one more bird into the rightmost tower to finish the level. There are a lot of other strategies that rewards you 145k+ score but the most important thing to get high scores is to be lucky, so if you fail with the high scores, just try again.
Video Walkthrough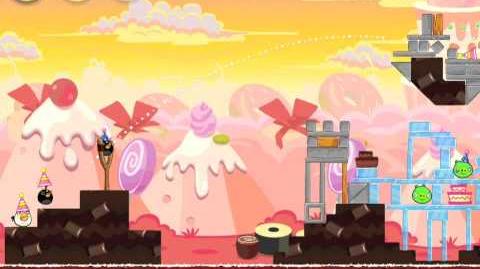 Template:BirddayPartyNav