Birdday Party Cake 4 Level 12
Episode
Level Number
330
Birds Sequence
No. of Pigs
: x9 : x3
3-star Score
: 125,000 points
Previous
Next
Cake 4 Level 11
Cake 4 Level 13
Birdday Party Cake 4 Level 12 is the twelfth level of Cake 4 in Birdday Party.
Strategy
Arc a Black bird through the stone floor of the ship. It should destroy nearly everything in the middle of the level. If you're very lucky, this will also explode the TNT which is "underwater" at the bottom-left side. Sometimes, debris will fly to the right tower and finish it off with one bird. But if not, finish off by bombing the right tower with the White bird. It'll be better if you aim the White bird high and arc her, bomb the "underwater" TNT and if your shot is correct, she'll ricochet into the right tower and make it fall. You can earn a lot of points with the "water" which is made by ice blocks. It's even better when you send the third White bird and bomb the remaining blocks.
Video Walkthrough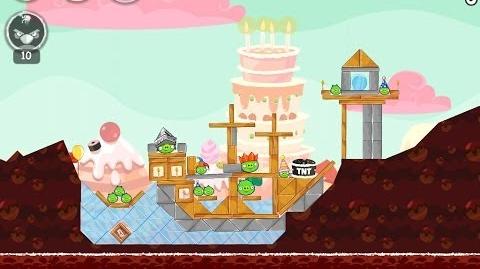 Community content is available under
CC-BY-SA
unless otherwise noted.