For the application set amongst them, see Angry Birds (game).
 For some information on the birds from Space, see Space Flock.
 For the group of the birds, see The Flock.
Birds are a species of mammals that appears in the Angry Birds series. They are the protagonists of the Angry Birds series and come in varieties of different species and sizes. Their main goal is to retrieve the eggs that the Bad Piggies have stolen. Ever since they were first stolen, they have tried numerous attempts to get them back; even defeating pigs. They hurl themselves using the slingshot at the various fortresses the pigs made. It is a breed of several different colored birds that can be either anthropomorphical or round in appearance. Most birds live on planet earth, though, in the past, they also lived in another galaxy.
There are 9 playable birds in the original Angry Birds, 9 in Seasons, 10 in Rio, 7 playable birds and 1 egg in Space, 7 birds from Angry Birds Star Wars and 1 egg, 10 playable birds and 1 playable pig (Leonard) from Angry Birds 2, & 10 playable birds and 3 playable pigs (Leonard, Courtney and Garry) from Angry Birds Reloaded. When a level is completed with unused birds, the player is awarded 10,000 points for each unused bird, regardless of type. This increases the chance of getting 3 stars in a level.
The birds formerly lived on Bird Island but then moved to Piggy Island for unknown reasons.
All the grown birds have three or more feathers as a tail, while younger birds only have two.
Known Species
There are twenty known different species of birds, one dragon, plus several birds from other apps. Below is a list of all the birds that were included in the series:
Pigs In The Flock
The Mighty Creatures
Unplayable Birds
Birds from Other Apps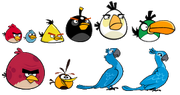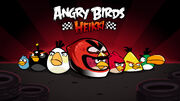 The Angry Birds Movie
Utilities and Power-Ups
Unlike the Pigs, there are eleven known utilities used by the Birds:
Special Powers
If the screen is touched or clicked while a bird is moving, it will activate a special power or an unusual noise. This is unavailable if the bird has become a corpse except for Bomb, Terence, Bubbles, their Space versions, Stella, Cheetos, Space Egg, and the Ice Bird, but Blu uses his power as soon as he hits an object. Mighty Creatures can be bought and once their item is launched they fly after it attacking the level.
Special Powers from the Original App
These birds are the Flock and the Mighty Eagle, their friend and ally, and they all have appeared in the first three apps (the Original, Seasons, and Rio) and most have appeared (in a new form) in Angry Birds Space (except Matilda, Hal, and Mighty Eagle) and in Angry Birds online games like Angry Birds Friends.
Special Powers from Other Apps
From Angry Birds Seasons
From AB Rio
From AB Space
From Angry Birds Star Wars
From AB Cheetos
From AB Philadelphia Eagle
From Angry Birds 2
From Angry Birds Reloaded
Gallery
Toy Care Cards
In-game tutorials
Others
Trivia
References
v • e Birds and Allies
Game Introductions

Classic

Seasons

Rio

Friends

Space

Star Wars

Star Wars II

Go!

Epic

Stella

Transformers

POP!

AB2

Evolution

Red Birds

Yellow Birds

White Birds

Black Birds

Blue Birds

Bird Island

Custom Birds

•

Journey

Web Games

Media Introductions

Other

• • • • • Obama Bird