(48 intermediate revisions by one other user not shown)
Line 3:
Line 3:
 

:''[[Rio Characters]].''

 

:''[[Rio Characters]].''

 

:''For some information on characters from [[Angry Birds Space|Space]], see [[Space Characters]].''

 

:''For some information on characters from [[Angry Birds Space|Space]], see [[Space Characters]].''

−

:''For the non-canon characters created by Rovio, see [[Joke Birds]].''

 
 

:''For the group involved in the [[Great Egg War]], see [[The Flock]].''

 

:''For the group involved in the [[Great Egg War]], see [[The Flock]].''

 
 
 
 
 

[[File:Flock_by_size.png|thumb|370px|The original flock from [[Angry Birds Classic|Angry Birds]], sorted by size. [[Mighty Eagle|''Mighty Eagle'']]'' and [[Silver]] are not included.''

 

[[File:Flock_by_size.png|thumb|370px|The original flock from [[Angry Birds Classic|Angry Birds]], sorted by size. [[Mighty Eagle|''Mighty Eagle'']]'' and [[Silver]] are not included.''

 
+

'''Note:'''Bubbles's size is inaccurate, he is bigger than The Blues.

 

]]

 

]]

 
+

[[File:The Flock Toons.png|thumb|200px|''The flock in toons form with [[Silver]] from [[Angry Birds 2]]. [[Mighty Eagle]] is not included.]]

 
 
 
 
 
⚫

'''Birds''' are the protagonists of the [[Angry Birds (series)|Angry Birds series]], and come in varieties of different species and sizes. Their main goal is to retrieve the [[eggs]] that their enemies, the [[Bad Piggies]], have stolen. Ever since they were first stolen, they have tried numerous attempts to get them back; even pigs. They hurl themselves using a [[Slingshot]] at the various buildings and fortresses the Pigs made. There are 9 playable birds in [[Angry Birds Classic]], 9 in [[Angry Birds Seasons|Seasons]], 10 in [[Angry Birds Rio|Rio]], 7 playable birds and 1 [[Egg (space)|egg in]] [[Angry Birds Space|Space]], & 7 birds from [[Angry Birds Star Wars]] and 1 egg. When a level is completed with unused birds, the player is awarded with 10,000 points for each unused bird, regardless of type. This increases the chance of getting 3 [[stars]] in a level. Both Bird Island and Piggy Island are based on islands in the Pacific Ocean.<ref>http://www.wired.co.uk/magazine/archive/2011/04/features/how-rovio-made-angry-birds-a-winner</ref>

−
 
−
 
⚫

'''Birds''' are the protagonists of the [[Angry Birds (series)|Angry Birds series]], and come in varieties of different species and sizes. Their main goal is to retrieve the [[eggs]] that their enemies, the [[Bad Piggies]], have stolen. Ever since they were first stolen, they have tried numerous attempts to get them back; even

killing

pigs. They hurl themselves using a [[Slingshot]] at the various buildings and fortresses the Pigs made. There are 9 playable birds in [[Angry Birds Classic]], 9 in [[Angry Birds Seasons|Seasons]], 10 in [[Angry Birds Rio|Rio]], 7 playable birds and 1 [[Egg (space)|egg in]] [[Angry Birds Space|Space]], & 7 birds from [[Angry Birds Star Wars]] and 1 egg

, plus 5 [[Mighty Creatures]]

. When a level is completed with unused birds, the player is awarded with 10,000 points for each unused bird, regardless of type. This increases the chance of getting 3 [[stars]] in a level. Both Bird Island and Piggy Island are based on islands in the Pacific Ocean.<ref>http://www.wired.co.uk/magazine/archive/2011/04/features/how-rovio-made-angry-birds-a-winner</ref>

 
 
 
 

==Known Species==

 

==Known Species==

 

[[File:Assortment-all-bunch_small_1.jpg|thumb|From left bottom: Jay, Red, Hal, Matilda, Bomb, and Chuck]]

 

[[File:Assortment-all-bunch_small_1.jpg|thumb|From left bottom: Jay, Red, Hal, Matilda, Bomb, and Chuck]]

 

There are twenty known different species of birds, one dragon, plus several birds from other apps. Below is a list of all the birds that were included in the series:

 

There are twenty known different species of birds, one dragon, plus several birds from other apps. Below is a list of all the birds that were included in the series:

−

===The Flock===

+

===The Flock===

 

*'''[[Red Bird]] - [[Red]]'''

 

*'''[[Red Bird]] - [[Red]]'''

−

*'''[[Blue Birds|<font color=blue>Blue Birds</font>]] or [[The Blues]] - [[Jay, Jake, and Jim|<font color=blue>Jay, Jake, and Jim</font>]]'''

+

*'''[[ |Blue Birds]] or [[The Blues]] - [[ |Jay, Jake, and Jim]]'''

 

*'''[[Yellow Bird]] - [[Chuck]]'''

 

*'''[[Yellow Bird]] - [[Chuck]]'''

 

*'''[[Black Bird]] or [[Bomb Bird|<font color=black>Bomb Bird</font>]] - [[Bomb]]'''

 

*'''[[Black Bird]] or [[Bomb Bird|<font color=black>Bomb Bird</font>]] - [[Bomb]]'''

 

*'''[[White Bird]] - [[Matilda]]'''

 

*'''[[White Bird]] - [[Matilda]]'''

 

*'''[[Green Bird|<font color=green>Green Bird</font>]] or [[Boomerang Bird]] - [[Hal]]'''

 

*'''[[Green Bird|<font color=green>Green Bird</font>]] or [[Boomerang Bird]] - [[Hal]]'''

−

*'''[[Big Brother Bird]] or [[Big Red Bird|<font color=maroon>Big Red Bird</font>]] - [[Terence]]'''

+

*'''[[Big Brother Bird]] or [[|Big Red Bird]] - [[Terence]]'''

 

*'''[[Orange Bird]] - [[Bubbles]]'''

 

*'''[[Orange Bird]] - [[Bubbles]]'''

 

*'''[[Pink Bird]] - [[Stella]]'''

 

*'''[[Pink Bird]] - [[Stella]]'''

−

*'''[[Seasons Characters#Tony|Blue Terence]] or [[Seasons Characters#Tony|Big Blue Bird]] or Big Blue Brother bird - [[Seasons Characters#Tony|Tony]]'''

+

*'''[[Seasons Characters#Tony|Blue Terence]] or [[Seasons Characters#Tony|Big Blue Bird]] or Big Blue Brother bird - [[Seasons Characters#Tony|Tony]]'''

−

*'''[[Silver|Grey Bird]] or [[Silver|Silver Bird]] - [[Silver]]'''

+

*'''[[Silver|Grey Bird]] or [[Silver|Silver Bird]] -[[Silver]]'''

 
+

*[[Ice Bird|I'''ce''']]''' [[Ice Bird|Cube]] [[Ice Bird|Bird]] or [[Ice Bird|Blue]] [[Ice Bird|Bird]] - [[Ice Bird]]'''

−

====Space Flock====

+

====Space Flock====

 
+

*'''[[Space Characters/Birds#Super Red Bird|Super Red Bird]]'''

 
+

*'''[[Space Characters/Birds#The Lightning Birds|Lightning Birds]]'''

 
+

*'''[[Space Characters/Birds#Lazer Bird|Lazer Bird]]'''

 
+

*'''[[Space Characters/Birds#Firebomb Bird|Firebomb Bird]]'''

 
+

*'''[[Space Characters/Birds#The Incredible Terence|The Incredible Terence]]'''

 
+

*'''[[Space Characters/Birds#Atomic Bird|Atomic Bird]]'''

 
+

*'''[[Space Characters/Birds#Space Egg|Space Egg]]'''

 

*'''[[Ice Bird]] - Name Unknown '''

 

*'''[[Ice Bird]] - Name Unknown '''

−

====Stella's Flock====

+

====Stella's Flock====

 

*'''[[Poppy|<font color="#fef292">Poppy</font>]]'''

 

*'''[[Poppy|<font color="#fef292">Poppy</font>]]'''

 

*'''[[Luca|<font color="#aad8f2">Luca</font>]]'''

 

*'''[[Luca|<font color="#aad8f2">Luca</font>]]'''

Line 39:
Line 46:
 

*'''[[Gale|<font color="#865ea3">Gale</font>]]''' (Former)

 

*'''[[Gale|<font color="#865ea3">Gale</font>]]''' (Former)

 
 
−

===The Mighty Creatures===

+

===The Mighty Creatures===

 

*[[Mighty Eagle]] - (''needs to be bought for $0.99, only once)''

 

*[[Mighty Eagle]] - (''needs to be bought for $0.99, only once)''

 

*[[Mighty Dragon]] - (''exclusive in the [[Year of the Dragon]] episode of [[Angry Birds Seasons]])''

 

*[[Mighty Dragon]] - (''exclusive in the [[Year of the Dragon]] episode of [[Angry Birds Seasons]])''

 

*[[Mighty Philadelphia Eagle]] - ''(exclusive in [[Angry Birds Philadelphia Eagles]], non-canon)''

 

*[[Mighty Philadelphia Eagle]] - ''(exclusive in [[Angry Birds Philadelphia Eagles]], non-canon)''

 

*[[Space Characters#Space Eagle|Space Eagle]] - ''(exclusive in [[Angry Birds Space]])''

 

*[[Space Characters#Space Eagle|Space Eagle]] - ''(exclusive in [[Angry Birds Space]])''

 
+

*[[Mighty Basketball|Mighty Spalding Ball]]  (''exclusive in [[Angry Birds Seasons]] )''

 

<gallery>

 

<gallery>

 

MightyEagle1.png|The Mighty Eagle, which needs to be bought once for $0.99

 

MightyEagle1.png|The Mighty Eagle, which needs to be bought once for $0.99

 

Mightydragon.png|The Mighty Dragon, from [[Year of the Dragon]] in [[Angry Birds Seasons]]

 

Mightydragon.png|The Mighty Dragon, from [[Year of the Dragon]] in [[Angry Birds Seasons]]

 

Mighty Philadelphia Eagle.jpg|The Mighty Philadelphia Eagle (from Angry Birds Philadelphia Eagles)

 

Mighty Philadelphia Eagle.jpg|The Mighty Philadelphia Eagle (from Angry Birds Philadelphia Eagles)

 
+

Spaceeagle1.png|Space Eagle.

 

</gallery>

 

</gallery>

 
 
Line 66:
Line 75:
 

*[[Striped Bird]] (baby) - ''(exclusive in the [[Easter Eggs]] episode of [[Angry Birds Seasons]])''

 

*[[Striped Bird]] (baby) - ''(exclusive in the [[Easter Eggs]] episode of [[Angry Birds Seasons]])''

 

*[[Rio Characters|Rafael]] - ''(exclusive, [[Angry Birds Rio]])''

 

*[[Rio Characters|Rafael]] - ''(exclusive, [[Angry Birds Rio]])''

 
+

*''[[Nico and Pedro]] (only in an [[Angry Birds Rio]] plush.)''

 

<gallery orientation="none">

 

<gallery orientation="none">

 

PoachedEggs.png|Pigs stole the three eggs.

 

PoachedEggs.png|Pigs stole the three eggs.

Line 125:
Line 135:
 

*[[Hal]] (Kendo Master)

 

*[[Hal]] (Kendo Master)

 

*[[Terence]] (Sumo Wrestler)

 

*[[Terence]] (Sumo Wrestler)

 
+

*[[Bubbles]] (Japanese Emperor)

 
 
 

====[[Angry Birds Heikki]]====

 

====[[Angry Birds Heikki]]====

Line 141:
Line 152:
 

*[[Red]] with St. Patrick hat

 

*[[Red]] with St. Patrick hat

 
 
−

==Angry Birds Movie==

+

==Angry Birds Movie==

 

* [[Judge Peckinpah]]

 

* [[Judge Peckinpah]]

 

* [[Cyrus]]

 

* [[Cyrus]]

 

* [[Mime]]

 

* [[Mime]]

 

* [[Hatchlings]]

 

* [[Hatchlings]]

 
+

* [[Monica]]

 
+

* [[Phillip|Philli]][[Phillip|p]]

 
+

* [[Early Bird]]

 
+
 
+

*[[Greg Blue]]

 
+

*[[Olive Blue]]

 
+

*[[Betty]]

 
+

*[[Yoga Instructor]]

 
+

*[[Alex]]

 
+

*[[Dr. Wingstein]]

 
+

*[[Daycare Teacher]]

 
+

*[[Edward]]

 
+

*[[Eva]]

 
+

*[[Timothy]]

 
+

**[[Dylan]]

 
 
 

==Utilities and Power-Ups==

 

==Utilities and Power-Ups==

Line 153:
Line 179:
 

*[[Slingshot]] (Up-gradable to [[Angry Birds Facebook#Power-Ups|King Sling]] in [[Angry Birds Friends]] and Angry Birds iOS and Android only)

 

*[[Slingshot]] (Up-gradable to [[Angry Birds Facebook#Power-Ups|King Sling]] in [[Angry Birds Friends]] and Angry Birds iOS and Android only)

 

*[[Star Wars Characters|Mighty Millenium Falcon]]

 

*[[Star Wars Characters|Mighty Millenium Falcon]]

−

*[[Sardines]] (Summons the [[Mighty Eagle]])

+

*[[Sardines]] (Summons [[Mighty Eagle]])

 

*[[Red Koi Fish|Koi Fish]] (Summons the [[Mighty Dragon]], but only appears in the episode [[Year of the Dragon]])

 

*[[Red Koi Fish|Koi Fish]] (Summons the [[Mighty Dragon]], but only appears in the episode [[Year of the Dragon]])

 

*Cheetos bag (Explodes, but if the screen is tapped it will release more explosive cheetos. Appears in [[Angry Birds Cheetos|AB Cheetos]])

 

*Cheetos bag (Explodes, but if the screen is tapped it will release more explosive cheetos. Appears in [[Angry Birds Cheetos|AB Cheetos]])

 

*[[American Football]] (Summons [[Mighty Philadelphia Eagle]], appears in [[Angry Birds Philadelphia Eagles|AB Philadelphia Eagles]])

 

*[[American Football]] (Summons [[Mighty Philadelphia Eagle]], appears in [[Angry Birds Philadelphia Eagles|AB Philadelphia Eagles]])

 

*Stella's bubble wand

 

*Stella's bubble wand

−

*Power Potion/Super Seeds (Power-Up)

+

*Power Potion/Super Seeds ()

−

*King Sling (Power-Up)

+

*King Sling ()

−

*Sling Scope (Power-Up)

+

*Sling Scope ()

 
+

*Birdquake (Causes an earthquake to happen, which shakes the pigs' structures)

−

*Birdquake (Power-Up)

 
 
+

*Boombox (A TNT Box that can be launched and then parachuted at the pigs' structures)

−

*Boombox (Power-Up)

 
 
+

*Mushbloom (Makes Large Mushrooms grow from the ground)

−

*Pumpkin Drop (Limited Power-Up)

 
 
+

*TNT Drop (Calls Iron TNT Box in parachutes that fall in the structures and unwrap the iron, making it normal TNT)

⚫
 
 
+

*Pumpkin Drop (Calls Hard and Strong Pumpkins from the sky, which fall into the pigs' structures)

−

*Thermel Destanator

 
 
⚫
−

*Blaster Droid

 
 
+

*Thermel Destanator (Falls from a bird when it actives its ability or when it is injured, then turns active and explodes)

−

*Energy TNT

 
 
+

*Blaster Droid (Connects to a bird and shoots lazers until the bird hits a structure)

−

*Homing Bird

 
 
+

*Energy TNT (Drops from nowhere and turns active, being free to explode and more destructive than TNT)

−

*TNT Drop

 
 
+

*Homing Bird (Red with an antenna replaces a bird and then home attacks a pig when in range)

−

*Samba Burst

 
 
+

*TNT Drop (Calls Iron TNT Box in parachutes that fall in the structures and unwrap the iron, making it normal TNT, on this case, it's on Angry Birds Rio)

 
+

*Samba Burst (Red with a fruit hat replaces a bird and then shakes when he hits a structure)

 

<gallery>

 

<gallery>

−

All slingshot.png|Angry Birds and the Slingshot (minus the [[Stella|Pink Bird]])

+

All slingshot.png|Angry Birds and the Slingshot

 

Mighty Falcon .jpg|Mighty Millenium Falcon's Highscore

 

Mighty Falcon .jpg|Mighty Millenium Falcon's Highscore

 

MightyFalconshortsides.png|The Mighty Millennium Falcon

 

MightyFalconshortsides.png|The Mighty Millennium Falcon

Line 186:
Line 214:
 
 
 

==Special Powers==

 

==Special Powers==

−

If the screen is touched or clicked while a bird is moving, it will activate a special power or a unusual noise. This is unavailable if the bird has become a corpse except for [[Bomb]], [[Terence]], [[Bubbles, their Space versions, Stella, Cheetos, Space Egg, and the Ice Bird, but Blu uses his power as soon as he hits an object. Mighty Creatures can be bought and once their item is launched they fly after it attacking the level.

+

If the screen is touched or clicked while a bird is moving, it will activate a special power or a unusual noise. This is unavailable if the bird has become a corpse except for [[Bomb]], [[Terence]], [[Bubbles, their Space versions, Stella, Cheetos, Space Egg, and the Ice Bird, but Blu uses his power as soon as he hits an object. Mighty Creatures can be bought and once their item is launched they fly after it attacking the level.

 

===Special Powers from the Original App===

 

===Special Powers from the Original App===

 

These birds are the Flock and the Mighty Eagle, their friend and ally, and they all have appeared in the first three apps (the Original, Seasons, and Rio) and most have appeared (in a new form) in AB Space (except White, Boomerang, and the Mighty Eagle) and in AB online games like AB Friends (except Orange).

 

These birds are the Flock and the Mighty Eagle, their friend and ally, and they all have appeared in the first three apps (the Original, Seasons, and Rio) and most have appeared (in a new form) in AB Space (except White, Boomerang, and the Mighty Eagle) and in AB online games like AB Friends (except Orange).

Line 205:
Line 233:
 

*[http://angrybirds.wikia.com/wiki/Mighty_Dragon Mighty Dragon] - descends in a staircase like form, loops around, and darts back up, popping all piggies and destroying obstacles in his way, similar to Mighty Eagle. (summoned by using the [[Red Koi Fish]]) ([[Year of the Dragon]] only)

 

*[http://angrybirds.wikia.com/wiki/Mighty_Dragon Mighty Dragon] - descends in a staircase like form, loops around, and darts back up, popping all piggies and destroying obstacles in his way, similar to Mighty Eagle. (summoned by using the [[Red Koi Fish]]) ([[Year of the Dragon]] only)

 

*[[Mighty Basketball]] - Like the Mighty Eagle, but falls on the level then bounces again. ([[Ham Dunk]] only, summoned using an unknown white object)

 

*[[Mighty Basketball]] - Like the Mighty Eagle, but falls on the level then bounces again. ([[Ham Dunk]] only, summoned using an unknown white object)

 
+

*[[Seasons Characters#Tony|Tony]] - Goes down vertically and creates a shockwave when contacts with a block.

 
 
 

====From AB Rio====

 

====From AB Rio====

Line 238:
Line 267:
 

*[[Mighty Philadelphia Eagle]] - Same as Mighty Eagle, but after a few seconds after it hits the ground the game goes in slow motion for a few seconds and flashes, then back to normal. (Summoned using [[American Football|football]] .)

 

*[[Mighty Philadelphia Eagle]] - Same as Mighty Eagle, but after a few seconds after it hits the ground the game goes in slow motion for a few seconds and flashes, then back to normal. (Summoned using [[American Football|football]] .)

 

====From Angry Birds 2====

 

====From Angry Birds 2====

−

*<span style="font-size:14px;font-weight:normal;line-height:14px;"><span style="font-weight:normal;"><span style="color:red;">Red</span></span> </span>- When you tap the screen, His battle cry will release an aura of his anger.

+

* - When you tap the screen, battle cry will release an aura of his anger.

 
+

*[[Silver]] - Does a 360 degree loop and goes down, if she comes in contact with a stone block, she creates an earthquake.

 
 
 

==Gallery==

 

==Gallery==

Line 257:
Line 287:
 
 
 

==Trivia==

 

==Trivia==

−

*They are 24 confirmed blue birds including their counterparts in other games (The Blues, [[Olive]] and [[Greg]], Blu, Jewel, the [[Mighty Philadelphia Eagle]], [[Ice Bird]], [[Luca]], [[Willow]], [[Seasons Characters|Tony]], Serdar Soganci Bird, [[Shirley]], [[Phillip]], The Lightning Birds, The Wedge Antilles Birds and the Jedi Youngling Birds).

+

*They are 24 confirmed blue birds including their counterparts in other games (The Blues, [[Olive]] and [[Greg]], Blu, Jewel, the [[Mighty Philadelphia Eagle]], [[Ice Bird]], [[Luca]], [[Willow]], [[Seasons Characters|Tony]], Serdar Soganci Bird, [[Shirley]], [[Phillip]], The Lightning Birds, The Wedge Antilles Birds and the Jedi Youngling Birds).

 

*An artist named [[Sam Spratt]] painted realistic pictures of the birds.

 

*An artist named [[Sam Spratt]] painted realistic pictures of the birds.

−

*For an update, Bomb has a new voice

+

*For an update, Bomb has a new voice

 
+

*The birds are seem to be kind with other species (Except for piggies), because they save and help animals in the games and cartoons.

 
 
 

==References==

 

==References==

−

<references />[[es:Pájaros]]

+

<references />

 
+

{{Birds}}

 
+
 
+

[[es:Pájaros]]

 
+

[[ko:새]]

 

[[pl:Ptaki]]

 

[[pl:Ptaki]]

 

[[pt-br:Pássaros]]

 

[[pt-br:Pássaros]]

 

[[ru:Птицы]]

 

[[ru:Птицы]]

 

[[uk:Птахи]]

 

[[uk:Птахи]]

 
+

[[Category:Mighty Creatures| Mighty Creatures]]

 

[[Category:Birds]]

 

[[Category:Birds]]

 

[[Category:Angry Birds]]

 

[[Category:Angry Birds]]

 

[[Category:Angry Birds Characters]]

 

[[Category:Angry Birds Characters]]

 

[[Category:The Flock]]

 

[[Category:The Flock]]

 
+

[[Category:Characters]]
---
Revision as of 01:18, 5 September 2019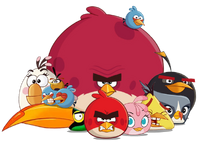 Birds are the protagonists of the Angry Birds series, and come in varieties of different species and sizes. Their main goal is to retrieve the eggs that their enemies, the Bad Piggies, have stolen. Ever since they were first stolen, they have tried numerous attempts to get them back; even defeating pigs. They hurl themselves using a Slingshot at the various buildings and fortresses the Pigs made. There are 9 playable birds in Angry Birds Classic, 9 in Seasons, 10 in Rio, 7 playable birds and 1 egg in Space, 10 playable birds and 1 playable pig from Angry Birds 2, & 7 birds from Angry Birds Star Wars and 1 egg. When a level is completed with unused birds, the player is awarded with 10,000 points for each unused bird, regardless of type. This increases the chance of getting 3 stars in a level. Both Bird Island and Piggy Island are based on islands in the Pacific Ocean.[1]
Known Species
There are twenty known different species of birds, one dragon, plus several birds from other apps. Below is a list of all the birds that were included in the series:
The Mighty Creatures
Unplayable Birds
Birds from Other Apps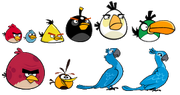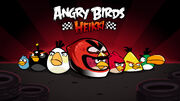 The Angry Birds Movie
Utilities and Power-Ups
Unlike the Pigs, there are eleven known utilities used by the Birds:
Special Powers
If the screen is touched or clicked while a bird is moving, it will activate a special power or a unusual noise. This is unavailable if the bird has become a corpse except for Bomb, Terence, Bubbles, their Space versions, Stella, Cheetos, Space Egg, and the Ice Bird, but Blu uses his power as soon as he hits an object. Mighty Creatures can be bought and once their item is launched they fly after it attacking the level.
Special Powers from the Original App
These birds are the Flock and the Mighty Eagle, their friend and ally, and they all have appeared in the first three apps (the Original, Seasons, and Rio) and most have appeared (in a new form) in AB Space (except White, Boomerang, and the Mighty Eagle) and in AB online games like AB Friends (except Orange).
Special Powers from Other Apps
From Angry Birds Seasons
From AB Rio
From AB Space
From Angry Birds Star Wars
From AB Cheetos
From AB Philadelphia Eagle
From Angry Birds 2
Gallery
In-game Tutorials
Trivia
References
Community content is available under
CC-BY-SA
unless otherwise noted.