Boba Fett Missions
Episode number
Not numbered
Levels
10
New features
N/A
Released
March 28, 2013
Game(s)
Previous
Next
Non-sequential
Non-sequential
Boba Fett Missions is the non-sequential episode in Angry Birds Star Wars. To unlock it, you must find 5 jetpacks scattered around the levels of the game.
Cutscenes
Level 1: Chuck Han Solo and co. meet Lard Vader and Boba Fatt, the camera then zooms in to Boba Fatt, who laughs with a gun equipped.
Jetpack locations
Tatooine 1-23
To obtain the jetpack, use Han and Luke to clear out the right half of the level. Then shoot the jetpack with Han's blaster.
Death Star 2-32
To obtain the jetpack, send Chewie just below the metal block straight ahead. Use Han to clear a path before flinging Luke just below the jetpack. Luke's lightsaber should reach it.
Hoth 3-27
To obtain the jetpack, send Chewie around the first gravitational field to clear a path, making it easier to shoot the jetpack with Han's blaster.
Cloud City 4-4
To obtain the jetpack, simply toss Han backwards or use Leia's tractor beam. The jetpack is below the slingshot platform.
Cloud City 4-19
To obtain the jetpack, either cut the chains with Han's blaster or clear a path to reach it manually. In any case, it's not that far out of reach.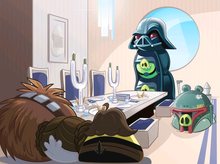 Trivia
There are three ways to unlock Boba Fett Missions. One is to pay $0.99, two is to find all 5 jetpacks, and three is to use a promotional code.
In this episode, every level has Boba Fett featured as a regular enemy.
On level 3, there is a Tusken Raider.
This is the only purchasable item in the shop that has a character as an icon, which is Boba Fett Pig.
Community content is available under
CC-BY-SA
unless otherwise noted.