Bodyguards are recurring pigs in the Angry Birds Series.
Appearance
Bodyguards are normal medium pigs wearing dark black sunglasses and an earpiece on his left ear.
They are normal pigs wearing black round sunglasses.
He is similar to the Angry Birds Toons one, but he wears a black suit with a red shirt and black tie with sunglasses and a white earpiece.
Gameplay
They appear in Piggywood Studios 1-16 parodying Matrix, they have the same strength as normal pigs. A pig appears with hand glove hands with two blue and red pills, the same way Morpheus hands them in the movie.
Main article: S.I. Agent
S.I. is a Large Pig that appears in the last level of Chapter 3 as a boss, where he captured Major Pecker. He is very strong and as an ability, he screams ''Charge'' and jumps at the birds.
Bodyguards can be first seen guarding at the stage, guarding Chuck obviously. After Chuck winked his right eye, 4 pigs rallied to adore Chuck until the bodyguards kicked them out of the stage, but later Red smashed through the main door and knocked out 2 of them and the 4 other pigs with 2 other bodyguards trying to restrain Red but failed to do so and as a result they got knocked out, one landed on the table and the other one landed in front of the stage. Their sounds are differ than the Minion Pigs as they sound much more deeper when try are hurt.
A bodyguard appeared when King Pig ordered everyone to protect the egg they captured and the castle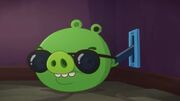 from Red and demanded one to go see through the door, which Red appeared by taking the door down and stomping the soldier, which King Pig ordered him to do something. He pulled a lever that opened a trapdoor with a river of Alligator Pigs but Red made them bite themselves and defeated them.
He then pulled a rope that made a boulder swing but Red waited the Soldier Pigs to come and the boulder hit them, King Pig got more scared and demanded the bodyguard to do something, which he made the throne turn to a safer place that was a bottomless pit but activated a pipe to suck them to a hallway and let Red fall.
When they got to the hallway, Red appeared, but he activate a hard iron door that Red couldn't pass, but the bird was destroying it anyway, which they got went to a command pad, which the bodyguard pulled the lever and ejected them from the castle.
They got into a spaceship to escape with the egg with King Pig taunting Red and licking the egg but Red just got the egg on one of the cacti, the "egg" he licked was his bodyguard and King Pig started to rapidly pressed the buttons in a hurry to get the egg back because of the lack of knowledge of the spaceship, he and his bodyguard got electrocuted and were launched away.
Their first appearance is in the beginning of the episode, where they are waiting for Epic Sax Pig to buy the "golden egg", after he exited the shop his hair became windswept, the bodyguard immediately comb his hair after he noticed it.
When Epic Sax Pig noticed that King Pig and his pigs were stealing his egg, 8 bodyguards are dispatched when Epic Sax Pig called for them to suppress the robbery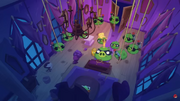 with plunger guns, one was with a large gun whose couldn't handle the recoil of the gun and fell from a window of the mansion, after a few seconds all of them pointed their guns at King Pig and his henchmen. King Pig then tried to negotiate by threatening Epic Sax Pig by cutting his wig off, the bodyguard ceased so King Pig can go with the egg and Epic Sax Pig later retrieved his wig.
Bodyguards appear after King Pig was missing, they are connected with ropes and ordered Magic Pig to use the magic again with some Minion Pigs to search the King Pig.
After the events of King Pig being terrified and paranoid that Hot Dog Pig will fright him again so he ordered 2 bodyguards to search the bathroom, one of them almost got flushed through the toilet after being very thorough of the search and acknowledged that there are no signs of Hot Dog Pig to haunt him again. After King Pig saw Hot Dog Pig appearing out of nowhere, the door slammed with King Pig in a janitorial cart that flattened 2 bodyguards. After a long pursuit the bodyguards begin to drag the Hot Dog Pig away after he's done after wiping off a chunk of a hot dog fillings.
Gallery
v • e Pigs/Enemies
Game Introductions

Media Introductions

Others
Main article | Gallery | Beta elements | Version history | Achievements | Credits | Re-releases (Free, HD, Free HD, Windows Phone, China)
Playable characters
Angry Birds (Bomb (Shockwave*), Bubbles, Chuck, Hal, Matilda, Red (Homing Bird, Telebird*), Stella, Terence (Wingman), The Blues) | Playable Pig* | Tony*
Non-playable characters
Little Timmy | Mighty Basketball | Mighty Dragon | Mighty Eagle | Penguins* | Postman Pig* | Ruby* | Santa Claus | Striped Bird | Unnamed female white bird*
Enemies
Chef Pig* | Clown Pig | Corporal Pig |

Dummy Pig

| El Porkador | Female Pig* | Foreman Pig | King Pig | Minion Pigs (Guard Pigs*) | Octopus Pig* | Scarecrow Pigs
Episodes
Ragnahog* | Hammier Things* | Piggywood Studios* | Summer Camp* | Marie Hamtoinette* | Fairy Hogmother* | Pig Days | Ski or Squeal* | Invasion of the Egg Snatchers* | Tropigal Paradise* | On Finn Ice* | Ham Dunk | South Hamerica | Arctic Eggspedition | Abra-Ca-Bacon | Winter Wonderham | Haunted Hogs | Back to School | Piglantis* | Cherry Blossom | Year of the Dragon | Wreck the Halls | Ham'o'ween | Moon Festival | Summer Pignic | Easter Eggs | Go Green, Get Lucky | Hogs and Kisses* | Season's Greedings | Trick or Treat | Exclusive Levels +
Seasons
Season 2016* | Season 2015* | Season 2014 | Season 2013 | Season 2012 | Season 2011 | Season 2010
Items
Bird Coins* | Egg | Golden Eggs (Ultrabook™ Egg) | Powerup (Allaka-BAM, Homing Bird, Power Potion, Score Doubler^, Shockwave*, Sling Scope, Telebird*) |

Present

| Sardine | Slingshot
Gimmicks and obstacles
Easter Egg | Glass | Greek pillar | Lava* | Stone | TNT | Water | Wood
Music
Albums
Angry Birds Seasons (Original Game Soundtrack) |

Best of Angry Birds Seasons

Songs
"Peace Song 2011" | "Peace Song 2012: Fly Me Home Tonight" | "Peace Song 2013: Ode to Snow" | "Peace Song 2014: Santamental Me"
Cinematic Trailers
Season's Greedings Short Movie | Summer Pignic Short Movie | Ham'o'ween Short Movie | Wreck the Halls Short Movie | Year of the Dragon Short Movie | Meet the Pink Bird | Trick or Tweet |

On Finn Ice Short Movie

Other
Angry Birds: A Halloween Special | Angry Birds: Christmas Special | Angry Birds: Hatching a Universe | Angry Birds: Moon Festival | Angry Birds: Wreck the Halls | Angry Birds: Year of the Dragon | Angry Birds Trilogy | Bird Wear | Box2D |

Destruction gauge

| Earth (Antarctica, Bird Island* (Mighty Eagle's cave*), Europe* (Finland* (Helsinki*)), Piggy Island (Pig City*), South America) | Level Failed | Moon | Piggy kingdom | Power-Up Test Site | The Pig Challenge
*Appears in the international mobile version only
^Appears in the Chinese version only
+Appears in Angry Birds Trilogy only