Bomb, also known as the Black Bird, is the tritagonist of the Angry Birds series. He is a bird granted with the ability of exploding, and a member of the Angry Birds.
Appearance
Bomb is a bird who is covered almost entirely in black feathers, though his belly and eyelids are dark gray-colored. He has floating eyebrows that are red in color. Perhaps Bomb's most distinguishable feature is his short, fuse-like feather with a yellow tip on his head. The earliest Angry Birds-related material also had Bomb with a white dot on his head.
For the Wreck the Halls short in 2011, Bomb was slightly redesigned. He is now larger in shape, and his belly patch and eyebrows are smaller. In addition, his fuse is thinner and more pointy, and his beak looks different. This design was not used again until Angry Birds Toons in 2013, and has been the most common design since then.
In The Angry Birds Movie, Bomb was given an anthropomorphic appearance. He is now much larger, twice as tall as Red. His torso is round-shaped and connected to the head without a neck. His eyes are also much smaller and have cyan-colored pupils instead of black ones. In addition, he was given two small wings and two short feet. Future releases would occasionally switch between this new design and the one from the Wreck the Halls animation.
In Angry Birds Dream Blast, Bomb was redesigned again to look more a hatchling. This design is similar to the one from The Angry Birds Movie, though he is now much shorter and has larger eyes and a smaller beak.
Personality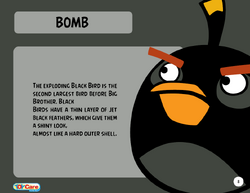 Despite his fearsome appearance, Bomb is a very gentle and kind, though somewhat stupid person. He is very sincere and genuine in his actions and is willing to put himself in conflict or danger to help out his allies. Bomb loves and devotes himself to the other members of the flock, who take care of his unpredictable behavior. He is also a very avid fighter and loves being a destructive part of battles.
Despite his gentle soul, Bomb is short-tempered, feeling hurt whenever he or his friends are insulted, underestimated, or judged.[3] This leads him to explode to unleash his anger. He can also be stupid and innocent; during a speed-date, he told some women that he ate dirt during an awkward moment. In addition, him loving eating ice cream and gambling,[2] amongst others, has led him to be distracted, manipulated, or fooled to lose the eggs, which ends in him crying and exploding.[2]
Powers and abilities
Bomb is most notable for his ability of exploding like a real bomb, hence his name. This is done thanks to the chemical compounds that are produced in his body by the food he eats.[1] These explosions can sometimes be destructive enough to destroy Pig City[5] and create gigantic mushroom clouds that can be seen from afar.[2] Despite his destructive explosions, Bomb always comes out of these with few to none scratches or wounds. While the cause of this remains unknown, Professor Pig has hypothesized that his body is "pompous" and conveys shockwaves thoroughly, so that the energy he releases in the form of explosions do not affect him at all, but rather the objects in his blast radius. However, he also said that magic could be a possibility.[1]
Aside from being able to explode, Bomb is quite strong, being capable of smashing through stone. He is also very resistant, having survived atmospheric entry.[6] He can also drive a large variety of vehicles, from Mechanic Pig's karts to his own ship, the Bird Ship.
Shockwave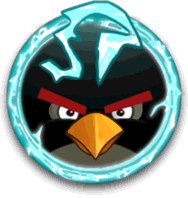 Through the combination of electricity and a chemical, Bomb can transform into Shockwave. In this state, he can produce electrical shock waves that can electrocute pigs and push structures with force. This transformation first appeared in the original Angry Birds.
Relationships
Matilda
Matilda is one of Bomb's closest friends. The two first met when the loon was forced by law to attend the chicken's anger management classes. However, Bomb has admitted that he completely forgot about her classes. Currently, Bomb has a mutual respect for Matilda. In addition, it was shown a few times that the he is in love of her; for example, in the map of the Piggy Tower from the newest versions of Angry Birds Friends, Bomb is seen looking at Matilda with a happy expression and with hearts popping out of his head.
Family

Allies

Neutral

Enemies

Badniks

EggBots

Eagle Guards
Trivia
Bomb is the first bird not to have a corpse sprite, although, it is unused in Angry Birds Chrome's files and other Angry Birds webgames and used in Angry Birds Star Wars, being used as Obi Wan Kaboomi's corpse sprite, since he cannot explode.
In Angry Birds Classic's files, Bomb's sprites has on their filenames "BIRD_GRAY", possibly showing that Bomb was originally gray-colored, or he was the gray bird in the 2009 Splash screen.
Originally, Bomb had a white spot on his head. The spot has been removed on most artwork. Early versions of the plush toy included it but it was removed later.
Bomb is the only bird that does not display a tail. This has since changed in some instances, such as the movie.
Bomb is accidentally called "Bob" in the Angry Birds Space comic, a typo made by Rovio.

Before it was confirmed that it was a typo, some fans were convinced that it was his official name, as most of the birds' names weren't as widely used or confirmed.

In the Google+ "Teamwork" level selection menu, pictures of Angry Birds Trilogy, and in some (but not many) instances, two gray dots are added below Bomb's left eye.
References
v • e Birds and Allies
Game Introductions

Classic

Seasons

Rio

Friends

Space

Star Wars

Star Wars II

Go!

Epic

Stella

Transformers

POP!

AB2

Evolution

Red Birds

Yellow Birds

White Birds

Black Birds

Blue Birds

Mayhem Simulator

Custom Birds

•

Journey

Web Games

Media Introductions

Other

• • • •
(view: v)
Main article | Gallery | Beta elements | Credits | Glitches | Version history | Achievements | Re-releases (Lite, Lite Beta, Free, PSP, Trilogy, Kakao, China, Time Travel, Tencent QQ, Talkweb, Rovio Classics)
Playable characters
Angry Birds (Bomb (Shockwave), Bubbles, Chuck, Hal, Matilda, Red (Mighty Feathers Red), Stella, Terence, The Blues) | Minion Pig | Small Pig | Jetpack Pig | Bomb Pig | Bowling Ball Pig | Beaked Pig | Fat Pig | Balloon Pig | Female Pig
Non-playable characters
Mechanic Pig | Mighty Eagle | Ross | Rhinoceros
Enemies
Corporal Pig | Egg | Foreman Pig | King Pig | Leonard | Minion Pigs
Episodes
Normal
Tutorial | Poached Eggs | Mighty Hoax | Danger Above | The Big Setup | Ham 'Em High | Mine and Dine | Surf and Turf | Bad Piggies | Red's Mighty Feathers | Short Fuse | Flock Favorites | Bird Island | Piggy Farm | Jurassic Pork | Birdday Party (Birdday 5) | Golden Eggs | Bonus Levels*** | Magic**
New World*
Happy New Year | Naughty Christmas | Lunar New Year of the Golden Pig | Wandering Planet | Summer: Back to the Beach
Classic World*
Year of the Goat | Moon Fest
Other
Power-up University | Mighty Eagle University
Items
Coins | Egg | Gems | Golden Egg | Power-up (Birdquake, King Sling, Power Potion, Score Doubler*, Shockwave, Sling Scope,

TNT Shield

) | Sardine | Slingshot | Lives****
Gimmicks and obstacles
Balloon | Beach ball | Cake | Dice | Gift | Glass | Greek pillar | Potion | Stone | TNT | Treasure chest | Water* | Wood
Modes
Daily Challenge (Angry Birds Time Travel**) | Golden King Pig | The Mighty League
Music
Albums
Angry Birds (Original Game Soundtrack)
Tracks
"Angry Birds Theme"
Other
"Angry Birds Cinematic Trailer" | "Angry Birds & the Mighty Eagle" | "Angry Birds Bing Video" | "Bomb Bird: Short Fuse" | Box2D |

Destruction gauge

| Earth (Bird Island (Bird Island Beach, Eagle Mountain), Piggy Island) | Level Failed | Piggy kingdom | Rovio Account | Angry Birds: Hatching a Universe | Winnable Objects
*Appears in the Chinese version only
**Appears in Angry Birds Time Travel only
***Appears in Angry Birds Trilogy only
****Appears in Angry Birds for Kakao only
Main article | Gallery | Beta elements | Version history | Achievements | Credits | Re-releases (Free, HD, Free HD, Windows Phone, China)
Playable characters
Angry Birds (Bomb (Shockwave*), Bubbles, Chuck, Hal, Matilda, Red (Homing Bird, Telebird*), Stella, Terence (Wingman), The Blues) | Playable Pig* | Tony*
Non-playable characters
Little Timmy | Mighty Basketball | Mighty Dragon | Mighty Eagle | Penguins* | Postman Pig* | Ruby* | Santa Claus | Striped Bird | Unnamed female white bird*
Enemies
Chef Pig* | Clown Pig | Corporal Pig |

Dummy Pig

| El Porkador | Female Pig* | Foreman Pig | King Pig | Minion Pigs (Guard Pigs*) | Octopus Pig* | Scarecrow Pigs
Episodes
Ragnahog* | Hammier Things* | Piggywood Studios* | Summer Camp* | Marie Hamtoinette* | Fairy Hogmother* | Pig Days | Ski or Squeal* | Invasion of the Egg Snatchers* | Tropigal Paradise* | On Finn Ice* | Ham Dunk | South Hamerica | Arctic Eggspedition | Abra-Ca-Bacon | Winter Wonderham | Haunted Hogs | Back to School | Piglantis* | Cherry Blossom | Year of the Dragon | Wreck the Halls | Ham'o'ween | Moon Festival | Summer Pignic | Easter Eggs | Go Green, Get Lucky | Hogs and Kisses* | Season's Greedings | Trick or Treat | Exclusive Levels +
Seasons
Season 2016* | Season 2015* | Season 2014 | Season 2013 | Season 2012 | Season 2011 | Season 2010
Items
Bird Coins* | Egg | Golden Eggs (Ultrabook™ Egg) | Powerup (Allaka-BAM, Homing Bird, Power Potion, Score Doubler^, Shockwave*, Sling Scope, Telebird*) |

Present

| Sardine | Slingshot
Gimmicks and obstacles
Easter Egg | Glass | Greek pillar | Lava* | Stone | TNT | Water | Wood
Music
Albums
Angry Birds Seasons (Original Game Soundtrack) |

Best of Angry Birds Seasons

Songs
"Peace Song 2011" | "Peace Song 2012: Fly Me Home Tonight" | "Peace Song 2013: Ode to Snow" | "Peace Song 2014: Santamental Me"
Cinematic Trailers
Season's Greedings Short Movie | Summer Pignic Short Movie | Ham'o'ween Short Movie | Wreck the Halls Short Movie | Year of the Dragon Short Movie | Meet the Pink Bird | Trick or Tweet |

On Finn Ice Short Movie

Other
Angry Birds: A Halloween Special | Angry Birds: Christmas Special | Angry Birds: Hatching a Universe | Angry Birds: Moon Festival | Angry Birds: Wreck the Halls | Angry Birds: Year of the Dragon | Angry Birds Trilogy | Bird Wear | Box2D |

Destruction gauge

| Earth (Antarctica, Bird Island* (Mighty Eagle's cave*), Europe* (Finland* (Helsinki*)), Piggy Island (Pig City*), South America) | Level Failed | Moon | Piggy kingdom | Power-Up Test Site | The Pig Challenge
*Appears in the international mobile version only
^Appears in the Chinese version only
+Appears in Angry Birds Trilogy only
Main article | Gallery | Beta elements | Version history | Achievements |

Credits

Playable characters
Angry Birds (Bomb, Bubbles, Chuck (Rocket Bird), Hal, Matilda, Red (Samba Burst), Stella (Shakira Bird**), Terence, The Blues) | Blu | Jewel
Non-playable characters
Foreman Pig | Luiz | Mauro | Nigel | Mighty Eagle | Minion Pigs | Rafael
Merchandise and marketing only characters
Charlie | Gabi | Nico & Pedro (Nico, Pedro)
Enemies
Caged Birds | Caged Dolphins | Marmosets
Episodes
Rio
Smugglers' Den | Jungle Escape | Beach Volley | Carnival Upheaval | Airfield Chase | Smugglers' Plane | Market Mayhem | Golden Beachball
Rio 2
Rocket Rumble | High Dive | Blossom River | Timber Tumble | Hidden Harbor | Treasure Hunt
Others
Playground | Bonus Levels*** | Awards Room
Bosses
Nigel (Jungle Escape) | Mauro (Carnival Upheaval) | Nigel (Smugglers' Plane) | Mauro (Market Mayhem) |

Blossom River boss

Items
Coins | Egg |

Golden Anchor

| Golden Fruit |

Golden Gear

|

Golden Rocket

|

Golden Treasure Chest

| Power-up (Call the Flock, Power Potion, Samba Burst, Sling Scope, TNT Drop, Score Doubler*) | Sardine | Slingshot
Gimmicks and obstacles
Balloon | Beach ball | Glass | Sand | Stone | TNT | Water | Wood
Songs
"Angry Birds Rio Samba" | "Angry Birds Rio 2 Theme"
Other
Super Bowl Golden Egg | Earth (Piggy Island, South America (Brazil (Rio de Janeiro))) | Level Failed! | Moon | Star | Free version | Angry Birds Trilogy | Angry Birds: Hatching a Universe
Key
* - Exclusive to the Chinese version, ** - Unused, *** - Exclusive to Angry Birds Trilogy
v • e
Playable characters
• • ( • ) • () • • • • • () •
Non-playable characters
• • • • • Sonam Kapoor Bird • Matt Damon Bird • • • VIXX • • • • • • • •
Enemies (Accessorized Pigs)
( • • • ) • • • • • • • • • • • • • • • • • • • • • • • • • • • • • • • • • • • • • • • • • • • • •
Materials and Objects
• • • • • • • • • • • • •
Power-Ups
• • • • • • • • • • • • • •
Episodes

Other
Tournaments • Events • Star Cup • Bird-O-Matic • Ports (Mobile Port • Windows 10 Port) • Achievements • • • Angry Birds Shop • Gallery • Glitches • Unused Content • Version History • Angry Birds: Hatching a Universe
v • e

Playable characters
Angry Birds (The Blues, Bomb, Bubbles, Chuck, Hal, Matilda, Red, Silver, Stella, Terence) | Leonard
Non-playable characters
Hatchlings | Mighty Eagle | Postman Pig
Enemies
Minion Pigs (Special pigs)
Bosses
Chef Pig | Foreman Pig | King Pig | Zeta
World Map locations
Cobalt Plateaus | Pig City | Bamboo Forest
Items
Eggs | Gems | Lives | Apple | Slingshot | Spell (Blizzard, Chili, Golden Duck, Mighty Eagle, Pig Inflator, Sponsored Spells)
Gimmicks and obstacles
Score Multiplier Rank | Bumper | Balloon | Glass | Lava | Rocket | Stone | TNT | Water | Wood
Activities
Daily Challenge | Clans | The Nest | Mighty Eagle's Bootcamp | The Arena | Rowdy Rumble!
Albums
Angry Birds 2 (Original Game Soundtrack)
Other
Angry Birds 2 Creators | Earth (Piggy Island (Bamboo Forest, Cobalt Plateaus, Pig City)) | Star | Level Failed | Gallery | Beta elements | Credits | Glitches | Chapters
Main article | Gallery | Version history | Achievements | Credits | Glitches
Playable characters
Angry Birds (Bomb, Bubbles, Chuck, Hal, Matilda, Red, Silver, Stella, Terence (Wingman), The Blues) | Courtney | Garry | Leonard
Non-playable characters
Chef Pig | Mighty Eagle
Enemies
Corporal Pig | Eagles | Foreman Pig | Leonard | Minion Pigs (Construction Pig) | Zeta | Daft Piggies
Episodes
Bird Island/Piggy Island
Hot Pursuit | When Birds Fly | Party Crashers | Bacon Beach | Bamboom Forest | Wrecks & The City | Pigs In A Banquet
Eagle Island
Frenemies | Enter The Volcano | The Frozen Heart
Secret Area
Off The Menu | Pie Hard | Daft Piggies | Birdnapped
Items
Accessories | Billy | Bird Coins | The Eggs | Power-Ups (Birdquake, Boombox, King Sling, Power Potion, Sling Scope, Wingman) | Slingshot
Gimmicks and obstacles
Balloon | Billy | Cake | Dice | Donut | Easter Egg | Glass | Greek pillar | Grey block | Pumpkin | Rubber | Stone | TNT | Treasure chest | Wood | Sardine
Other
Earth (Bird Island, Eagle Island, Piggy Island (Cobalt Plateaus, Pig City, South Beach)) | Level Failed | Piggy kingdom | Star