Main article: Achievements
Bosses are normally the enemies who are fought at the end of each theme. There are no pig bosses achievements for Mighty Hoax. Pig Bosses can also be seen VIA achievements.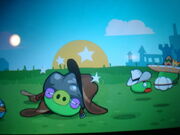 Order They're In and What Level
Herr Helmet-1-21
Mr. Mustache- 2-21
Defeat of the King- 3-21
The Imposter- 4-21
The Mysterious Escape- 5-21
Hovering Helmet- 6-15
Mounting Moustache- 7-15
Green Baron- 8-15
Hardhat Hidalgo-9-15
Mason Moustache-10-15
Royal Ringleader- 11-15
Billy the Pig- 12-15
Clint Eastbacon-13-15
Wild Pork Hickhok- 14-15
Cave Explorer-15-15
Cave Conqueror-16-15
King of Caves-17-15
Sour Foreman-18-15
Sweet King-19-15
Bad 'Stache Swine-20-15
Mechanic Pig-21-15
Tech Emperor-22-15
Commander Minion Pig-23-15
Foreman Pig-24-15 
Scientist Pigs- 25-15
Scientist Foreman Pig- 26-15
Scientist King Pig and his Protected Minion Pigs- 27-15
Passanger King Pig- 28-15
Leonard- 31-21
Cow Pigs- 32-15
Farmer Foreman Pig- 33-15
Umbrella Foreman Pig- 34-15
Mean Cave Pig- 35-15
Paleontologist Foreman Pig- 36-15
Cave Pigs and the Large Living Sauropod Fossil- 37-16 (Final Boss)
Angry Birds Rio
Flying Nigel (2-30)
Mauro (4-30)
Rio Skydiving Tours Plane Infiltration (5-30)
Flying Nigel In the Plane (6-30)
Big Marmoset Head Monument (8-30) (Not a boss, targets)
Reveillon (Rio 2 1-20)
Caged Nigel (Rio 2 2-20) (Not a boss, target)
Cranes (Rio 2 4-20)
River Marmosets (Rio 2 5-20)
Coin Search (Rio 2 6-20)
Angry Birds Space
1.King Pig (Tank) (Pig Bang)
2.King Pig (UFO) (Cold Cuts)
3.Foreman Pig (Fry Me to the Moon)
3.Fat Pig (Utopia)
4.Curiosity Rover Pigs (Red Planet)
5.King Pig (Submarine) (Pig Dipper)
6.Alien Pig (Cosmic Crystals)
7. Pig UFO Wave and King Pig (UFO) (Beak Impact Part 1)
8. King Pig (UFO) in Station (Beak Impact Part 2)
9.Corporal Pig (Space shuttle) (Danger zone)
Angry Birds Star Wars
Lard Vader (Mid Boss at Death Star)
Lard Vader (MidBoss of Cloud City, 2nd battle)
Lard Vader with Lightsaber (3rd battle)
Piglatine (Darth Sidious)
Angry Birds Star Wars II
Bird Side
AAT
Sebulba
Nute Gunray
Zam Wessel
Count Dookan
The Inquisitor
Pork Side
Captain Panaka
Qui-Gon Jinn (1st battle)
Qui-Gon Jinn (2nd battle) and Obi-Wan Kenobi (1st battle)
Obi-Wan Kenobi (2nd battle)
Obi-Wan Kenobi (3rd battle)
Kannan Jarrus
Boss Achievements
Herr Helmet-Mr. Mustache -Defeat of the King
-The Imposter-The Mysterious Escape
-Hovering Helmet -Mounting Mustache-Green Baron
-Hardhat Hidalgo -Mason Mustache-Royal Ringleader
-Billy the Pig-Clint Eastbacon-Wild Pork Hickok
-Cave Explorer-Cave Conqueror-King of the Caves
-Sour Foreman-Sweet King
-Bad 'Stache Swine-Mechanic Pig-Tech Emperor
-Minion Pig with sunglasses and mortarboard-Foreman Pig
-Pork O'Lantern -Ominous Oinker-Haunted Ham
1.Pig Bang-Vegetables of Vengeance
2.Cold Cuts-Handy Man
4.Utopia-The Big Burp
5.Red Planet-Curiosity Killed the Pig
6.Pig Dipper-Sub King
7.Cosmic Crystals - Shattering Dreams
References
Angry Birds Space Episode 7, Plus an Unknown Rio Update Coming Soon
Community content is available under
CC-BY-SA
unless otherwise noted.