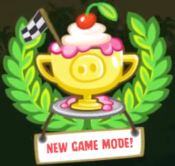 Cake
Race 
is a mode in
Bad Piggies
 that consists of obtaining cakes and gaining points, resulting in the reward of Loot Crate.
Gameplay
The Cake Race is unlocked at Experience Level 5 when first pressing the icon of it, a cutscene will play, it's the following:
A bunch of pigs is waiting in a line to the Cake Race and Ross is excited. Corporal Pig and a Minion Pig start to race. Corporal Pig catches a cake with a net and the minion pig's time clock explodes, resulting in the cheer of the audience.
Upon clicking the Find Opponent button, the player will start at a random level, with 5 cakes scattered. The player has to build a vehicle that can catch these 5  cakes or a number of them that score a higher score than the opponent's, whatever, obtaining 5 cakes is a good way to obtain points. 
Every day, King Pig will want a specific custom part, which will increase the player's score by +20% if the player uses it in the level. Gaining a determined number of points will make the player reach the Leaderboard, however, the player won't be declassified by any chance. These are the cups, in which the player advances by leveling-up and the rewards get bigger:
Piggy Cup (Level 5-9).Reward: Glass Loot Crate.
Helmet Cup (Level 10-14). Top 5 Reward: Wooden Loot Crate. +15% of Coins.
Mechanic Cup (Level 15-19). Top 5  Reward: Bronze Crate. +30% of Coins.
Mustache Cup (Level 20-24). Top 5  Reward: Metal Crate. +50% of Coins.
Chef Cup (Level 25-29). Top 5 Reward: Marble Crate. +100 Coins.
King Cup. (Level 30+).  Top 5 Reward: Golden Crate. +200 Coins.
Gallery
Community content is available under
CC-BY-SA
unless otherwise noted.