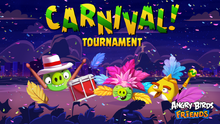 The Carnival Tournaments were Angry Birds Friends tournaments that happened on January 28th to February 10th, 2016. The tournaments that happened are:
Carnival Days: January 28th to February 3th.
Carnival Nights: February 4th to February 10th.
The tournament was made to celebrate the Brazilian Carnival. The typical commemoration that happens every February in Brazil and 51 days before Easter. This tournament added various things such as Samba Hats, drums, Samba Pig Dancers, Golden Pineapples, etc.
The background of the tournament shows the famous Brazilian city, Rio de Janeiro, during day and night.
It's the first tournament set in Rio De Janeiro in 2016, the other one later being the Sporty Pigs Tournament. This tournament and other factors make Brazil the most visited country in the entire Angry Birds story.
The levels in this tournament are mostly hard because of the hard to destroy objects, but they can be beaten and 3-starred easily with good strategy or Power-Ups.
.