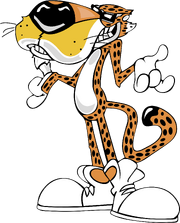 Chester Cheetah is the mascot of Cheetos, a product made by Frito-Lay, a subsidiary of Pepsico. He appears in Angry Birds Cheetos and Angry Birds Vuela Tazos.
Appearance
He is an anthropomorphic Cheetah with orange fur, various spots on him, a large tail with stripes, a white fur belly and jaw, a yellow snout with a black nose and some white fur parts. An interesting feature of this feline is that he always wears black shades and white sneakers.
Game appearances
Chester Cheetah makes a cameo in the game and a footprint of him was seen on the Angry Birds Chrome ad.
Chester Cheetah appears in the cutscenes using hunter gear. He helps the birds recover their Cheetos. He also makes a cameo on the level complete screen.
He appears in level 4, but he does nothing other than being a stationary character that watches the birds fling themselves.
Gallery
v • e Birds and Allies
Game Introductions

Classic

Seasons

Rio

Friends

Space

Star Wars

Star Wars II

Go!

Epic

Stella

Transformers

POP!

AB2

Evolution

Red Birds

Yellow Birds

White Birds

Black Birds

Blue Birds

Bird Island

Custom Birds

•

Journey

Web Games

Media Introductions

Other

• • • • • Obama Bird