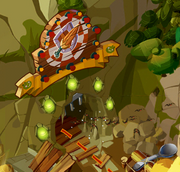 The Chronicle Cave is a location found at the end of the game, Angry Birds Epic. It can be unlocked after defeating WizPig in his castle (which is the final level before unlocking the cave). 
The Chronicle Cave is a series of endless caves with levels. At each end of the cave there is a boss. After defeating a boss, you can unlock the next cave. 
In Chronicle Cave, many new enemies are introduced to you, which you can find a full list of them in this page.
Help
In Chronicle Cave, you can choose a friend from Facebook or some pig friends. Among those include Prince Porky, Pigiana Jones, and the ever helpful Piggy McCool.
Gallery