Chuck[note 2] is the deuteragonist of the Angry Birds series. He is an atlantic canary with an incredibly high speed, and a member of the Angry Birds.
Appearance
The earliest known appearance of Chuck had him as a yellow-colored, triangular-shaped bird with two feathers on his head and two large eyes with black pupils. He was soon after redesigned to have smaller eyes with red eyebrows floating on them, four black, spiky feathers on head, and three of said feathers on his back as his tail. He also has white feathers on his belly. In Angry Birds Toons, this design was slightly modified to have him with a somewhat different beak.
In The Angry Birds Movie, Chuck was given an anthropomorphic design. He is now shaped somewhat like a banana, and has three longer feathers on his crest instead of the shorter four he used to have. His tail feathers are much longer as well. In addition, Chuck has green pupils instead of the traditional black. Future releases would occasionally switch between Chuck's new body and his old one.
In Angry Birds Dream Blast, Chuck was redesigned once again to resemble a hatchling. While he keeps his triangular body from earlier games, he has wider eyes with the green pupils from the films. The feathers on his head and tail are as short as in the games, and end with a circular tip instead of a point one, similar to his earliest design.
Personality
Chuck is a very goofy, hyperactive bird. He is constantly fueled with energy and seems as if he always needs to be doing something. He can never stop moving, both in his mind and in the body. He tends to be clueless and ignorant at times, and this often will get in the way in dire situations.
Chuck is always up to his latest mischief and he can be rude to the other birds. This causes him to get into trouble with the other birds especially Matilda.
Chuck is skilled in fighting and martial arts. Whenever he practices martial arts, he dons his red headband, though his fighting practices can often lead to catastrophe around him.
Chuck also manages to get very distracted and at times cannot focus on the task handed to him due to things that catch his mind, like a wandering butterfly or even a mirror. This vulnerable part of him is what allows the Bad Piggies to get close to the eggs when he is on watch duty.
Despite all this, Chuck is as invested in protecting the eggs as the other birds are. He is extremely loyal and values the other members of his flock, though he can be easily intimidated when the other birds outdo him in something, which has happened with Jay, Jake, and Jim (Full Metal Chuck), Bomb (The Bird that Cried Pig), and Terence (Run Chuck Run).
Powers and abilities
Chuck is notable for his incredible speed. Having been called "the fastest bird in the world",[2] he can use his speed to perform incredible tricks, such as stopping time, boosting in the air, and producing shock waves that can pop nearby balloons.[3] In addition, he is so quick that, to the naked eye, it looks like he is teleporting whenever he is running.[4] He is also capable of dodging and reacting to lightning.[note 3] While his top speed is unknown, he has managed to go from the Cobalt Plateaus to Pig City and retrieve the eggs when they were about to be put on a hot cauldron and return to the plateaus with them, all of it within seconds.[5] Chuck also has sharp reflexes that let him react quickly to almost anything.
To a lesser extent, Chuck is also known for being an experienced wizard and an expert in alchemy. He can summon clouds that can charge lightnings, acid rains, and healing rains, which makes him able to attack a wide range of enemies at the same time or, in the case of the healing rains, cure his allies and remove their negative effects. In addition, he can summon a group of lightning spheres that can protect his target ally, and create a copy of one of his allies that will attack an enemy before disappearing.
Chuck is also an expert at driving karts. With his sharp reflexes, he can drive incredibly fast karts with ease, having driven through tight, sharp curves without losing his speed at all. He is also an expert at building and fixing them, having rebuilt a kart of his from scratch in a few seconds.[3]
Lazer Bird
By passing through an extraterrestrial wormhole of some kind, Chuck can turn into Lazer Bird. Most of his abilities remain the same. This transformation first appeared in Angry Birds Space.
Rocket Bird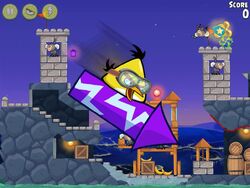 By riding on a rocket, Chuck can turn into Rocket Bird. His ability using this transformation is to spin around while flying and he will fly very fast to the direction that his firework is pointing at. This transformation only appeared in Angry Birds Rio.
Relationships
Silver
Silver is Chuck's sister. At a young age, Chuck thought that Silver was "weird", but was surprised for her incredible intelligence and achievements. Currently, he respects and appreciates her. Notably, Chuck has been overprotective of Silver, having threatened Red to not be too close of her or otherwise he was going to "break every bone in his body", and constantly reminding him that she "was his sister". However, there are moments where Chuck and Silver have a tense rivalry, which has led them fighting and losing a race.[6]
Friends/allies
Neutral
Enemies
Quotes
Trivia
Notes
References
↑ 1.0 1.1 Terry, Baker (October 3, 2020). "Flock Face Off - Part 1". Angry Birds on The Run. Season 2. Episode 14.
↑ Angry Birds: Flight School #1, "You Got It Backwards"
↑ 3.0 3.1 Angry Birds (December 11, 2013). Angry Birds Go! Cinematic Trailer. YouTube. Retrieved on August 28, 2021.
↑ Terry, Baker (November 17, 2018). "On The Other Side". Angry Birds on The Run. Season 1. Episode 1.
↑ Preddy, Richard (February 22, 2015). "Slow The Chuck Down!". Angry Birds Toons. Season 2. Episode 19.
↑ Nugem, Jordan (January 30, 2021). "Bird Racers!". Angry Birds Bubble Trouble. Season 1. Episode 8.
v • e Birds and Allies
Game Introductions

Classic

Seasons

Rio

Friends

Space

Star Wars

Star Wars II

Go!

Epic

Stella

Transformers

POP!

AB2

Evolution

Red Birds

Yellow Birds

White Birds

Black Birds

Blue Birds

Mayhem Simulator

Custom Birds

•

Journey

Web Games

Media Introductions

Other

• • • •
(view: v)
Main article | Gallery | Beta elements | Credits | Glitches | Version history | Achievements | Re-releases (Lite, Lite Beta, Free, PSP, Trilogy, Kakao, China, Time Travel, Tencent QQ, Talkweb, Rovio Classics)
Playable characters
Angry Birds (Bomb (Shockwave), Bubbles, Chuck, Hal, Matilda, Red (Mighty Feathers Red), Stella, Terence, The Blues) | Minion Pig | Small Pig | Jetpack Pig | Bomb Pig | Bowling Ball Pig | Beaked Pig | Fat Pig | Balloon Pig | Female Pig
Non-playable characters
Mechanic Pig | Mighty Eagle | Ross | Rhinoceros
Enemies
Corporal Pig | Egg | Foreman Pig | King Pig | Leonard | Minion Pigs
Episodes
Normal
Tutorial | Poached Eggs | Mighty Hoax | Danger Above | The Big Setup | Ham 'Em High | Mine and Dine | Surf and Turf | Bad Piggies | Red's Mighty Feathers | Short Fuse | Flock Favorites | Bird Island | Piggy Farm | Jurassic Pork | Birdday Party (Birdday 5) | Golden Eggs | Bonus Levels*** | Magic**
New World*
Happy New Year | Naughty Christmas | Lunar New Year of the Golden Pig | Wandering Planet | Summer: Back to the Beach
Classic World*
Year of the Goat | Moon Fest
Other
Power-up University | Mighty Eagle University
Items
Coins | Egg | Gems | Golden Egg | Power-up (Birdquake, King Sling, Power Potion, Score Doubler*, Shockwave, Sling Scope,

TNT Shield

) | Sardine | Slingshot | Lives****
Gimmicks and obstacles
Balloon | Beach ball | Cake | Dice | Gift | Glass | Greek pillar | Potion | Stone | TNT | Treasure chest | Water* | Wood
Modes
Daily Challenge (Angry Birds Time Travel**) | Golden King Pig | The Mighty League
Music
Albums
Angry Birds (Original Game Soundtrack)
Tracks
"Angry Birds Theme"
Other
"Angry Birds Cinematic Trailer" | "Angry Birds & the Mighty Eagle" | "Angry Birds Bing Video" | "Bomb Bird: Short Fuse" | Box2D |

Destruction gauge

| Earth (Bird Island (Bird Island Beach, Eagle Mountain), Piggy Island) | Level Failed | Piggy kingdom | Rovio Account | Angry Birds: Hatching a Universe | Winnable Objects
*Appears in the Chinese version only
**Appears in Angry Birds Time Travel only
***Appears in Angry Birds Trilogy only
****Appears in Angry Birds for Kakao only
Main article | Gallery | Beta elements | Version history | Achievements | Credits | Re-releases (Free, HD, Free HD, Windows Phone, China)
Playable characters
Angry Birds (Bomb (Shockwave*), Bubbles, Chuck, Hal, Matilda, Red (Homing Bird, Telebird*), Stella, Terence (Wingman), The Blues) | Playable Pig* | Tony*
Non-playable characters
Little Timmy | Mighty Basketball | Mighty Dragon | Mighty Eagle | Penguins* | Postman Pig* | Ruby* | Santa Claus | Striped Bird | Unnamed female white bird*
Enemies
Chef Pig* | Clown Pig | Corporal Pig |

Dummy Pig

| El Porkador | Female Pig* | Foreman Pig | King Pig | Minion Pigs (Guard Pigs*) | Octopus Pig* | Scarecrow Pigs
Episodes
Ragnahog* | Hammier Things* | Piggywood Studios* | Summer Camp* | Marie Hamtoinette* | Fairy Hogmother* | Pig Days | Ski or Squeal* | Invasion of the Egg Snatchers* | Tropigal Paradise* | On Finn Ice* | Ham Dunk | South Hamerica | Arctic Eggspedition | Abra-Ca-Bacon | Winter Wonderham | Haunted Hogs | Back to School | Piglantis* | Cherry Blossom | Year of the Dragon | Wreck the Halls | Ham'o'ween | Moon Festival | Summer Pignic | Easter Eggs | Go Green, Get Lucky | Hogs and Kisses* | Season's Greedings | Trick or Treat | Exclusive Levels +
Seasons
Season 2016* | Season 2015* | Season 2014 | Season 2013 | Season 2012 | Season 2011 | Season 2010
Items
Bird Coins* | Egg | Golden Eggs (Ultrabook™ Egg) | Powerup (Allaka-BAM, Homing Bird, Power Potion, Score Doubler^, Shockwave*, Sling Scope, Telebird*) |

Present

| Sardine | Slingshot
Gimmicks and obstacles
Easter Egg | Glass | Greek pillar | Lava* | Stone | TNT | Water | Wood
Music
Albums
Angry Birds Seasons (Original Game Soundtrack) |

Best of Angry Birds Seasons

Songs
"Peace Song 2011" | "Peace Song 2012: Fly Me Home Tonight" | "Peace Song 2013: Ode to Snow" | "Peace Song 2014: Santamental Me"
Cinematic Trailers
Season's Greedings Short Movie | Summer Pignic Short Movie | Ham'o'ween Short Movie | Wreck the Halls Short Movie | Year of the Dragon Short Movie | Meet the Pink Bird | Trick or Tweet |

On Finn Ice Short Movie

Other
Angry Birds: A Halloween Special | Angry Birds: Christmas Special | Angry Birds: Hatching a Universe | Angry Birds: Moon Festival | Angry Birds: Wreck the Halls | Angry Birds: Year of the Dragon | Angry Birds Trilogy | Bird Wear | Box2D |

Destruction gauge

| Earth (Antarctica, Bird Island* (Mighty Eagle's cave*), Europe* (Finland* (Helsinki*)), Piggy Island (Pig City*), South America) | Level Failed | Moon | Piggy kingdom | Power-Up Test Site | The Pig Challenge
*Appears in the international mobile version only
^Appears in the Chinese version only
+Appears in Angry Birds Trilogy only
Main article | Gallery | Beta elements | Version history | Achievements |

Credits

Playable characters
Angry Birds (Bomb, Bubbles, Chuck (Rocket Bird), Hal, Matilda, Red (Samba Burst), Stella (Shakira Bird**), Terence, The Blues) | Blu | Jewel
Non-playable characters
Foreman Pig | Luiz | Mauro | Nigel | Mighty Eagle | Minion Pigs | Rafael
Merchandise and marketing only characters
Charlie | Gabi | Nico & Pedro (Nico, Pedro)
Enemies
Caged Birds | Caged Dolphins | Marmosets
Episodes
Rio
Smugglers' Den | Jungle Escape | Beach Volley | Carnival Upheaval | Airfield Chase | Smugglers' Plane | Market Mayhem | Golden Beachball
Rio 2
Rocket Rumble | High Dive | Blossom River | Timber Tumble | Hidden Harbor | Treasure Hunt
Others
Playground | Bonus Levels*** | Awards Room
Bosses
Nigel (Jungle Escape) | Mauro (Carnival Upheaval) | Nigel (Smugglers' Plane) | Mauro (Market Mayhem) |

Blossom River boss

Items
Coins | Egg |

Golden Anchor

| Golden Fruit |

Golden Gear

|

Golden Rocket

|

Golden Treasure Chest

| Power-up (Call the Flock, Power Potion, Samba Burst, Sling Scope, TNT Drop, Score Doubler*) | Sardine | Slingshot
Gimmicks and obstacles
Balloon | Beach ball | Glass | Sand | Stone | TNT | Water | Wood
Songs
"Angry Birds Rio Samba" | "Angry Birds Rio 2 Theme"
Other
Super Bowl Golden Egg | Earth (Piggy Island, South America (Brazil (Rio de Janeiro))) | Level Failed! | Moon | Star | Free version | Angry Birds Trilogy | Angry Birds: Hatching a Universe
Key
* - Exclusive to the Chinese version, ** - Unused, *** - Exclusive to Angry Birds Trilogy
v • e
Playable characters
• • ( • ) • () • • • • • () •
Non-playable characters
• • • • • Sonam Kapoor Bird • Matt Damon Bird • • • VIXX • • • • • • • •
Enemies (Accessorized Pigs)
( • • • ) • • • • • • • • • • • • • • • • • • • • • • • • • • • • • • • • • • • • • • • • • • • • •
Materials and Objects
• • • • • • • • • • • • •
Power-Ups
• • • • • • • • • • • • • •
Episodes

Other
Tournaments • Events • Star Cup • Bird-O-Matic • Ports (Mobile Port • Windows 10 Port) • Achievements • • • Angry Birds Shop • Gallery • Glitches • Unused Content • Version History • Angry Birds: Hatching a Universe
v • e

Playable characters
Angry Birds (The Blues, Bomb, Bubbles, Chuck, Hal, Matilda, Red, Silver, Stella, Terence) | Leonard
Non-playable characters
Hatchlings | Mighty Eagle | Postman Pig
Enemies
Minion Pigs (Special pigs)
Bosses
Chef Pig | Foreman Pig | King Pig | Zeta
World Map locations
Cobalt Plateaus | Pig City | Bamboo Forest
Items
Eggs | Gems | Lives | Apple | Slingshot | Spell (Blizzard, Chili, Golden Duck, Mighty Eagle, Pig Inflator, Sponsored Spells)
Gimmicks and obstacles
Score Multiplier Rank | Bumper | Balloon | Glass | Lava | Rocket | Stone | TNT | Water | Wood
Activities
Daily Challenge | Clans | The Nest | Mighty Eagle's Bootcamp | The Arena | Rowdy Rumble!
Albums
Angry Birds 2 (Original Game Soundtrack)
Other
Angry Birds 2 Creators | Earth (Piggy Island (Bamboo Forest, Cobalt Plateaus, Pig City)) | Star | Level Failed | Gallery | Beta elements | Credits | Glitches | Chapters
Main article | Gallery | Version history | Achievements | Credits | Glitches
Playable characters
Angry Birds (Bomb, Bubbles, Chuck, Hal, Matilda, Red, Silver, Stella, Terence (Wingman), The Blues) | Courtney | Garry | Leonard
Non-playable characters
Chef Pig | Mighty Eagle
Enemies
Corporal Pig | Eagles | Foreman Pig | Leonard | Minion Pigs (Construction Pig) | Zeta | Daft Piggies
Episodes
Bird Island/Piggy Island
Hot Pursuit | When Birds Fly | Party Crashers | Bacon Beach | Bamboom Forest | Wrecks & The City | Pigs In A Banquet
Eagle Island
Frenemies | Enter The Volcano | The Frozen Heart
Secret Area
Off The Menu | Pie Hard | Daft Piggies | Birdnapped
Items
Accessories | Billy | Bird Coins | The Eggs | Power-Ups (Birdquake, Boombox, King Sling, Power Potion, Sling Scope, Wingman) | Slingshot
Gimmicks and obstacles
Balloon | Billy | Cake | Dice | Donut | Easter Egg | Glass | Greek pillar | Grey block | Pumpkin | Rubber | Stone | TNT | Treasure chest | Wood | Sardine
Other
Earth (Bird Island, Eagle Island, Piggy Island (Cobalt Plateaus, Pig City, South Beach)) | Level Failed | Piggy kingdom | Star