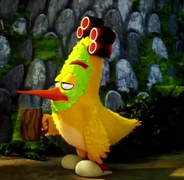 Chuck's Mom is the mother of Chuck and Silver.
History
When Red was trying to get Chuck, Red mistakes him as his mother and when Red, Chuck and Bomb went up to the Lake of Wisdom, Chuck remembers his mother telling him about it when he was younger.
Chuck said his mom would so proud when Silver had a plan to destroying the Super Weapon.
Gallery
v • e Birds and Allies
Game Introductions

Classic

Seasons

Rio

Friends

Space

Star Wars

Star Wars II

Go!

Epic

Stella

Transformers

POP!

AB2

Evolution

Red Birds

Yellow Birds

White Birds

Black Birds

Blue Birds

Bird Island

Custom Birds

•

Journey

Web Games

Media Introductions

Other

• • • • • Obama Bird
v • e Movie Dimension
Media Introductions

Game Introductions

Holiday

Evolution

Red Birds

Tony

,

Sam

,

Hugh

,

Meryl

,

Walter

,

Timothy

,

Frank

,

Noah

,

Winnie

,

Darlene

,

Margaret

,

Tommy

,

Lady Plume

,

Jasmine

,

Melody

,

Carter

,

Bette

,

Billie

,

Claude

,

Geraldine

,

Ricky "Red Menace" Redtzky

(

Elite Ricky

),

Angry Santa

,

Quentin

,

Muge

,

Fire Rooster

,

Beast

,

Peck Girl

Yellow Birds

Eugene

,

Patrick

(

Patrick the Santa

),

Bob

,

Kumiko

,

Connie

,

Lucy

,

Flavio

,

Mortimer

,

Charlotte

,

Cletus

,

Rod

,

Dalton

,

Derek

,

Gloria

,

Pauline

,

Doris

,

Brenda

,

El Gigante

,

Billy The Blitz

,

Cyril

,

El Jefe

,

Scrooge

,

Theo Walcott

,

Star Quarterback

,

Lady Bacon

,

Cold Turkey

,

Ciara

,

Major Pecker

White Birds

Elite Matilda

,

Kid YOLO

,

Mireille

,

Chip

,

Sadie

,

Hank

,

Capt'n Thrush

,

Millie

, (

Millie The Angel

),

Mikhail

,

Tiffany

,

Tara

,

Harold

,

Clive

,

Thelonius

,

Otis

,

Oliver

,

Jimmy

,

Owlpheus

,

Jacquie

,

Annie

,

Steve

,

Francis

,

Hot Grease

,

Captain Freedom

,

Elite Major Freedom

,

Klaus

,

Fringy

,

Lucha Libre

,

DedSw1n3

,

Dr. Strangebird

,

Master Beakagi

Black Birds

Anthony

,

Monday

,

Pam

,

Dolores

,

Mia

,

Richard

,

Max

,

Tonya

,

Lianne

,

Eddie

,

Shrapnel

,

Earl

,

Duane

,

Ember

,

Keira

,

Kowalski

(

Kowalski the Elf

),

Zain

,

Carson

,

Cenk Tosun

,

Byron

(

Black Metal Byron

),

Bob Boomer

,

Van Hellbird

,

Dutch

,

Xenoflocker

,

Dr. Probotnik

,

Eddie The Bird

Blue Birds

Leland

,

Toby

,

Shirley

,

Sidney

,

Tyler

(

Tyler The Festive Surfer

),

Myles

,

Greg

,

Andrew

,

Amy

,

Eggbert

,

Kim Fli Hy

,

Clint

,

Sinbad

,

Helmut

,

Wade

,

Trey

,

Ron

,

Paige

,

Gylfi Sigurdsson

,

Murphy

,

Birdstilano Eagaldo

,

Angromedon

,

Grandfather Frost

,

Li'l Pecker

,

Heavy Metal Annie

,

Thrash

,

Snow Maiden Marisha

,

Piggy Nian

Pigs

Match

Hatchlings

(

Sandy

•

Dina

•

MC Mintie

•

DJ Tulip

•

Liam

•

Sophia

•

Skip

•

Kerry

•

Kiwi

•

Arianna

•

Gail

•

Phillip

•

Emma

•

Chloe

•

Sparky

•

Corey

•

Ginny

•

Riley

•

Flint

•

Drew

•

Madison

•

Viggo

•

Aria

•

Hailey

•

Alisha

•

Avery

•

Charlie

•

Fluffy

•

Aiden

•

Maya

•

Beth

•

Naomi

•

Sofia

•

Evan

•

Otis

•

Jackson

•

Billy

•

Olivia

•

Matt

•

Abby

•

Alex

•

Angela

•

Lana

•

Lumi

•

Walker

•

Ashton

•

Sven

•

Taiga

•

Crystal

•

Keiko

•

Noam

•

Chara

•

Macario

•

Farah

•

Willie

•

Ninni

•

Theo

•

Cecilia

•

Ellen

•

Miko

•

Sandra

•

Coral

•

Romeo

•

Evian

•

Kiusa

•

Ariel

•

Ahti

•

Walton

•

Banana

•

Tico

•

Mango

•

Bo

•

Baloo

•

Astro

•

Carrie

•

Lazer

•

Mars

•

Cosmo

•

Estella

•

Martin

•

Danny

•

Grace

•

Woody

•

John

•

Mae

•

Tim

•

Morgan

•

Haider

•

Brendan

•

Ellie

•

Jessica

•

Hugo

•

Marek

•

Kayleigh

•

Ellice

•

Tyreese

•

Joely

•

Aaran

•

Codey

•

Lola

•

Phillipa

•

Eben

•

Cathy

•

Kiki

•

Eddie

•

Lou

•

Rixi

•

Pine

•

Rudolph

•

Finn

•

Gabriel

•

Aurora

•

Marina

•

Eugene

•

Paris

•

Amelia

•

Herbert

•

Betty

•

Bonnie

•

Austin

•

Jesse

•

Emmett

•

Iris

•

Sage

•

Polly

•

Storm

•

Jack

•

Embyr

•

Drogo

•

Ryu

•

Hazel

•

Raven

•

Frankie

•

Noelle

•

Jasper

•

North

•

Yang

•

Kai

•

Ling

•

Lily

•

Sunny

•

Buddy

•

Chica

•

Salla

•

Hops

•

Mary

•

Ilia

•

Edward

•

Nugget

•

Cheez

•

Nacho

•

Umbra

•

Scarlet

•

Fae

•

Scott

•

Quincy

•

Mina

•

Rowan

•

Apple

•

Aurelia

•

Annie

•

Ginger

•

Lux

•

Twinkle

•

Lee

•

Mei

•

Gengi

•

Cherry

•

Rose

•

Daisy

•

Popper

•

Lush

•

Mint

•

Yam

•

Toothy

•

Maribell

•

Steve

•

Roger

•

Calypso

•

Chilla

•

Lime

•

Aqua

•

Vicca

•

Lupin

•

Pixie

•

Candy

•

Igor

•

Murray

•

Maple

•

Sienna

•

Crispin

•

Misty

•

Lucy

•

Hammy

•

Hua

•

Bao

•

Lin

•

April

•

Maggie

•

Willy

•

Violet

•

Esther

•

Allan

•

Krissy

•

Elle

•

Anne

•

Devin

•

Charley

•

Vickie

•

Jayson

•

Janelle

•

Emmie

•

Derek

•

Coby

•

Kayley

•

Loki

•

Glenn

•

Mindy

•

Nile

•

Peggy

•

Olly

•

Mitchell

•

Tina

•

Loan

•

Han

•

Mai

•

Jorge

•

Saoirse

•

Ria

•

Harvey

•

Monika

•

Evelyn

•

Milana

•

Jorden

•

Sheena

•

Oceana

•

Derry

•

Priya

•

Bayley

•

Cayson

•

Kara

POP Blast

Bird Island