Lazer Bird[1] is a transformation that appears in the Angry Birds series. It is an alternate state of Chuck, achieved by passing through a wormhole.
Appearance
Chuck is now known as Lazer Bird, based on the comic book character Cyclops. He now has goggles, a flowing red cape, and a spiky top feather. His most notable difference is his color change, now being purple rather than yellow. In gameplay, Lazer Bird previously had a tail feather resembling his top feather but was eventually replaced with his cape.
Game appearances
Angry Birds Space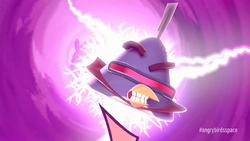 In Angry Birds Space, Lazer Bird makes his debut as a transformation that replaces the normal Chuck. At the start of the events of the game, Chuck assumed this state by passing through an extraterrestrial wormhole he used to go to space.
In gameplay, Lazer Bird is a playable character that first appears in the twentieth level of Pig Bang. He would later appear in the next episodes and the Mirror World levels. Lazer Bird can fly into whatever direction the player taps to, which is the first time Chuck has ever received an ability change. This makes him an extremely useful character to have, as he can quite literally go anywhere the player desires. When his ability is activated, he will not be affected by gravitational fields or zero-gravity until he hits a surface. When he changes direction, he increases speed, giving him more strength. His strengths and weaknesses are pretty much the same as Chuck's. He cannot destroy glass very well, can destroy multiple shards of wood, and cannot destroy stone. It is notable that the longer the distance Lazer Bird has to travel, the slower and weaker he becomes. The player should keep this in mind, as if he has to travel all the way across the level, he will not be able to destroy anything. This is the first time that Chuck is the fourth bird introduced, rather than the third. He swaps places with Bomb.
Angry Birds Match
Lazer Bird makes an appearance in Angry Birds Match as the third hatchling to be unlocked in the Over the Moon chapter. In this game, Lazer is a name of a random Hatchling as opposed to it being Chuck.
Angry Birds POP Blast
In Angry Birds POP Blast, Lazer Bird is a character that appears in the Space Race.
Media appearances
Angry Birds Bubble Trouble
In Angry Birds Bubble Trouble, Lazer Bird makes a cameo in Nowhere To Hide when Red went to space after being angry about Chuck always finding him but they are species in this episode. They then saw Red and found him much to Red's anger.
Gallery
Artwork
Gameplay
Screenshots
Posters
Merchandise
Trivia
His original name was Lazerbeam.[2]
References
v • e Birds and Allies
Game Introductions

Classic

Seasons

Rio

Friends

Space

Star Wars

Star Wars II

Go!

Epic

Stella

Transformers

POP!

AB2

Evolution

Red Birds

Yellow Birds

White Birds

Black Birds

Blue Birds

Bird Island

Custom Birds

•

Journey

Web Games

Media Introductions

Other

• • • • • Obama Bird
Main article | Gallery | Beta elements | Version history | Achievements | Credits | Glitches | Re-releases (Free, HD, Free HD)
Playable characters
Angry Birds (Space Flock), (Bomb (Space Bomb), Bubbles (Atomic Bird), Chuck (Lazer Bird), Ice Bird, Red (Super Red), Terence (The Incredible Terence, Wingman), The Blues (Lightning Birds)) | Space Egg
Non-playable characters
Darth Maul | King Pig | Mighty Eagle (Mighty Buzzard, Space Eagle) | Slash Bird | Skunkbird | Toucan Sam
Enemies
Space Pigs (Corporal Pig, Foreman Pig, Hektor Porko, Minion Pig) | Spacecraft Pig | S.P.A.R.K.
Episodes
Pig Bang | Cold Cuts | Fry Me to the Moon | Utopia | Red Planet | Pig Dipper | Cosmic Crystals | Beak Impact | Brass Hogs | Solar System | Eggsteroids | Danger Zone | Froot Loops Bloopers (limited time)
Bosses
Pig Bang boss |

Cold Cuts boss

| Fat Pig | Red Planet boss | Pig Dipper boss | Alien Pig |

Beak Impact boss 1

|

Beak Impact boss 2

|

Brass Hogs boss

Items
Egg | Eggsteroid |

King Pig's UFO

| Nest | Powerup (Flock of Birds, Pig Puffer, Space Egg, Wingman) | Slingshot |

Space Egg Cannon

Gimmicks and obstacles
Glass | Stone | TNT | Water | Wood
Music
Angry Birds Space (Original Game Soundtrack)
Other
Angry Birds Comics (2016) #9 | Angry Birds Space: A Furious Flight into the Final Frontier | Angry Birds: Birds in Space | Angry Birds Space: Planet Block | Angry Birds Space comic | Angry Birds Space VR | The Daily - Birds in Space | Angry Birds Space: Colors |

Angry Birds Space: Numbers

|

Angry Birds Space: Maze Mania

|

Learn to Draw: Angry Birds Space

|

Angry Birds Space Joke Book

|

Angry Birds Space: Search and Find

| The Angry Birds Friends Golden Egg Level |

Destruction gauge

| Earth (Piggy Island) | Star | Angry Birds Space Assault! | Angry Birds: Hatching a Universe | Winnable Objects | Rocket Science Show