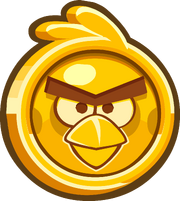 Coins are used in the Angry Birds series to purchase various items.
In the games
Starting with Angry Birds Friends, players can accrue coins (or Bird Coins) in most games of the series. Bird Coins appear as small gold coins with Red's face on them. Some coins have different appearence in other games.
Angry Birds Friends
When you start the game for the first time after the release of the Bird Coins, you get a text box telling you about them, and you can also get

× 440, but only once. You can earn more for free by earning stars in Weekly Tournaments, and completing them. When you complete a Tournament Level, you will get +

× 2 for Template:OneStar1, +

× 4 for Template:TwoStars, and +

× 8 for Template:ThreeStars2, if you get all the stars in a level, you will get +

× 14. You can also get

from daily rewards. You will get +

× 4 in the first day, +

× 6 in the second day in a row, +

× 10 in the third day in a row, +

× 16 in the fourth day in a row, and +

× 50 in the fifth day in a row. However, streak will be restart every five days if you login every day.

The currency on the game is the credits, which works the same way as coins. To obtain them, the player must complete Tournament Levels or buy them with real-life money. They can be used to buy Power-Ups and Crystals, which cost the following:
Power-Ups
Thermal Detonator
Blaster Droid
Lightsaber Sling
Clone Bird
Mighty Falcon
Power-Up Bundle

  In the game, the credits come back, where they work differenty. Instead of being used to buy power-ups, it is used to unlock episodes and buy characters, which the amount of each collected and their price varies, according to the character's strength. The player can buy infinite characters with a lot of coins.
Angry Birds Go!
In Angry Birds Go!, Bird Coins appear in every track and can be collected to increase the amount of awarded coins when finishing a race.
In v1.0, they are mainly used to purchase upgrades for the player's karts, but once the player unlocks Rocky Road, they can also be used to purchase new karts as well.
In v2.0, they are mainly used to purchase upgrades for the player's karts with upgrade parts, and it's also used for purchase 3 upgrade parts at the shop (100 coins for regular parts, 1,000 coins for Rare parts, and 10,000 for Epic parts). There's a big coins appear in every track as well, for 50 coins.
Angry Birds Epic
Coins are used to buy equipment, potions, etc. They are dropped by defeated enemies and can be obtained by purchasing, completing levels, etc. Those are the currency:
Type of currencies
What it is used for
How to earn it
Snoutlings

Buying blueprints, classes, crafting materials, and potion upgrades
Buying potions from the shop
Buying mastery from the Mighty Eagle's Dojo

Defeating pigs
Opening treasure chests
Damaging enemies with the Full Pockets passive ability (like Wealthy Rogue)
Damaging enemies using Piggy McCool
Clearing Daily Dungeons
Daily Login bonus
Purchased with Lucky Coins
Consolation prize for losing a battle
Rescuing an Egg (100 Snoutlings)
Attacking a pig with Bomb using Golden Bullet and Golden Pistol (30% chance to get lots of Snoutlings)

Lucky Coins

Buying certain classes
Buying emergency consumables
Buying uncraftable potions (such as Experience potions)
Spinning the Golden Pig Machine
Hiring the Mighty Eagle's mercenary
Buying new banners in the Bird Arena
Buying mastery from the Mighty Eagle's Dojo
Hiring birds from one's friends during some battles

Defeating the Daily Golden Pig (no longer available from version 1.2.9)
Defeating the Golden Pig from the Golden Pig hunt
Defeating the Mother of Golden Pigs
Leveling up (the max level is currently 100)
Opening treasure chests
Earning a daily login bonus (every 7 days, one Lucky Coin daily if connected to Facebook)
Purchasing some with real money

Friendship Essence

Rerolling the Wheel of Fortune and the crafting dice
Crafting Stamina Drinks (5 for each)

Asking friends for them
Purchasing some with Lucky Coins
Answering friends' Essence requests
Lending one's birds to friends
Earning a Daily Login bonus
Scrapping a Legendary Set Item (no longer available from version ???)
Angry Birds Stella

In Angry Birds Stella, the pigs can drop coins on the levels, you can get coins by earning the stars and roulette wheel after you pass the Bonus Levels.
They're mainly used to spend on the characters, and the Hammer power-up. You can also spend coins on investigate area to find the pigs on the map.
Angry Birds Transformers
There are a lot of currency in the game that is used on various things. See more about them here
Angry Birds POP!

Coins appear in the game as currency used to buy Boosters, Lives, etc. They are obtained in hard ways such as quests, event rewards and can be purchased by only real life money. They are also used on buying gems. The player starts with some coins in the game and he needs to spend it wisely to not run out of it. They are commonly used when the player runs out of moves, which the player can purchase more or watch a video.
Angry Birds Fight!
The game features two kinds of currencies: Bird Coins (

) and Gems (

). You can use coins to enhance your equipment and use gems to refill energy, unlock birds or playing the Slot game. The Slot Game requires 5 Gems to open Mighty Eagle's Treasure Box. There are two kinds of energy: Original Energy and Ship Energy. Original Energy will be refilled as 1 point every 10 minutes and used for PvP levels (not including the Arena Event levels). Ship Energy is used for Boss and Monster Event Levels and will be refilled 1 point every 30 minutes.
Angry Birds Rio

They were added in the Treasure Hunt update, they are used the same way as in other games and appear as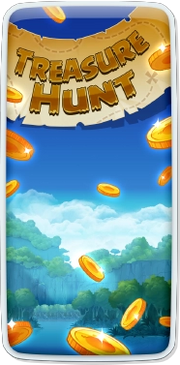 collectable items in the Treasure Hunt episode, where they can also be collected to unlocked the bonus level.
They can also obtained by watching ads, getting stars, buying them with real money or collecting them, they can be used to but Power-Ups, these are the prices:
Normal Power-Ups (Power Potion to Samba Burst):

5 Power-Ups: 200 Coins;
10 Power-Ups: 350 Coins;
30 Power-Ups: 900 Coins;
150 Power-Ups: 4000 Coins.

Call The Flock

10 Power-Ups: 1000 Coins;
20 Power-Ups: 1800 Coins;
50 Power-Ups:  4300 Coins;
120 Power-Ups: 10000 Coins.
There are also daily deals that feature Coin purchases, so it's good to collect a lot of them to get a lot of Power-Ups.
Bad Piggies

In Bad Piggies, the player earn coins by completing a level, get the Star Boxes (only in Sandbox), and feed the King Pig. The players can get coins by earning stars. Player get 1 coin for 1 star, 2 for 2 stars, and 3 for 3 stars. The name of the coins is Snout Coins.
Angry Birds Seasons

Coins were added on the Invasion of the Egg Snatchers update along with Bird Wear and Telebird. They are obtained after beating a level, watching ads or by purchasing it. They can be used to speed a Quest's time, buy episodes before Ham Dunk, Power-Ups or level-up Telebird or Shockwave Bomb, Star or Feather levels and could buy exclusive Bird Wear, but they were later made free.
Angry Birds
Bird Coins used to only appear in Angry Birds for Kakao, Angry Birds & the Chinese Version. They used to purchase Power-Ups and Mighty Eagle. You can earn them by getting stars just for 10 coins. Coins were eventually added to every other region of Angry Birds. They are only used to buy power-ups. They can be purchased with Gems.
Angry Birds Action!

Coins appear in Angry Birds Action! with purposes, which is used to fill Chests. There's also the gems that act similarly, but are used to revive the bird when he runs out of birds and moves and to buy Power-Ups.
Angry Birds Ace Fighter
It appears as the main currency of the game, this is how to use it: It is used to pay for basic stuff. Gold can be obtained by:
The gold mine (at least 4000 gold)
Completing stages
Rewards
Decomposing gear
Description from the game:


- The common currency of the world.
Angry Birds Goal!

Coins in the game appear in the game to make various things and this is a complete list of how to play with them: They can be obtained from:
By signing contracts with the Mighty Eagle
At the end of each successful game, ended in favor of birds
They can be spent:
To buy energy drinks
For the purchase of various items and accessories in the main store
Angry Birds Holiday
The coins in the game are used for various things, such as buying buildings, decorations, planting, etc. They are awarded after completing missions, leveling up and other.
Angry Birds Blast!
Cons reappear in the game as two types:
Silver Coins: Are easier to obtain and are used to buy pre-level Booster and play in the Treasure Hunt, they can be obtaine as rewards, Boxes scattered in the map and by buying them.

Golden Coins: are more expensive version of these coins and can only be obtained by purchasing and as rare rewards, they buy 5 Moves when an level is failed and multi-level Power-Ups.
Angry Birds Evolution

In Angry Birds Evolution Money is obtained by pretty much any action you take, including successful scouting!. The most reliable source of income is completing daily challenges, logging into the app every day, and of course, winning battles against the deplorable pigs!
Used for pretty much everything. The most important purpose is, of course, leveling up your birds, although almost any other actions will deplete them.
In the films
In the Angry Birds animated films, Bird society and life appears to run on a currency system of sorts. In the days before the Great Egg War, Birds used primitive forms of currency that could be bartered for services. For instance, the Hug Trader in Bird Village charged one red berry for any additional hugs requested at his stand after his first complementary one, when Terence started to hug the customers.[1]
Throughout the war and beyond, the Birds adopted a more modern currency system that used banknotes that each had a picture of Mighty Eagle on its front side. During the Battle of Overseas Pranks, the last battle of the war, Hal was known to own a decent amount of money that he kept in a wallet. After being spurned by her lover Mighty Eagle and choosing to exile herself on Eagle Island, Zeta somehow raised a large amount of money to build her resort, and later a powerful superweapon that she intended to use to expand it through destructive conquest after being discontent with the resort's problems. She also penned a book titled Crazy Rich Avians, which perhaps explains how she got so rich.[2]
Gallery
References
Main Article |

Staff

| Glitches | Gallery | Unused Content | Version History | Achievements | Prereleases (Lite) | Re-releases (Lite Beta | Free |

Kakao

| China | Time Travel)
Playable characters
Non-playable characters
Enemies
Episodes

Power-up University

|

Mighty Eagle University

|

Tutorial

|

Poached Eggs

* |

Mighty Hoax

* |

Danger Above

* |

The Big Setup

* |

Ham 'Em High

* |

Mine and Dine

* |

Surf and Turf

* |

Bad Piggies

* |

Red's Mighty Feathers

* |

Short Fuse

* |

Flock Favorites

* |

Bird Island

** |

Piggy Farm

|

Jurassic Pork

** |

Birdday Party

* |

Birdday 5

* |

Golden Eggs

|

Bonus Levels

|

Magic

|

Magic Places†

Items

Accessories

|

Billy

|

Coins

|

The Eggs

|

Gems

|

Golden Eggs

|

Golden King Pig

|

Power-Ups

(

Super Seeds

,

King Sling

,

Sling Scope

,

Birdquake

,

Score Doubler

,

Shockwave

,

Mighty Red

,

TNT Shield

) |

Sardine

|

Slingshot

|

Star

Gimmicks and obstacles

Balloon

|

Billy

|

Cake

|

Dice

|

Donut

|

Easter Egg

|

Gift

|

Glass

|

Greek pillar

|

Grey block

|

Potion

|

Pumpkin

|

Rubber

|

Stone

|

TNT

|

Treasure chest

|

Water

|

Wood

Game modes
Short movies
Music

Albums

Angry Birds (Original Game Soundtrack)

Tracks

Other

Bird Island

(

Bird Island Beach

,

Eagle Mountain

) |

Piggy Island

(

Cobalt Plateaus

,

Desert Island

,

Great Cliffs

,

Pig City

,

Pig Mines

,

South Beach

) |

Lives

* - Episode is in Classic World in the Chinese version | ** - Episode is in New World in the Chinese version | † - Indicates unused content | - Indicates exclusivity to the Chinese version | - Indicates exclusivity to Angry Birds Time Travel | - Indicates exclusivity to the Kakao version | - Indicates exclusivity to the version of Classic in Angry Birds Trilogy
Main article | Gallery | Beta elements | Version history | Achievements | Credits | Re-releases (Free, HD, Free HD,

China

)
Playable characters
Angry Birds (Bomb (Shockwave*), Bubbles, Chuck, Hal, Matilda, Red (Homing Bird, Telebird*), Stella, Terence (Wingman), The Blues) | Minion Pigs* | Tony*
Non-playable characters
Mighty Basketball | Mighty Dragon | Mighty Eagle | Ruby* | Unnamed female white bird*
Enemies
Chef Pig* | Corporal Pig | Foreman Pig | King Pig | Minion Pigs
Episodes
Ragnahog* | Hammier Things* | Piggywood Studios* | Summer Camp* | Marie Hamtoinette* | Fairy Hogmother* | Pig Days | Ski or Squeal* | Invasion of the Egg Snatchers* | Tropigal Paradise* | On Finn Ice* | Ham Dunk | South Hamerica | Arctic Eggspedition | Abra-Ca-Bacon | Winter Wonderham | Haunted Hogs | Back to School | Piglantis* | Cherry Blossom | Year of the Dragon | Wreck the Halls | Ham'o'ween | Moon Festival | Summer Pignic | Easter Eggs | Go Green, Get Lucky | Hogs and Kisses* | Season's Greedings | Trick or Treat
Items
Bird Coins* | Egg | Powerup (

Allaka-BAM

, Homing Bird, Power Potion,

Score Doubler

^, Shockwave*, Sling Scope, Telebird*) | Sardine | Slingshot
Gimmicks and obstacles
Glass | Greek pillar | Lava* | Stone | TNT | Water | Wood
Music
Albums
Angry Birds Seasons (Original Game Soundtrack)
Songs
"Peace Song 2011" | "Peace Song 2012: Fly Me Home Tonight" | "Peace Song 2013: Ode to Snow" | "Peace Song 2014: Santamental Me"
Other
Angry Birds: A Halloween Special | Angry Birds: Christmas Special | Angry Birds: Moon Festival | Angry Birds: Wreck the Halls | Angry Birds: Year of the Dragon | Box2D |

Destruction gauge

| Earth (Antarctica, Bird Island* (Mighty Eagle's cave*), Europe* (Finland* (Helsinki*)), Piggy Island (Pig City*), South America) | Level Failed | Moon | Piggy Island | Piggy kingdom
*Appears in the international mobile version only
^Appears in the Chinese

version

only
Main article | Gallery | Beta elements | Version history | Achievements |

Credits

| Re-releases (Free, HD,

Free HD

)
Playable characters
Angry Birds (Bomb, Bubbles, Chuck, Hal, Matilda, Red (

Samba Burst

*), Stella, Terence, The Blues) | Blu | Jewel
Non-playable characters
Foreman Pig | Luiz | Mauro | Nigel | Mighty Eagle | Minion Pigs | Rafael
Enemies
Caged Birds | Marmosets
Episodes
Rio
Smugglers' Den | Jungle Escape | Beach Volley | Carnival Upheaval | Airfield Chase | Smugglers' Plane | Market Mayhem | Golden Beachball
Rio 2
Rocket Rumble | High Dive | Blossom River | Timber Tumble | Hidden Harbor | Treasure Hunt
Others
Playground
Bosses
Nigel (Jungle Escape) | Mauro (Carnival Upheaval) | Nigel (Smugglers' Plane) | Mauro (Market Mayhem) |

Blossom River boss

Items
Coins | Egg |

Golden Anchor

|

Golden Fruit

|

Golden Gear

|

Golden Rocket

|

Golden Treasure Chest

| Power-up (Call the Flock, Power Potion,

Samba Burst

, Sling Scope,

TNT Drop

) | Sardine | Slingshot
Gimmicks and obstacles
Balloon |

Beach ball

| Glass | Sand | Stone | TNT | Water | Wood
Songs
"

Angry Birds Rio 2 Theme

"
Other
Earth (Piggy Island, South America (Brazil (Rio de Janeiro))) | Level Failed! | Moon | Star
v • e
Protagonists
• • ( • • ) • () • • • • • () • • • • • • Sonam Kapoor Bird • Matt Damon Bird • • • VIXX • • • • • •
Antagonists (Accessorized Pigs)
( • • • ) • • • • • • • • • • • • • • • • • • • • • • • • • • • • • • • • • • • • • • • • • •
Materials and Objects
• • • • • • • • • • •
Power-Ups
• • • • • • • • •

TNT Presents

• • • •
Episodes

Other
Tournaments • Events • Star Cup • Bird-O-Matic • Ports (

Mobile Port

•

Windows 10 Port

) • Achievements • • • Gallery (Textures & Sprites) •

Glitches

• Unused Content • Version History
v • e
Pigs
• •
Supporting Characters
• •
Pig's enemies
• • • • • •
Vehicle Parts
• • • • • • • • • • • • • • • • • • • • • • • • •
Collectables
• • •
Power-Ups
• • • •
Levels

3-1

•

3-2

•

3-3

•

3-4

•

3-5

•

3-6

•

3-7

•

3-8

•

3-9

•

3-10

•

3-11

•

3-12

3-13

•

3-14

•

3-15

•

3-16

•

3-17

•

3-18

•

3-19

•

3-20

•

3-21

•

3-22

•

3-23

•

3-24

3-25

•

3-26

•

3-27

•

3-28

•

3-29

•

3-30

•

3-31

•

3-32

•

3-33

•

3-34

•

3-35

•

3-36

Bonus Levels:

I

•

II

•

III

•

IV

•

V

•

VI

•

VII

•

VIII

•

IX

4-1

•

4-2

•

4-3

•

4-4

•

4-5

•

4-6

•

4-7

•

4-8

•

4-9

•

4-10

•

4-11

•

4-12

4-13

•

4-14

•

4-15

•

4-16

•

4-17

•

4-18

•

4-19

•

4-20

•

4-21

•

4-22

•

4-23

•

4-24

4-25

•

4-26

•

4-27

•

4-28

•

4-29

•

4-30

•

4-31

•

4-32

•

4-33

•

4-34

•

4-35

•

4-36

Bonus Levels:

I

•

II

•

III

•

IV

•

V

•

VI

•

VII

•

VIII

•

IX

5-1

•

5-2

•

5-3

•

5-4

•

5-5

•

5-6

•

5-7

•

5-8

•

5-9

•

5-10

•

5-11

•

5-12

5-13

•

5-14

•

5-15

•

5-16

•

5-17

•

5-18

•

5-19

•

5-20

•

5-21

•

5-22

•

5-23

•

5-24

Bonus Levels:

I

•

II

•

III

•

IV

•

V

•

VI

6-1

•

6-2

•

6-3

•

6-4

•

6-5

•

6-6

•

6-7

•

6-8

•

6-9

•

6-10

•

6-11

•

6-12

6-13

•

6-14

•

6-15

•

6-16

•

6-17

•

6-18

•

6-19

•

6-20

•

6-21

•

6-22

•

6-23

•

6-24

6-25

•

6-26

•

6-27

•

6-28

•

6-29

•

6-30

•

6-31

•

6-32

•

6-33

•

6-34

•

6-35

•

6-36

Bonus Levels:

I

•

II

•

III

•

IV

•

V

•

VI

•

VII

•

VIII

•

IX

R-1

•

R-2

•

R-3

•

R-4

•

R-5

•

R-6

•

R-7

•

R-8

S-1

•

S-2

•

S-3

•

S-4

•

S-5

•

S-6

•

S-7

•

S-8

•

S-9

•

S-10

Minigames
•
Cinematic Trailers
•
Miscellaneous
Cutscenes • • • •
Further Info
Achievements • Angry Birds Classic Episode • Comic • Bad Piggies' Egg Recipes (Gallery) • Gallery • Glitches • Original Soundtrack • The Sequel • Shuffle & Spawn • Unused Content • Version History
v • e
Protagonists
• • • • • •
Antagonists
• • • • • • • • • • • • • •
Materials and Objects
• • • • • • • • • • • •
Levels
Miscellaneous
• • New Pigs on the Block • Lost and Found Items • Cutscenes • • •
Further Info
Achievements • Comic-Con Trailer • Gallery (Textures & Sprites) •

Glitches

• Original Soundtrack • Unused Content • Version History
Other Media
Comic Series • Angry Birds Stella Diaries • Stella: Nana and the Magic English Words • Stella Super Interactive Annual 2015 •
v • e
Protagonists
( • • ) • • • • • • • () • • • • • • • • • • ()
Antagonists
(Former: ) • • Former: • Pilot Pig • • Mad Hog Mccree • Hams Grubber
Materials and Objects
• • • • • • • • • • • • • • • • • • • • • • •
Boosters
• • • • • • • • Color Crush •
Episodes

Other
Achievements • The Sequel • • • • Gallery •

Glitches

• Unused Content • Version History
Main article | Gallery | Version history | Achievements |

Credits

| Glitches
Playable characters
Angry Birds (Bomb, Bubbles, Chuck, Hal, Matilda, Red, Silver, Stella, Terence (Wingman), The Blues) | Courtney | Garry | Leonard
Non-playable characters
Chef Pig | Mighty Eagle
Enemies
Corporal Pig | Eagles | Foreman Pig | Leonard | Minion Pigs (Construction Pig) | Zeta
Episodes
Bird Island
Hot Pursuit | When Birds Fly |

Party Crashers

Piggy Island

Bacon Beach

|

Bamboom Forest

|

Wrecks & The City

|

Pigs In A Banquet

Eagle Island

Frenemies

|

Enter The Volcano

| The Frozen Heart
Items
Accessories | Billy | Bird Coins | The Eggs | Power-Ups (

Birdquake

,

Boombox

, King Sling, Power Potion, Sling Scope, Wingman) | Slingshot
Gimmicks and obstacles
Balloon | Billy | Cake | Dice | Donut | Easter Egg | Glass | Greek pillar | Grey block | Pumpkin | Rubber | Stone | TNT | Treasure chest | Wood
Other
Earth (Bird Island, Eagle Island, Piggy Island (Cobalt Plateaus, Pig City, South Beach)) | Level Failed | Piggy kingdom | Star