Collaborations are small partnerships that Rovio did with Angry Birds, there are many more than what is shown, but some are listed below:
Games
Puzzle vs. Dragons
The birds appear in the game as unlockable characters, it played the same way as the normal Puzzles vs Dragons games but with Angry Birds characters, such as Red, Chuck ,The Blues , Bomb, Matilda, Hal , Terence, Wingman and much other. They were playable for a limited time and came along with levels from the games.
Red, Chuck and Bomb were available as unlockable characters, they wore their class accessories from Angry Birds Epic, they could run across the levels just like any character can, but they have their own boost, if they were unlocked within the event, they would be unlocked and playable forever.
LINE Rangers
Red and Chuck were playable characters in the Angry Birds event, King Pig would appear as a boss.
AFTERLOST (Shōmetsu Toshi)
Costumes of Red and Chuck could be unlocked for the playable characters. Some characters appeared as playable ones with new powers.
PlayerUnknown's Battlegrounds [Mobile] (PUBG)
Various accessories of the birds and pigs can be obtained at the event, the birds could also be thrown into structures with pigs. This event was held from December 10th, 2019 to December 29th, 2019.
Roblox
On May 13, 2016, Roblox collaborated with Rovio to promote the Angry Birds Movie. There were 2 special items designed by JauntyApeGames that users can get for free, which were the Angry Birds Movie Headphones and a Red Mask. There were also image ads in the Roblox games and the website as well.
Merchandise
Hot Wheels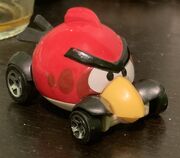 Hot Wheels launched two character cars: Red and a pig. Red has a pointy tail while the pig one has a smoke pipe set. There's also a road that was released, which contained the Red car, a straight path and Glass, Wooden and Stone arches with an image of Foreman Pig , Corporal Pig and King Pig, respectively.
The person had to topple down the pigs and reach the end, the toy had a launcher
Lacta
Lacta made a partnership with Angry Birds various times, selling chocolate eggs. In South America, chocolate Easter eggs were sold in Easter (2012, 2013 and 2014), which contained a prize, the prizes of the first partnership was a large plush of Red , the second was a plush of Red, Chuck and a pig , and the last one was with a bowling game that contained a friction Red and 3 pigs.
Other easter eggs also contained a mug of Red.
Fini
Main article: Fini Angry Birds Candies
Aside from the candies, the company also made three water squirters: Red , Chuck and a Pig, that could be obtained in a promotion or pack.
A Bathing Ape
T-Shirts were made in the style of the ape, along with the ape itself appearing on them.
Other Collaborations
Finnair
Main Article: Angry Birds Asian Challenge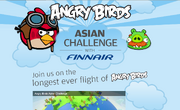 The Angry Birds Asian Challenge was a competition held by Finnair, a Finnish airline. Contestants would submit an application explaining why they were the biggest Angry Birds fans. The top 8 winners won a ride on a customized Airbus A340 plane that was decorated with Angry Birds images.
Nakayoshi
Main Article: Stella: Nana and the Magic English Words
Angry Birds had made a collaboration with Nakayoshi as a promotion to the release of Angry Birds Stella called, Stella: Nana and the Magic English Words, a manga series that was released on October 2014. However, this serialization was ended on April 2016 before the release of The Angry Birds Movie.
Duolingo
Duolingo is a foriegn language learning app developed by Luis von Ahn, Severin Hacker on November 30th, 2011. In February 18, 2020, Rovio and Duolingo reached a partnership where both apps would feature each other's mascot, Duo and Red. In AB2, Duo was a reskinned version of the duck spell and Red was animated into the app with Duo when you reach a correct answer streak or complete a lesson.
The Smurfs
Main article: Smurfs Tournament
On April 19, 2021, Angry Birds' Twitter account and YouTube channel posted an image of a silhouetted Smurf in a cage with the logo for Angry Birds Friends at the bottom right corner. The actual promotion was revealed as the Smurfs Tournament on April 22, 2021. The tournament, taking place in Smurf village, has Gargamel team up with the Bad Piggies to steal the Smurfs, with the birds trying to save them. The first set of levels releases on April 26, 2021, while two more released through April 29 and May 1.
Britain's Got Talent
Back in 2016, The Britain's Got Talent app had a collaboration with The Angry Birds Movie where you could unlock a special Red Buzzer in the app. The sound he'd make was the "wow" sound effect he makes in the movie when Red, Chuck and Bomb first see Mighty Eagle.
Sea Life Sunshine Coast
On August 22nd, 2019, A aquarium located in Mooloolaba, Australia partnered up with Rovio to advertise the up and coming Angry Birds Movie 2 in their park. According to their article here, Guests could complete challenges while in the park and learn about the birds in Bird Island, explore the Frenemies of the sea, race Bomb in the rockpool challenge, meet Silver in her science room and locate Chuck in a meet and greet. This promotion lasted from September 7 to October 31 of that year.