Collaborations are small partnerships that Rovio Entertainment Corporation did with Angry Birds, there are many more than what is shown, but some are listed below:
Games
Puzzle vs. Dragons
The birds appear in the game as unlockable characters, it played the same way as the normal Puzzles vs Dragons games but with Angry Birds characters, such as
Red
,
Chuck
,
The Blues
,
Bomb
,
Matilda
,
Hal
,
Terence
,
Wingman
and much other. They were playable for a limited time and came along with levels from the games.
Red, Chuck and Bomb were available as unlockable characters during the event for celebrating 1 million downloads that spanned from June 11 to July 1 of 2015. They wore their class accessories from Angry Birds Epic, they hopped instead of running across the levels just like any character can, but they also had their own boost. If they were unlocked within the event, they would be unlocked and playable forever (by collecting 100 Angry Birds EPIC tokens for 1 of the 3 weeks the event lasted for).
LINE Rangers
Red and Chuck were playable characters in the Angry Birds event, King Pig would appear as a boss.
AFTERLOST (Shōmetsu Toshi)
This collaboration started around late 2014 and included costumes of Red and Chuck could be unlocked for the playable characters.[1] Some characters appeared as playable ones with new powers.
During a live Q&A on November 27, 2021, by the creator of the 2015 game Tekken 7 Katsuhiro Harada, he noted that characters such as Red and Colonel Sanders, the KFC mascot were going to be playable fighters in the game. However, this was cancelled due to one of the visual developers that's still with the Tekken team, Kenji Kimura, not knowing of the Angry Birds series as well as the marketing department believing that fans would not be on board with the idea of both fighters in the game.[2]
Just Dance 2016
For the release of Just Dance 2016, the song "Balkan Blast Remix" was used as one of the game's levels, with dancers including
Red
,
Chuck
,
Bomb
and a
Pig
.
More info on the Just Dance Wiki.
Roblox
On May 13, 2016, Roblox collaborated with Rovio to promote the Angry Birds Movie. There were 2 special items designed by JauntyApeGames that users can get for free, which were the Angry Birds Movie Headphones and a Red Mask. There were also image ads in the Roblox games and the website as well.
Main article: Angry Birds: Mayhem Simulator
In December 2021, a Roblox game endorced by Rovio had it's public beta launch called "
Angry Birds: Mayhem Simulator
", however this is not a collaboration with Roblox themselves.
PlayerUnknown's Battlegrounds [Mobile] (PUBG)
Various accessories of the birds and pigs can be obtained at the event, the birds could also be thrown into structures with pigs. This event was held from December 10, 2019, to December 29, 2019.
[3]
Minecraft
Main article: Minecraft DLC
On April 29th, 2022 through the company's quarterly interim report, Rovio announced that they will be working with Microsoft to create an Minecraft DLC pack as a part of their "Angry New Year" initiative of products. Rovio has chosen to partner with Minecraft due to both games having creative and engaging fanbases. The pack released on May 13, 2022 on the Microsoft Store for Xbox consoles.
References
Merchandise
Hot Wheels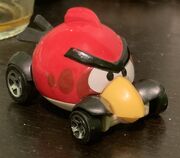 Hot Wheels launched two character cars:
Red
and a
pig
.
Red
has a pointy tail while the pig one has a smoke pipe set. There's also a road that was released, which contained the Red car, a straight path and
Glass
,
Wooden
and
Stone
arches with an image of
Foreman Pig
,
Corporal Pig
and
King Pig
, respectively.
The person had to topple down the pigs and reach the end, the toy had a launcher
Lacta
Lacta made a partnership with Angry Birds various times, selling chocolate eggs. In South America, chocolate Easter eggs were sold in Easter (2012, 2013 and 2014), which contained a prize, the prizes of the first partnership was a large plush of
Red
, the second was a plush of
Red
,
Chuck
and a
pig
, and the last one was with a bowling game that contained a friction
Red
and 3 pigs.
Other easter eggs also contained a mug of Red.
Fini
Main article: Fini Angry Birds Candies
Aside from the candies, the company also made three water squirters: Red , Chuck and a Pig, that could be obtained in a promotion or pack.
7 Eleven
During late 2012, 7-Eleven stores in Singapore collaborated with Rovio Entertainment to produce custom character-shaped mugs of Red, Chuck, Matilda, Bomb, and King Pig (Later down the line they made The Blues, Hal, Minion Pigs and Foreman Pig in 7-11 stores in Japan with the same redeem system). The promotion worked so if you bought an item at their store, you would earn 1 stamp with every S$3 spent per purchase. With those 10 stamps, you would pay with S$6.90 for one of the 5 character mugs. There was also the option to redeem a mug for only 30 stamps as well. To collect all 5 mugs with 30 stamps each, it would have costed the buyer S$450.00 and with the 10 stamp method, it would cost them around S$184.50, which is a much cheaper option. There was also a promo event during 2013 in Taiwan with 8 300ml Ceramic Cups that had the same steps in receiving a cup.
Equations
10 Ticket Method
30 Ticket Method
A Bathing Ape
In Mid-2013, T-shirts were made in the style of the ape (Milo), along with the ape itself appearing on them.
On November 29, 2019, the Angry Birds Twitter tweeted about a new partnership with the metal poster manufacturer Displate, which had a Black Friday sale going on during this announcement. There are over 100 (120 - 140) different designs available and are in the categories listed below:
On December 13,
2019
, The
Angry Birds Twitter
and
KSWISS Twitter
tweeted about the new partnership between the 2 companies releasing 2 different types of shoes in 2 different sizes and looks. One was called "Forever Red" and included many images of
Red
in different art styles for the kid size and the toddler size contained a single image of
Red
with red and white coloring. The second design was called "Gen 1" and contained character faces and colors of
Red
,
Chuck
,
The Blues
,
Hal
,
Matilda
and
Bomb
for the kid size and the toddler size contained the same design, but without the character faces. The toddler shoes went for around US$28.00 and the kid shoes went for around $45.00-$50.00 USD.
On December 8, 2019, The official Angry Birds Twitter account retweeted a tweet by Silver Fox Collectables showing off the 10th anniversary box set ($250, but changed to $180) and others, like Angry Birds Evolution Figures ($70-$200), Angry Birds Movie 2 Figures ($50 each), Hatchling Figures (around $70 each) and Half Body Figures ($150 each). When fans preordered these figures, the COVID pandemic struck the supply lines and the orders couldn't be fulfilled. The company deleted all mentions of Angry Birds on their website, never gave the buyers full refunds and have gone silent on the matter since May 2021. It has been reported in the past that their figures are overpriced for their actual quality, which is comparable to a $100 3D Printer. Also, SilverFoxCollectables commissioned work from artists such as Damien Brisson and Yacine BRINIS for this collaboration. Videos of the incomplete figures can be found here.
On September 10, 2020, the Angry Birds Twitter released an announcement about new Angry Birds face masks to prevent the spread of COVID-19 to humans. The masks are available in adult and child sizes ($15 USD) and 14 designs currently exist on their website. However, the masks were taken down in late February 2022 most likely due to more mask mandates being lifted and/or a contract expiring.
Flat Designs
On May 27th, 2021, Bearology USA and Rovio partnered to bring their Angry Birds characters to the glassware of the Bearology brand.[1] These glasses released as "Night Market Exclusives" and there were 4 different designs on 2 different types of glasses: The designs were as follows:
The promotion is currently going on as of March 2022, with the official Bearology Facebook account posting a Valentines Day event featuring the limited edition jars.[2]
On June 21, 2021, Advertisements on the Angry Birds Facebook AD library that promoted custom Angry Birds credit cards appeared on Facebook, Instagram, Audience Network and Messenger. The benefits of these cards are as follows:
$0 monthly fee
Get paid up to 2 days faster with QuickPay Direct Deposit* (* Faster access to funds is based on a comparison of traditional banking policies and deposit of paper checks from employers and government agencies versus deposits made electronically. Direct Deposit and earlier availability of funds are subject to payer's support of the feature and timing of payer's funding.)
Grow your savings with Auto Round-up** (** Auto Round-up is a feature that can be enabled once you have signed up for an Optional Savings Account.)
Access to ATMs worldwide*** (*** Fees may apply. See terms and conditions)
The website also states that "The Card Premium Bank Account is a checking account established by MetaBank, N.A., Member FDIC". There are only 44 special edition cards available on their website currently for this partnership.
Gallery
Videos
On October 20, 2021, The official Angry Birds Twitter retweeted a post by the Billebeino Twitter showing off the Angry Birds X Billebeino collection. This collection includes specially designed T-shirts, hoodies, caps, beanies, sweatpants, and a plush toy of the Billebeino Bird with prices ranging from €19.00 - €89.00 ($22.14 - $103.72). Sadly, this collection is only available to Europeans, with no mention of this collab on the American version of the site (The website still allows users to use a VPN to browse the eu pages and even purchase the products due to the company accepting international shipping). The Billebeino Bird was finally available for purchase on November 2, 2021, and any orders over €100 will get the plush for free. On November 23, 2021, The Angry Birds collection was added to their United States store, which can be found here. The new listing has most of the European items with slightly less inflated prices and fewer children's size shirts.
Full list of items and more are located
here
.
References
Other Collaborations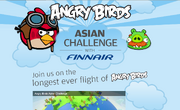 Finnair
The Angry Birds Asian Challenge was a competition held by Finnair, a Finnish airline. Contestants would submit an application explaining why they were the biggest Angry Birds fans. The top 8 winners won a ride on a customized Airbus A340 plane that was decorated with Angry Birds images.
Nakayoshi
Angry Birds had made a collaboration with Nakayoshi as a promotion to the release of Angry Birds Stella called, Stella: Nana and the Magic English Words, a manga series that was released in October 2014. However, this serialization was ended in April 2016 before the release of The Angry Birds Movie.
Motorola
On June 30, 2015, Angry Birds created a special digital watch face for the at the time new Moto360 and any "Android Wear" smartwatch that had an "Emotion Meter" that showed small animations of birds flying across the watch head when the meter was at the "Angry" positron. This watch head was only available on the Google Play store, which the apk can be downloaded from
here
.
Duolingo
Duolingo is a foreign language learning app developed by Luis von Ahn, Severin Hacker on November 30, 2011. On February 18, 2020, Rovio and Duolingo reached a partnership where both apps would feature each other's mascot, Duo and Red. In AB2, Duo was a reskinned version of the duck spell and Red was animated into the app with Duo when you reach a correct answer streak or complete a lesson.
The Smurfs
On April 19, 2021, Angry Birds' Twitter account and YouTube channel posted an image of a silhouetted Smurf in a cage with the logo for Angry Birds Friends at the bottom right corner. The actual promotion was revealed as the Smurfs Tournament on April 22, 2021. The tournament, taking place in Smurf village, has Gargamel team up with the Bad Piggies to steal the Smurfs, with the birds trying to save them. The first set of levels releases on April 26, 2021, while two more released through April 29 and May 1.
Britain's Got Talent
Back in 2016, The Britain's Got Talent app had a collaboration with The Angry Birds Movie where you could unlock a special Red Buzzer in the app. The sound he'd make was the "wow" sound effect he makes in the movie when Red, Chuck and Bomb first see Mighty Eagle.
Sea Life Sunshine Coast
On August 22, 2019, participating Sea Life Aquariums located in Australia partnered up with Rovio to advertise the up-and-coming
Angry Birds Movie 2
in their park. According to their article
here
, Guests could complete challenges while in the park and learn about the birds in
Bird Island
, explore the Frenemies of the sea, race
Bomb
in the rockpool challenge, meet
Silver
in her science room and locate
Chuck
in a meet and greet. This promotion lasted from September 7 to October 31 of that year.
Red
,
Bomb
(later on
Chuck
and
The Blues
) and the
pigs
into the world of AR golf. These specific modes are only available at certain locations, but they might appear in all the locations later down the line. This gamemode is for players with Beginner skill or above and is best for 1-6 players.
On January 26, 2022, it was announced through the Popeye Twitter and Angry Birds YouTube channel that a special week-long Angry Birds Friends tournament was underway with a partnership between them and The Sea Cleaners to spread the word of plastic pollution in our oceans.
References