The Mighty Hoax

This page is about an April Fools Joke that is not meant to be treated seriously.

Cryptobirdies is a game that was literally an April fool's joke, as going to rov.io/CryptoBirdies would link you to the song Never Gonna Give You Up by Rick Astley, thus making it a Rick Roll prank.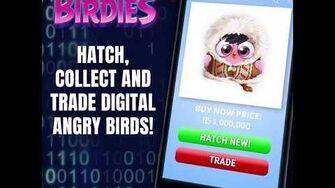 Gameplay
It would have you take care of hatchlings, and earn them, like in Angry Birds Match, but they would hatch from an egg and then would be bought with a huge amount of money.
v • e
Major titles
Core series: * (2009) • (2015)



Side series: * (2010) • * (2011) • * (2012) • * (2012) • * (2013) • * (2013) • * (2014) • (2013) • (2014) • (2015) • * (2015) • * (2016) • (2016) • * (2016) • * (2016) • * (2016) • * (2017) • (2017) • (2017) • * (2017) • * (2018) • (2019) • (2019) • * (2019) • * (2020) • * (2020) • (2021)

Spin-offs: (2012) • * (2014) • (2019)


Free Versions
Angry Birds Lite* (2009) • Angry Birds Lite Beta* (2010) • Angry Birds Free* (2011) • Angry Birds Seasons Free* (2011) • Angry Birds Rio Free* (2011) • (2011) • Angry Birds Space Free* (2012) • Angry Birds Star Wars Free* (2012) • Bad Piggies Free* (2012)
Web Games
* (2011) • (2013) • * (2011) • * (2011) • * (2012) • Angry Birds Lotus F1 Team* (2012) • Angry Birds Star Wars Facebook* (2012) • Angry Birds McDonald's* (2012) • Angry Birds Coca-Cola* (2012) • Angry Birds Heikki* (2012) • Angry Birds Telepizza* (2012) • Angry Birds Fuji TV* (2012) • Angry Birds in Ultrabook™ Adventure* (2012) • Angry Birds Philadelphia Eagles* (2012) • Angry Birds Google+* (2011) • Angry Birds Chrome* (2011) • Angry Birds Friends (2013) • Angry Birds Winter Wonderland* (2011) • Angry Birds Skills* (2014) • Angry Birds Radox (Venatus Angry Birds) (2017) • Egg Attack (2021)
Joke Games
Agri Birds (2015) • Angry Birds Stretch (2017) • Cryptobirdies (2018)
Miscellaneous
Angry Birds Go! Countdown* (2013) • Angry Birds Go! Create* (2014) • Angry Birds VR* (2014) • Angry Birds Arcade (2016) • Angry Birds World Tour (2016) • Angry Birds Champions (2018) • Angry Birds for Facebook Messenger (2018) • Angry Birds: Flip the Bird (2018) • Angry Birds GO! Turbo Edition (2019) • Angry Birds Heroes* (Unreleased game)
Upcoming games
Angry Birds Journey (2021) • Angry Birds Double Crossed (2021) • Angry Birds Launch It! (2021) • Bad Piggies 2 (2021)
Key

* - Discontinued, canceled, or closed