Danger Above 6-13 is the 13th level in Danger Above and the 118th level of Angry Birds.
Strategy
Fire the first Yellow bird through the side of the top structure. It is necessary to knock the stone down, since it will pop the mustachioed pig in the far right. Aim the next Yellow bird downward and black through the side of the first structure, causing it to collapse and popping all pigs within. Score a direct hit on the remaining mustache pig to finish.
Walkthroughs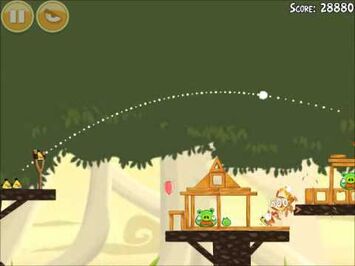 Community content is available under
CC-BY-SA
unless otherwise noted.