Template:SpaceLeveltabsTemplate:Theme InfoboxDanger Zone D-22 is the twenty-second level in Danger Zone. The objective of level D-22 is to use the birds to eliminate all the pigs. Get at least 100,000 points for 3 stars.
Difficulty
This level is based on luck, so if you bad luck, you can never get three stars.
Strategy
Send the Ice Bird so it exits the atmosphere and detonates the northernmost TNT, but do not trigger its ability. The large asteroids will fall into the gravitational field and destroy the main structure. If not lucky enough to detonate the lower TNT via debris, use the Blue Bird to do so.
Walkthrough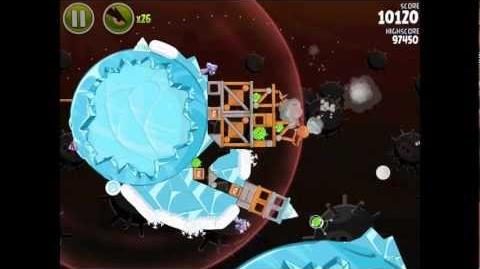 Community content is available under
CC-BY-SA
unless otherwise noted.