Dr. Strangebird (Formerly Dr. Bird McFly) is a pig and super trainer in Angry Birds Evolution that was formerly unplayable but was later added as an obtainable bird in events, along with his Master form.
Biography
Born an oddball, early on this pig decided to defy his parents and become a bird watcher.
To study birds in their natural habitat he equipped himself with a costume that he thought would make him look like a bird.
Falling completely for his lousy disguise, the Eagle Force took him back in the days and became his bird family while he was providing them with unsafe pig inventions in return.
Appearance
He is a old short pig with a large brown moustache, brown bushy eyebrows and a brown large back hair, he is almost bald and his complexion is darker than any other pig. He wears a white scientist coat with a dark brown belt with a golden egg buckle and two red buttons, there are two red and brown feathers on each arm.
Behind the coat, there is a machine with a large metal arm that has a white glove that moves whenever he shows some type of expression. He also wears a golden curved beak and brown goggles with round lens that reflects his eyes, making them larger. 
He wears bird attributes to look like a bird.
Abilities
Tech-Egg
Deals 22455 damage and hands the pigs a mechanical egg that will explode one turn later. In arena this egg is so excited, it immediately explodes when handed over.
Cooldown: 2
Leader Skill
Buffs event bird by an additional 20% base health and 20% base damage.
Awaken Skill
Increases his own damage by 40%!
History
Dr. Strangebird was one of the Eagle Force members which protected Bird Island along with Mighty Eagle. He was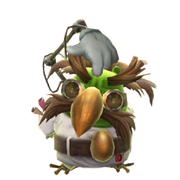 the guru of the crew. He was the scientist of the group, he studied birds as a experient Bird Watcher and made a Bird Costume to not be noticed.
But he then moved to the ruins of Birdtopia and built a lab on it, building a mechanical helper, the Tinbill, a bird-like robot. His disguise of being a bird was then discovered but the Eagle Force still accepts him.
In the game, he represents the Black Birds and Science Evolution, even though he is considered a White Bird in gameplay.
Stats
Health : 5500
Damage : 2225
Power : 12175
Boosters
White
Increased damage and health for white birds.
Small
Increased damage and health for all those birds that are extra small and hard to hit!
A little different
Increased health and damage for all the mischievous rebel birds, the ones that stick out and are most kindly described as "a little diffrent".
Allusions
Gallery
v • e
Red Birds
• • • • • • • • • • • • • • • • • • • • • • • • • • • • •
Yellow Birds
• • • • • • • • • • • • • • • • • • • • • • • • • • • •
White Birds
• • • • • • • • • • • • • • • • • • • • • • • • • • • • • •

Black Birds
• • • • • • • • • • • • • • • • • • • • • • • • • • • •
Blue Birds
• • • • • • • • • • • • • • • • • • • • • • • • • • • • •