Dylan is the brother of Timothy in The Angry Birds Movie.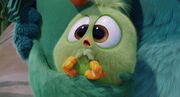 Character
Appearance
He is a swamp-green feather hatchling with lime belly feathers, orange yellow beak and feet, brown irises and a bit of hair.
Personality
Since he first saw the face of Red when hatching, he thinks he is his father and often mentions him as ''Daddy'', while trying to be with him.
Trivia
Dylan uses the same body-type and even (to an extent) the same coloring as Vincent.
Gallery
v • e Birds and Allies
Game Introductions

Movie Introductions

Other

• • •