Template:Epic Infobox Level Template:LevelIntroEpic
Pigs
Unless stated otherwise, there is only 1 of each type of enemy. Each enemy's stats are shown below per wave.
Wave 1
---
---
Wave 2
The player has to engage 2 Lightning Pigs and 1 Trap Bomb..
---
Wave 3
---
---
Gallery
Strategy
Warning #1: Be careful! Guard Captain can lower your attack power and Lightning Pig can activate Fully Charged that can makes you receive 68 damage! If the Rage Chili is full, give it to Matilda so she can cleanse these harmful effects!
Warning #2: Use the Rage Chili for The Blues or in Matilda(If the birds' health is under 65%) at the second wave (once only) and for Bomb(if there are more than 2 pigs alive) in wave 3. If not, use it just like the previous waves (unlimited) will be more easier to win if you don't use the Rage Chili in wave 1 and only use it once only on wave 2 and unlimited on wave 3.
Choose Matilda in Druid, Bomb in Pirate and The Blues in Tricksters. In every waves, attack every turn with Bomb and The Blues, then, heal with Matilda if the birds' health is not full, otherwise, attack with her. Repeat this over and over until you win or lose.
Walkthroughs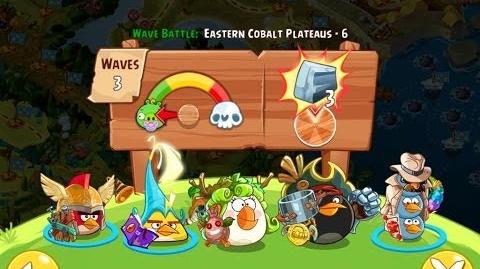 Community content is available under
CC-BY-SA
unless otherwise noted.