Eastern Desert Island is the fifth optional level of Desert Island in Angry Birds Epic. It is a normal stage. When this level is finished, the player may spin for 3 Cobalt Stone. Cactus Knight Captain is fought in this stage.
Battle Hint
Key in "Hint Variable=" followed by either "Common Pigs", "Knights", "Pirates", "Pirates", "Wildlings", "Undead", "Ninjas", or "Special Enemy" to see the outcome.
6. Medium-Hard
Pigs
Strategy
Warning: The Cactus Knight Captain may activate Sharp Spikes, which enemies attacking the target may receive 53 damage per attack. Use The Blues in Tricksters so you can dispel the Cactus Knight Captain.
You can choose Matilda in Druid, Bomb in Pirate, and The Blues in Tricksters. Attack every turn with Bomb first, and then, use Matilda's secondary skill every turn after Cactus Knight Captain has taken a turn. Attack with Tricksters first after he activated Sharp Spikes in a turn. Give the Rage Chili to Matilda when it is full. Repeat this over until you win or lose.
In Summary
Cactus Knight Captain can use Sharp Spikes to make the birds take 53 damage, so The Blues' Itching Powder will come in handy.
Walkthroughs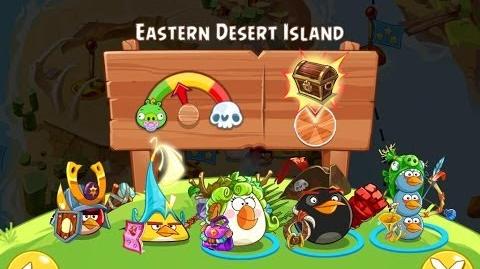 Community content is available under
CC-BY-SA
unless otherwise noted.