Eastern Sea - 3 is the third level of Eastern Sea in Angry Birds Epic. The pigs happen to have more submarines- and this Submariner wants to sink you.
Pigs

Underwater Mine x2

212
---
Tick Tack
- Charge: 2 turns. Deals 85 damage to all enemies.
---

Submariner

709
---

Water Assault - Deals 3x34 damage.

Iron Will - Increases attack power by 50%. Lasts 3 turns.
Dirty Tricks
- Passive: Immune to harmful effects.
---

Big Sailor

2311
---

Haymaker - Charge: 3 turns. Deals 294 damage to all enemies.

Dirty Tricks - Passive: Immune to harmful effects.
Strategy
Choose Red in Samurai, Matilda in Druid and Bomb in Cannoneer(or if you have Berserk, use it!). Heal with Matilda if the birds' healths are not full and if they're full, attack with her. Then attack with the other birds. Use the Rage Chili for Red if all birds' healths are full or for Matilda if a bird's health is under 80% when the Rage Chili is full. Use Red's secondary skill when the Big Sailor or the Underwater Mine is about to attack. Repeat this over until you win or either lose.
Walkthroughs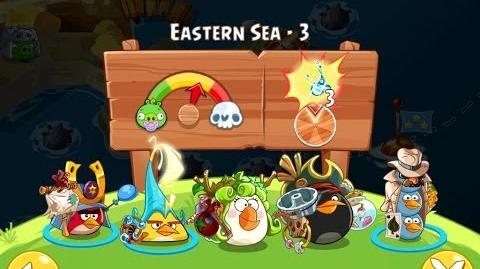 Community content is available under
CC-BY-SA
unless otherwise noted.