Not to be confused with Big Pig from Angry Birds Stella.
Fat Pig (also known as Big Bork) is a giant-sized pig in the Angry Birds franchise that first debuted in Angry Birds Space. He combs the universe looking for cosmic food to continually increase his size. He is a massive pig with spots all over him, similar to Terence. He is first found encased in a large planet of ice in Cold Cuts. He then breaks free from the planet and moves to Utopia to satisfy his stomach.
His first official appearance in the games is in level 4-10 (Utopia) as a regular character. He is smaller than he is in 2-20. He unofficially first appears in level S-4. Despite his extreme size, he is easily popped. On the Angry Birds Facebook Page, a picture shows that Fat Pig has grown larger because of it eating more Utopian food. Another thing to note about Fat Pig is that he resembles the original/old designs of the Bad Piggies than the Angry Birds Google Chrome design.
Boss Strategy
The Big Burp, which is the Big Bork boss seen during the beginning cutscene, awaits the player on level 4-30, in which he is large-sized and serves as a boss. Like its fellow pigs on Earth, the Big Burp is also unintelligent, as it eats everything in sight, allowing hazardous objects to easily harm it.
The player must wait until the Big Burp rotates so that the desired hazards can enter its mouth. The player can either knock asteroids into its mouth, feed it burnt popcorn by hitting the popcorn generators, or even hit the Big Burp with the Birds themselves. However, only Bomb and Terence will do any noticeable damage. Continuously feed the Big Burp hazards until it coughs up an eggsteroid, which cannot be obtained.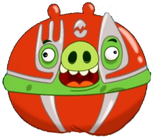 In the ending cutscene for Utopia, it was revealed that the Big Burp had consumed the eggsteroid belonging to the Ice Bird. Coughing up the eggsteroid reduced his size to a mere Large Pig with spots.
The Big Burp is one of the three bosses who have achievements named after the respective bosses, along with Handy Man and Sub Pig.
El Porkador
El Porkador is Fat Pig's villain identity, his main enemy is Wingman and commits crimes around cities, such as robbing banks. He is used by the pigs as an weapon to defeat the birds and steal the eggs, however, Terence is always there to help and defeat him.
Appearance
Fat Pig wears a red Lucha Libre mask with silver lines that lead into a fork left eye hole part and knife right eye hole part and with a cracked egg symbol seen on his forehead.
He also wears a red underwear with two silver diagonal lines.
Game Appearances
Angry Birds Space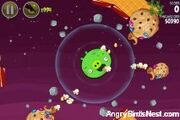 In Angry Birds Space, he is first found in Cold Cuts.
Angry Birds Toons
He first appears in the El Porkador! episode from Angry Birds Toons.
Angry Birds Friends
He appears in the Wingman Tournament in Angry Birds Friends as El Porkador! and he appears in the Bird Cup Tournament 2014 with a soda drinker hat watching soccer in the levels. He then appeared as the Cyporkador on the Wingman Tournament II, where he is part machine and part pig, along with Cyborg pigs.
He also appeared in the Junk Food Tournament, where he is strong and burps when defeated. In this tournament, his appearance is different, he lacks spots and his body form is oval-shaped rather than a circle.
Piggy Tales: Third Act
A similar fat pig appears in Piggy Tales: Third Act. It seems that he loves pancakes and does not dance the Tango
gracefully.
He first appears in Batter Up, eating pancake dough that Chef Pig makes.
He then reappears in Let's Tango trying to dance the Tango with a regular-sized pig.
He then reappears again in For Pig's Sake, sitting in a chair and obstructing the view of a pig.
His last appearance is in Final Curtain, being attracted again by pancake dough.
Angry Birds Classic
He appears in the King Pig Golden Egg level. He portrays Terence in one of the
minigames.
Gameplay
He has the same strength as Terence and makes a pig sound like all of the playable pigs.
Angry Birds Seasons
Fat Pig appears dressed as El Porkador in the Comicon Pig Day level. He is easy to be popped and He has the same strength as he has in Space. Unlike in Space, he doesn't have facial expressions.
Gallery
Appearances
Games
Trivia
v • e Pigs/Enemies
Main Pigs

( • • • Accessorized Pigs • Special Pigs) • • • •

Angry Birds

 ·

 ·

 ·

 ·

 ·

 ·

 ·

Angry Birds Seasons

 ·

 ·

 ·

Angry Birds Rio

 ·

 ·

Angry Birds Friends

• • • • • • • • • • • • • • • • • • • • • • • • • • • • • • • • • • • • • • •

Angry Birds Space

 ·

 ·

 ·

Bad Piggies

 ·

 ·

 ·

 ·

Angry Birds Star Wars & II

???

Angry Birds Epic

???

Angry Birds Transformers

???

Angry Birds Stella

 ·

 ·

 ·

 ·

 ·

 ·

 ·

 ·

 ·

 ·

 ·

 ·

 ·

 ·

Angry Birds Fight!

 ·

Reaper Pig

 ·

 ·

Magician Pig

 ·

Paladin Pig

Others

 ·

 ·

 ·

 ·

 ·

 ·

 ·

Tiny Minion Pig

 ·

Piglets

 ·
Main Article |

Staff

| Glitches | Gallery | Unused Content | Version History | Achievements | Prereleases (Lite) | Re-releases (Lite Beta | Free |

Kakao

| China | Time Travel)
Playable characters
Non-playable characters
Enemies
Episodes

Power-up University

|

Mighty Eagle University

|

Tutorial

|

Poached Eggs

* |

Mighty Hoax

* |

Danger Above

* |

The Big Setup

* |

Ham 'Em High

* |

Mine and Dine

* |

Surf and Turf

* |

Bad Piggies

* |

Red's Mighty Feathers

* |

Short Fuse

* |

Flock Favorites

* |

Bird Island

** |

Piggy Farm

|

Jurassic Pork

** |

Birdday Party

* |

Birdday 5

* |

Golden Eggs

|

Bonus Levels

|

Magic

|

Magic Places†

Items

Accessories

|

Billy

|

Coins

|

The Eggs

|

Gems

|

Golden Eggs

|

Golden King Pig

|

Power-Ups

(

Super Seeds

,

King Sling

,

Sling Scope

,

Birdquake

,

Score Doubler

,

Shockwave

,

Mighty Red

,

TNT Shield

) |

Sardine

|

Slingshot

|

Star

Gimmicks and obstacles

Balloon

|

Billy

|

Cake

|

Dice

|

Donut

|

Easter Egg

|

Gift

|

Glass

|

Greek pillar

|

Grey block

|

Potion

|

Pumpkin

|

Rubber

|

Stone

|

TNT

|

Treasure chest

|

Water

|

Wood

Game modes
Short movies
Music

Albums

Angry Birds (Original Game Soundtrack)

Tracks

Other

Bird Island

(

Bird Island Beach

,

Eagle Mountain

) |

Piggy Island

(

Cobalt Plateaus

,

Desert Island

,

Great Cliffs

,

Pig City

,

Pig Mines

,

South Beach

) |

Lives

* - Episode is in Classic World in the Chinese version | ** - Episode is in New World in the Chinese version | † - Indicates unused content | - Indicates exclusivity to the Chinese version | - Indicates exclusivity to Angry Birds Time Travel | - Indicates exclusivity to the Kakao version | - Indicates exclusivity to the version of Classic in Angry Birds Trilogy
Main article | Gallery | Beta elements | Version history | Achievements | Credits | Re-releases (Free, HD, Free HD,

China

)
Playable characters
Angry Birds (Bomb (Shockwave*), Bubbles, Chuck, Hal, Matilda, Red (Homing Bird, Telebird*), Stella, Terence (Wingman), The Blues) | Minion Pigs | Tony*
Non-playable characters
Mighty Basketball | Mighty Dragon | Mighty Eagle | Ruby* | Unnamed female white bird*
Enemies
Chef Pig* | Corporal Pig | Foreman Pig | King Pig | Minion Pigs
Episodes
Ragnahog* | Hammier Things* | Piggywood Studios* | Summer Camp* | Marie Hamtoinette* | Fairy Hogmother* | Pig Days | Ski or Squeal* | Invasion of the Egg Snatchers* | Tropigal Paradise* | On Finn Ice* | Ham Dunk | South Hamerica | Arctic Eggspedition | Abra-Ca-Bacon | Winter Wonderham | Haunted Hogs | Back to School | Piglantis* | Cherry Blossom | Year of the Dragon | Wreck the Halls | Ham'o'ween | Moon Festival | Summer Pignic | Easter Eggs | Go Green, Get Lucky | Hogs and Kisses* | Season's Greedings | Trick or Treat
Items
Bird Coins* | Egg | Powerup (

Allaka-BAM

, Homing Bird, Power Potion,

Score Doubler

,^ Shockwave*, Sling Scope, Telebird*) | Sardine | Slingshot
Gimmicks and obstacles
Glass | Greek pillar | Stone | TNT | Water | Wood
Music
Albums
Angry Birds Seasons (Original Game Soundtrack)
Songs
"Peace Song 2011" | "Peace Song 2012: Fly Me Home Tonight" | "Peace Song 2013: Ode to Snow" | "Peace Song 2014: Santamental Me"
Other
Angry Birds: A Halloween Special | Angry Birds: Christmas Special | Angry Birds: Moon Festival | Angry Birds: Wreck the Halls | Angry Birds: Year of the Dragon | Box2D |

Destruction gauge

| Earth (

Antartica

, Europe (Finland* (Helsinki*)), South America) | Level Failed | Moon | Piggy Island | Piggy kingdom
*Appears in the international mobile version only
^Appears in the Chinese

version

only
v • e
Protagonists
• • ( • • ) • () • • • • • () • • • • • • Sonam Kapoor Bird • Matt Damon Bird • • • VIXX • • • • • •
Antagonists (Accessorized Pigs)
( • • • ) • • • • • • • • • • • • • • • • • • • • • • • • • • • • • • • • • • • • • • • • • •
Materials and Objects
• • • • • • • • • • •
Power-Ups
• • • • • • • • •

TNT Presents

• • • •
Episodes

Other
Tournaments • Events • Star Cup • Bird-O-Matic • Ports (

Mobile Port

•

Windows 10 Port

) • Achievements • • • Gallery (Textures & Sprites) •

Glitches

• Unused Content • Version History
Main article | Gallery | Beta elements | Version history | Achievements |

Credits

| Glitches | Re-releases (Free,

HD

,

Free HD

, VR)
Playable characters
Angry Birds (Bomb (Space Bomb), Bubbles (

Cosmic Bubbles

), Chuck (Lazer Bird), Red (Super Red), Terence (The Incredible Terence, Wingman), The Blues (Lightning Birds)) | Space Egg
Non-playable characters
King Pig | Mighty Eagle (Mighty Buzzard, Space Eagle)
Enemies
Corporal Pig | Foreman Pig | Hektor Porko | Space Pig
Episodes
Pig Bang | Cold Cuts | Fry Me to the Moon | Utopia | Red Planet | Pig Dipper | Cosmic Crystals | Beak Impact | Brass Hogs | Solar System | Eggsteroids | Danger Zone
Bosses

Pig Bang boss

|

Cold Cuts boss

| Fat Pig |

Red Planet boss

|

Pig Dipper boss

|

Space Pig

|

Beak Impact boss 1

|

Beak Impact boss 2

|

Brass Hogs boss

Items
Egg |

Eggsteroid

|

King Pig's UFO

|

Nest

| Powerup (Flock of Birds, Pig Puffer, Space Egg, Wingman) | Slingshot
Gimmicks and obstacles
Glass | Stone | TNT | Water | Wood
Music

Angry Birds Space (Original Game Soundtrack)

Other
Angry Birds Comics (2016) #9 | Angry Birds Space: A Furious Flight into the Final Frontier | Angry Birds: Birds in Space | Angry Birds Space: Planet Block | Angry Birds Space comic |

Destruction gauge

| Earth (Piggy Island) | Star