This page or section is in need of cleanup.

In order to meet the

Angry Birds Wiki

's standards, this article, Food or a section of it, needs to be cleaned up. You can help Angry Birds Wiki by

editing it

and cleaning it up as soon as possible, then removing the cleanup tag.
For other uses, see Food (disambiguation).
Food are objects in various games and instances throughout the Angry Birds franchise.
Donuts
Donuts are objects and planet bases. They are donuts coated in pink frosting. They appear in the planet Utopia and other levels.
They also appear in Angry Birds. They appear in various places such as level 3-21 of Poached Eggs with the King Pig and in Birdday Party Cake 2 Level 15 on the far right.
Donuts can also be found in Angry Birds Seasons, two examples being level 1-9 of Haunted Hogs and level 1-12 of Easter Eggs.
They appear in Angry Birds Friends as well, including in the center of Level 6 of Week 191 in the Weekly Tournament, with two variations, the Donut Pig, that is the mix of a pig and a donut that acts as a enemy in the Pig Day Tournament and the golden donut, that gives 5000 points when detroyed in the Junk Food Tournament.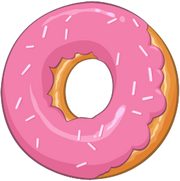 Waffle Wall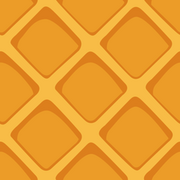 Waffle Walls are the textures of Utopia. They are indestructible, even by Space Eagle. They appear only in Utopia. They are made out of waffles and appear in various shapes, some of they come with syrup.
Gallery
Trivia
The Waffle Walls were Wafer Walls before, but they were later replaced with Waffle Walls. Chocolate and Honey were suggested to be the liquid that was dipping from it but syrup was chosen.
Key Lime Pie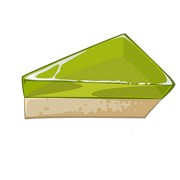 Key Lime Pies appear in the planet Utopia, in the game Angry Birds Space. Key Lime Pies are indestructible. Also, Key Lime Pies are shown variously in the second page of the planet of utopia. They are a bit bouncy, but work more as a object to hold things such as bouncy strawberry jelly or structures.
Appearence
They are a piece of pie with lime jello on top.
Jell-O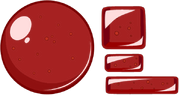 Jell-O is a material used in Angry Birds Space. It is first seen in Utopia 4-1 . They appear in most levels of Utopia and some levels of Red Planet. Jell-O is like trampoline in ABO. Like other objects, this object cannot be be destroyed.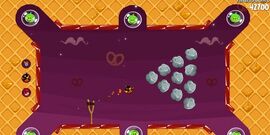 Lollipop

Lollipops are special items worth 3000 points in Utopia in Angry Birds Space. They are destroyed with any bird, except for Blue Bird. The Lollipops also appear as special items in bubbles when you get 3 stars on all the levels, plus the Space Egg Bonus Levels (Excluding the Danger Zone), and get 100% Total Destruction by using the Space Eagle to get feathers in all the levels, plus the Sardine Can Bonus Levels (NOTE: This was from V 1.3.1 and Onward).
Gallery
Popcorn
Popcorn is a recurring food in the Angry Birds Series.
In Angry Birds Space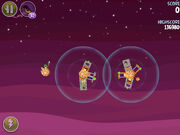 In Angry Birds Space, popcorn and kernels debut in level 4-3. Popcorn mainly starts as a kernel, and then when a bird hits it it will turn into three pieces of popcorn, similar to the ice meteorites on the planet Cold Cuts. Popcorn is only seen on the planet Utopia.
In level 4-30, there's a popcorn maker (In the format of a kebab) which produces popcorn to Fat Pig. Hitting it will make explosive popcorn, which is harmful to the pig.
In Angry Birds Seasons, popcorn is debuted as a small, easy to destroy object. It appears in some levels, but the main level that it appears is in the Popcorn Day Level from Pig Days. There is also a sack with popcorn object, but it's also easy to destroy. However, the sack and popcorn are not separated.
In Angry Birds Friends
In Angry Birds Friends, they are small objects that are easy to destroy. They don't give a bunch of points. They debuted in the Movie Hype Tournament and appeared more commonly in the tournaments ever since.
There's also a popcorn sack and it's also easy to destroy.
Tomatoes

Tomatoes are seen in Angry Birds Telepizza. They are 1000 points. They also appear in some Eggsteroids levels in Angry Birds Space that have a varying amount of points.
Cake
Cakes are Items in Birdday Party. They are worth 3000 points when destroyed. In the latest update of Angry Birds, an exploding cake appears, but when you hit it, it turns into frosting-like balls, similar to TNT Crates. But they don't explode. Also, in the current version, they won't award you points. There's also a special cake in level 18-15 of Birdday Party that can be collected as a reward.
In Angry Birds Seasons, they also appear and are worth the same number of points. There are different types but give the same number of points.
They also appear in Angry Birds Friends, where are more found commonly. They worth 5000 points when destroyed. There are a lot of variations of the cake.
In Bad Piggies, they are used to feed King Pig and are the objective of Rise and Swine.
Gallery
Cookie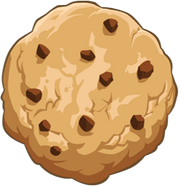 Cookies are objects that appear oftenly in the Angry Birds series . They serve as planets in Utopia and some are made out of gingerbread.
Angry Birds Seasons
The cookies appear in the game as Gingerbread Cookies, they come in the shape of Red, Pig, Star, Flower and Heart. They are easy to destroy.
Angry Birds Space
Cookies appear in Utopia as planets, they are like normal cookies with chocolate drops, they come various sizes and sometimes work as terrain for the Slingshot.
Gingerbread Cookies appear in the Holiday Tournaments, they formerly had their Angry Birds Seasons designs, but since the Hogiday Tournament , they have new design with some of them having more colours and one shaped like an egg.
Cookie Planets appear in the background of the Space section of the game.
Gallery
Ham
Ham occurs in Angry Birds Classic. It seems to be false. It appears in many levels, an example includes Poached Eggs or Mighty Hoax. You get 500 points if you destroy it. They appear mainly in the Bacon Day level of Angry Birds Seasons's Pig Days episode, where various of them appear.
They aren't very easy to destroy, but they can be easily destroyed with Terence.
(view: v)
Main article | Gallery | Beta elements | Credits | Glitches | Version history | Achievements | Re-releases (Lite, Lite Beta, Free, HD Free, Free with Magic, HD, PSP, Roku, Free with Magic, Trilogy, Samsung Smart TV, Kakao, China, Hatch, Time Travel, Tencent QQ, Talkweb, Rovio Classics)
Playable characters
Angry Birds (Bomb (Shockwave), Bubbles, Chuck, Hal, Matilda, Red (Mighty Feathers Red), Stella, Terence, The Blues) | Minion Pig | Small Pig | Jetpack Pig | Bomb Pig | Bowling Ball Pig | Beaked Pig | Fat Pig | Balloon Pig | Female Pig
Non-playable characters
Mechanic Pig | Mighty Eagle | Ross | Rhinoceros
Enemies
Corporal Pig | Egg | Foreman Pig | King Pig | Leonard | Minion Pigs
Episodes
Normal
Tutorial | Poached Eggs | Mighty Hoax | Danger Above | The Big Setup | Ham 'Em High | Mine and Dine | Surf and Turf | Bad Piggies | Red's Mighty Feathers | Short Fuse | Flock Favorites | Bird Island | Piggy Farm | Jurassic Pork | Birdday Party (Birdday 5) | Golden Eggs | Bonus Levels*** | Magic**
New World*
Happy New Year | Naughty Christmas | Lunar New Year of the Golden Pig | Wandering Planet | Summer: Back to the Beach
Classic World*
Year of the Goat | Moon Fest
Other
Power-up University | Mighty Eagle University
Items
Coins | Egg | Gems | Golden Egg | Power-up (Birdquake, King Sling, Power Potion, Score Doubler*, Shockwave, Sling Scope,

TNT Shield

) | Sardine | Slingshot | Lives****
Gimmicks and obstacles
Balloon | Beach ball | Cake | Cardboard cutout | Dice | Gift | Glass | Greek pillar | Potion | Stone | TNT | Treasure chest | Water* | Wood
Modes
Daily Challenge (Angry Birds Time Travel**) | Golden King Pig | The Mighty League
Music
Albums
Angry Birds (Original Game Soundtrack)
Tracks
"Angry Birds Theme"
Other
"Angry Birds Cinematic Trailer" | "Angry Birds & the Mighty Eagle" | "Angry Birds Bing Video" | "Bomb Bird: Short Fuse" | Box2D |

Destruction gauge

| Earth (Bird Island (Bird Island Beach, Eagle Mountain), Piggy Island) | Level Failed | Piggy kingdom | Rovio Account | Angry Birds: Hatching a Universe | Winnable Objects
*Appears in the Chinese version only
**Appears in Angry Birds Time Travel only
***Appears in Angry Birds Trilogy only
****Appears in Angry Birds for Kakao only
Main article | Gallery | Beta elements | Version history | Achievements | Credits | Re-releases (Free, HD, Free HD, Windows Phone, China)
Playable characters
Angry Birds (Bomb (Shockwave*), Bubbles, Chuck, Hal, Matilda, Red (Homing Bird, Telebird*), Stella, Terence (Wingman), The Blues) | Playable Pig* | Tony*
Non-playable characters
Little Timmy | Mighty Basketball | Mighty Dragon | Mighty Eagle | Penguins* | Postman Pig* | Ruby* | Santa Claus | Striped Bird | Unnamed female white bird*
Enemies
Chef Pig* | Clown Pig | Corporal Pig |

Dummy Pig

| El Porkador | Female Pig* | Foreman Pig | King Pig | Minion Pigs (Guard Pigs*) | Octopus Pig* | Scarecrow Pigs
Episodes
Ragnahog* | Hammier Things* | Piggywood Studios* | Summer Camp* | Marie Hamtoinette* | Fairy Hogmother* | Pig Days | Ski or Squeal* | Invasion of the Egg Snatchers* | Tropigal Paradise* | On Finn Ice* | Ham Dunk | South Hamerica | Arctic Eggspedition | Abra-Ca-Bacon | Winter Wonderham | Haunted Hogs | Back to School | Piglantis* | Cherry Blossom | Year of the Dragon | Wreck the Halls | Ham'o'ween | Moon Festival | Summer Pignic | Easter Eggs | Go Green, Get Lucky | Hogs and Kisses* | Season's Greedings | Trick or Treat | Exclusive Levels +
Seasons
Season 2016* | Season 2015* | Season 2014 | Season 2013 | Season 2012 | Season 2011 | Season 2010
Items
Bird Coins* | Egg | Golden Eggs (Ultrabook™ Egg) | Powerup (Allaka-BAM, Homing Bird, Power Potion, Score Doubler^, Shockwave*, Sling Scope, Telebird*) |

Present

| Sardine | Slingshot
Gimmicks and obstacles
Easter Egg | Glass | Greek pillar | Lava* | Stone | TNT | Water | Wood
Music
Albums
Angry Birds Seasons (Original Game Soundtrack) |

Best of Angry Birds Seasons

Songs
"Peace Song 2011" | "Peace Song 2012: Fly Me Home Tonight" | "Peace Song 2013: Ode to Snow" | "Peace Song 2014: Santamental Me"
Cinematic Trailers
Season's Greedings Short Movie | Summer Pignic Short Movie | Ham'o'ween Short Movie | Wreck the Halls Short Movie | Year of the Dragon Short Movie | Meet the Pink Bird | Trick or Tweet |

On Finn Ice Short Movie

Other
Angry Birds: A Halloween Special | Angry Birds: Christmas Special | Angry Birds: Hatching a Universe | Angry Birds: Moon Festival | Angry Birds: Wreck the Halls | Angry Birds: Year of the Dragon | Angry Birds Trilogy | Bird Wear | Box2D |

Destruction gauge

| Earth (Antarctica, Bird Island* (Mighty Eagle's cave*), Europe* (Finland* (Helsinki*)), Piggy Island (Pig City*), South America) | Level Failed | Moon | Piggy kingdom | Power-Up Test Site | The Pig Challenge
*Appears in the international mobile version only
^Appears in the Chinese version only
+Appears in Angry Birds Trilogy only
Main article | Gallery | Beta elements | Version history | Achievements | Credits | Glitches | Re-releases (Free, HD, Free HD)
Playable characters
Angry Birds (Space Flock), (Bomb (Space Bomb), Bubbles (Atomic Bird), Chuck (Lazer Bird), Ice Bird, Red (Super Red), Terence (The Incredible Terence, Wingman), The Blues (Lightning Birds)) | Space Egg
Non-playable characters
Darth Maul | King Pig | Mighty Eagle (Mighty Buzzard, Space Eagle) | Slash Bird | Skunkbird | Toucan Sam
Enemies
Space Pigs (Corporal Pig, Foreman Pig, Hektor Porko, Minion Pig) | Spacecraft Pig | S.P.A.R.K.
Episodes
Pig Bang | Cold Cuts | Fry Me to the Moon | Utopia | Red Planet | Pig Dipper | Cosmic Crystals | Beak Impact | Brass Hogs | Solar System | Eggsteroids | Danger Zone | Froot Loops Bloopers (limited time)
Bosses
Pig Bang boss |

Cold Cuts boss

| Fat Pig | Red Planet boss | Pig Dipper boss | Alien Pig |

Beak Impact boss 1

|

Beak Impact boss 2

|

Brass Hogs boss

Items
Egg | Eggsteroid |

King Pig's UFO

| Nest | Powerup (Flock of Birds, Pig Puffer, Space Egg, Wingman) | Slingshot |

Space Egg Cannon

Gimmicks and obstacles
Glass | Stone | TNT | Water | Wood
Music
Angry Birds Space (Original Game Soundtrack)
Other
Angry Birds Comics (2016) #9 | Angry Birds Space: A Furious Flight into the Final Frontier | Angry Birds: Birds in Space | Angry Birds Space: Planet Block | Angry Birds Space comic | Angry Birds Space VR | The Daily - Birds in Space | Angry Birds Space: Colors |

Angry Birds Space: Numbers

|

Angry Birds Space: Maze Mania

|

Learn to Draw: Angry Birds Space

|

Angry Birds Space Joke Book

|

Angry Birds Space: Search and Find

| The Angry Birds Friends Golden Egg Level |

Destruction gauge

| Earth (Piggy Island) | Star | Angry Birds Space Assault! | Angry Birds: Hatching a Universe | Winnable Objects | Rocket Science Show