These are Angry Birds related food merchandise.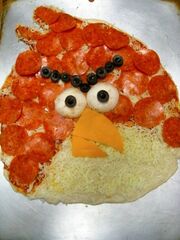 Fruit Snacks
There have been a few different companies that Rovio has partnered with for fruit snacks.
Popping/Exploding Candy
Back in around February 2013, a company called "Healthy Food Brands" distributed popping candy in many different forms, such as in chocolate bars, packets and boxes with the Angry Birds Classic and Star Wars licenses.
Ice Cream
There also have been other Ice Cream brands as well, like Nestle (Israel) and Wells Enterprises (North America).

The frozen yogurt (also known as "fro-yo") was a partnership between TCBY and Rovio in mid-2018 that brought many character branded flavors and toppings to their locations.
In 2019 for the release of The Angry Birds Movie 2, Rovio and Dairy Queen partnered to manufacture custom Blizzard cups of Red, Chuck, Silver and Minion Pigs.
Nabisco
Around 2014, Rovio partnered with Nabisco to introduce Angry Bird related food products like Honey Maid's and Cheese Nips.
McDonalds
During the release of The Angry Birds Movie in Singapore, McDonalds created the "Super Red Burger" that included Lettuce, tomatoes, egg, yellow sauce, crispy chicken and a red bun. The box that held the burger contained Red with his arms attached to the sides of the box. There were also custom McDonald's Happy Meal toys and boxes to go with the promotion.
Gullon
During 2012-2013 and 2016, Gullon made Angry Birds themed Dibus and Tuesties.
Hostess
During the wait for The Angry Birds Movie 2 in one year, Rovio and Hostess partnered to advertise the game series on pastry goods such as Twinkies. This promo gave the buyer $5 worth of free gems in the game plus a chance to win a trip of 4 to Hawaii sponsored by Delta Airlines.[1]
Cereal
Near the release of Angry Birds Go, Myllyn Paras introduced some Angry Birds cereals. During the release of the Angry Birds Movie 2 in 2019, Rovio partnered with [Brand Unknown] to bring the people of Egypt Angry Bird themed versions of popular cereal types, titled "Angry Birds: ___ (Invading, Landing + Exploring) Egypt".
There was also another company called "Sweetbox Factory" that released Angry Birds-branded cornflake cereal for the (at the time) upcoming release of The Angry Birds Movie 2.
Pez
Around 2013, Rovio and Pez Candy partnered to make an exclusive box set that had Angry Bird characters on them like Red, Stella, Minion Pig, Bomb and more. They also have made custom Pez dispensers for the The Angry Birds Movie and its sequel during 2016 and 2019.
Donuts
Around mid to late 2020, Rovio and Stokson Modern Bakery partnered to create mini donuts for promoting the Angry Birds Movie 2. These seem to only be released in Poland however. Also Prior to that around 2013, Rovio and Fazer created Angry Birds styled pastries as well, but with the classic designs on them. There were also Mooncakes released during 2011 in China.
Jello
A company named Jacky Makupala introduced some Angry Birds themed Jello and pudding cups.
Chips
Around 2012, Rovio and Poco Loco partnered together to create Angry Birds shaped corn chips that were Ketchup and salted flavored. Partnerships with other companies like Frito Lays also occurred during this time as well.
Drinks
Rovio has also partnered with beverage manufacturers as well, including Surprise Drinks (Strawberry Kiwi and Apple).
Pepsi Co.
During October of 2019 Pepsi Co. and Rovio partnered to incorporate The Angry Birds Movie 2 characters in halloween costumes. There was a Bird Code on the packaging so the buyer can use the Angry Birds Explore app to take "Halloween Selfies" with different AR filters.
Sources & References