"Mud, stinky puddles, rubbish rotting in the street - this city gets more disgusting every day... I love it!"
— Foreman Pig, Angry Birds Comics #8
Foreman Pig, also known as Moustache Pig, Grandpa Pig or Boss Pig,[7] is a character that appears in the Angry Birds series. He is a pig and a member of the Piggy kingdom.
Appearance
In his original design, Foreman Pig is a wide, oval-shaped, lime-colored pig with two large eyes with black pupils and a large orange moustache underneath his snout. Originally, he had two floating, white eyebrows, though they were later changed to orange ones. In Angry Birds Toons, this design was slightly changed to be triangular. He now has green skin with several darker spots, and his right eye has a cyan pupil, as if he had heterochromia.
In The Angry Birds Movie, Foreman Pig was given an anthropomorphic body. He now has an egg-shaped torso that is connected to this head without a neck, and his skin is lime once again. In addition, he was given a yellow-colored hard hat with a blue pig snout on it. He also wears a black belt with brown pockets and a brown bag that has large, dark gray nails in it. Future releases would occasionally switch between this newer design and the one from Angry Birds Toons.
When he was younger, Foreman Pig was much smaller than now, having a square-shaped body with a soft, lime skin. He had wider eyes, and a smaller moustache.[1]
Personality
Foreman Pig is a dedicated and responsible person. However, this sometimes makes him bossy, as he is constantly giving the Minion Pigs orders. He is very loyal to his superiors, as he has no doubt in helping King Pig with any problem he has no matter how ridiculous it is. Foreman Pig is also notable for being a very persistent person, as he never gives up, no matter how many times has he failed in something. Nevertheless, he can also be somewhat lazy, as he does not like building and instead sends other pigs to do his job, unlike his ancestors.[2] However, he is very sensible, as being called "ugly" will result in him crying out loud.[6]
Powers and abilities
Despite him not having inherited his ancestors' knack for building,[3] Foreman Pig is an expert at building vehicles, as he has managed to build his own karts and drive them with ease.[8] Similarly, he could build workable traps within seconds and modify them with no problem.[9] He was also able to build a tank of his with his own resources and some of Professor Pig's blueprints, though he lost control of it soon after.[10] In addition, he is quite resistant, having survived explosions, falls from high heights, and even being crushed.[8]
Equipment
Foreman Pig is equipped with lots of building and demolition equipment he can use as weapons;[8] according to himself, he always has spare dynamite.[4]
Relationships
King Pig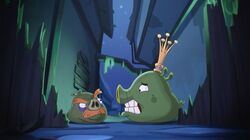 Foreman Pig is incredibly loyal to King Pig. He acts with respect to the monarch, and always tries to find ways to entertain and satisfy him, such as when he wanted to dissimulate a murder case to compensate the destruction of the camera that was playing a detective film that King Pig was enjoying.[11] However, King Pig does not like when Foreman Pig is referred to as his friend.[6] Similarly, Foreman Pig can be annoyed by the monarch's stupidity.
Allies
Neutral
Enemies
References
↑ 1.0 1.1 1.2 Angry Birds (December 16, 2013). Rovio Holiday Special Song "Ode to Snow". YouTube. Retrieved on August 22, 2021.
↑ 2.0 2.1 Angry Birds Comics (2016) #1, "Master Pig Theatre presents: The Three Minionteers"
↑ 3.0 3.1 Scott, Cavan (2013). The World of Angry Birds Official Guide. Puffin Books. 11-12. ISBN 978-1409392699.
↑ 5.0 5.1 Angry Birds Comics (2016) #3, "Chef Pig in... Marketing Strategies for Growth in Uncertain Times"
↑ 6.0 6.1 6.2 Angry Birds Comics #8, "Pair of Kings"
↑ Angry Birds Comics #3, "A Little Off the Top"
↑ 8.0 8.1 8.2 Angry Birds (December 11, 2013). Angry Birds Go! Cinematic Trailer. YouTube. Retrieved on August 28, 2021.
↑ Gallegos, Nedra; De Seve, Mike. "Catching The Blues". Angry Birds Toons. Season 3. Episode 10.
↑ Carney, Ian (July 14, 2013). "Slappy-Go-Lucky". Angry Birds Toons. Season 1. Episode 18.
↑ Lindgren, Niklas; Carney, Ian (April 15, 2016). "The Butler Did It!". Angry Birds Toons. Season 3. Episode 22.
v • e Pigs/Enemies
Game Introductions

Media Introductions

Others
(view: v)
Main article | Gallery | Beta elements | Credits | Glitches | Version history | Achievements | Re-releases (Lite, Lite Beta, Free, HD Free, Free with Magic, HD, PSP, Roku, Free with Magic, Trilogy, Samsung Smart TV, Kakao, China, Hatch, Time Travel, Tencent QQ, Talkweb, Rovio Classics)
Playable characters
Angry Birds (Bomb (Shockwave), Bubbles, Chuck, Hal, Matilda, Red (Mighty Feathers Red), Stella, Terence, The Blues) | Minion Pig | Small Pig | Jetpack Pig | Bomb Pig | Bowling Ball Pig | Beaked Pig | Fat Pig | Balloon Pig | Female Pig
Non-playable characters
Mechanic Pig | Mighty Eagle | Ross | Rhinoceros
Enemies
Corporal Pig | Egg | Foreman Pig | King Pig | Leonard | Minion Pigs
Episodes
Normal
Tutorial | Poached Eggs | Mighty Hoax | Danger Above | The Big Setup | Ham 'Em High | Mine and Dine | Surf and Turf | Bad Piggies | Red's Mighty Feathers | Short Fuse | Flock Favorites | Bird Island | Piggy Farm | Jurassic Pork | Birdday Party (Birdday 5) | Golden Eggs | Bonus Levels*** | Magic**
New World*
Happy New Year | Naughty Christmas | Lunar New Year of the Golden Pig | Wandering Planet | Summer: Back to the Beach
Classic World*
Year of the Goat | Moon Fest
Other
Power-up University | Mighty Eagle University
Items
Coins | Egg | Gems | Golden Egg | Power-up (Birdquake, King Sling, Power Potion, Score Doubler*, Shockwave, Sling Scope,

TNT Shield

) | Sardine | Slingshot | Lives****
Gimmicks and obstacles
Balloon | Beach ball | Cake | Cardboard cutout | Dice | Gift | Glass | Greek pillar | Potion | Stone | TNT | Treasure chest | Water* | Wood
Modes
Daily Challenge (Angry Birds Time Travel**) | Golden King Pig | The Mighty League
Music
Albums
Angry Birds (Original Game Soundtrack)
Tracks
"Angry Birds Theme"
Other
"Angry Birds Cinematic Trailer" | "Angry Birds & the Mighty Eagle" | "Angry Birds Bing Video" | "Bomb Bird: Short Fuse" | Box2D |

Destruction gauge

| Earth (Bird Island (Bird Island Beach, Eagle Mountain), Piggy Island) | Level Failed | Piggy kingdom | Rovio Account | Angry Birds: Hatching a Universe | Winnable Objects
*Appears in the Chinese version only
**Appears in Angry Birds Time Travel only
***Appears in Angry Birds Trilogy only
****Appears in Angry Birds for Kakao only
Main article | Gallery | Beta elements | Version history | Achievements | Credits | Re-releases (Free, HD, Free HD, Windows Phone, China)
Playable characters
Angry Birds (Bomb (Shockwave*), Bubbles, Chuck, Hal, Matilda, Red (Homing Bird, Telebird*), Stella, Terence (Wingman), The Blues) | Playable Pig* | Tony*
Non-playable characters
Little Timmy | Mighty Basketball | Mighty Dragon | Mighty Eagle | Penguins* | Postman Pig* | Ruby* | Santa Claus | Striped Bird | Unnamed female white bird*
Enemies
Chef Pig* | Clown Pig | Corporal Pig |

Dummy Pig

| El Porkador | Female Pig* | Foreman Pig | King Pig | Minion Pigs (Guard Pigs*) | Octopus Pig* | Scarecrow Pigs
Episodes
Ragnahog* | Hammier Things* | Piggywood Studios* | Summer Camp* | Marie Hamtoinette* | Fairy Hogmother* | Pig Days | Ski or Squeal* | Invasion of the Egg Snatchers* | Tropigal Paradise* | On Finn Ice* | Ham Dunk | South Hamerica | Arctic Eggspedition | Abra-Ca-Bacon | Winter Wonderham | Haunted Hogs | Back to School | Piglantis* | Cherry Blossom | Year of the Dragon | Wreck the Halls | Ham'o'ween | Moon Festival | Summer Pignic | Easter Eggs | Go Green, Get Lucky | Hogs and Kisses* | Season's Greedings | Trick or Treat | Exclusive Levels +
Seasons
Season 2016* | Season 2015* | Season 2014 | Season 2013 | Season 2012 | Season 2011 | Season 2010
Items
Bird Coins* | Egg | Golden Eggs (Ultrabook™ Egg) | Powerup (Allaka-BAM, Homing Bird, Power Potion, Score Doubler^, Shockwave*, Sling Scope, Telebird*) |

Present

| Sardine | Slingshot
Gimmicks and obstacles
Easter Egg | Glass | Greek pillar | Lava* | Stone | TNT | Water | Wood
Music
Albums
Angry Birds Seasons (Original Game Soundtrack) |

Best of Angry Birds Seasons

Songs
"Peace Song 2011" | "Peace Song 2012: Fly Me Home Tonight" | "Peace Song 2013: Ode to Snow" | "Peace Song 2014: Santamental Me"
Cinematic Trailers
Season's Greedings Short Movie | Summer Pignic Short Movie | Ham'o'ween Short Movie | Wreck the Halls Short Movie | Year of the Dragon Short Movie | Meet the Pink Bird | Trick or Tweet |

On Finn Ice Short Movie

Other
Angry Birds: A Halloween Special | Angry Birds: Christmas Special | Angry Birds: Hatching a Universe | Angry Birds: Moon Festival | Angry Birds: Wreck the Halls | Angry Birds: Year of the Dragon | Angry Birds Trilogy | Bird Wear | Box2D |

Destruction gauge

| Earth (Antarctica, Bird Island* (Mighty Eagle's cave*), Europe* (Finland* (Helsinki*)), Piggy Island (Pig City*), South America) | Level Failed | Moon | Piggy kingdom | Power-Up Test Site | The Pig Challenge
*Appears in the international mobile version only
^Appears in the Chinese version only
+Appears in Angry Birds Trilogy only
Main article | Gallery | Beta elements | Version history | Achievements |

Credits

Playable characters
Angry Birds (Bomb, Bubbles, Chuck (Rocket Bird), Hal, Matilda, Red (Samba Burst), Stella (Shakira Bird**), Terence, The Blues) | Blu | Jewel
Non-playable characters
Felipe | Foreman Pig | Luiz | Mauro | Nigel | Mighty Eagle | Minion Pigs | Rafael
Merchandise and marketing only characters
Charlie | Gabi | Nico & Pedro (Nico, Pedro)
Enemies
Caged Birds | Caged Dolphins | Marmosets
Episodes
Rio
Smugglers' Den | Jungle Escape | Beach Volley | Carnival Upheaval | Airfield Chase | Smugglers' Plane | Market Mayhem | Golden Beachball
Rio 2
Rocket Rumble | High Dive | Blossom River | Timber Tumble | Hidden Harbor | Treasure Hunt
Others
Playground | Bonus Levels*** | Awards Room
Bosses
Nigel (Jungle Escape) | Mauro (Carnival Upheaval) | Nigel (Smugglers' Plane) | Mauro (Market Mayhem) |

Blossom River boss

Items
Coins | Egg |

Golden Anchor

| Golden Fruit |

Golden Gear

|

Golden Rocket

|

Golden Treasure Chest

| Power-up (Call the Flock, Power Potion, Samba Burst, Sling Scope, TNT Drop, Score Doubler*) | Sardine | Slingshot
Gimmicks and obstacles
Balloon | Beach ball | Glass | Sand | Stone | TNT | Water | Wood
Songs
"Angry Birds Rio Samba" | "Angry Birds Rio 2 Theme"
Other
Super Bowl Golden Egg | Earth (Piggy Island, South America (Brazil (Rio de Janeiro))) | Level Failed! | Moon | Star | Free version | Angry Birds Trilogy | Angry Birds: Hatching a Universe
Key
* - Exclusive to the Chinese version, ** - Unused, *** - Exclusive to Angry Birds Trilogy
v • e
Playable characters
• • ( • ) • () • • • • • () •
Non-playable characters
• • • • • Sonam Kapoor Bird • Matt Damon Bird • • • VIXX • • • • • • • • •
Enemies (Accessorized Pigs)
( • • • ) • • • • • • • • • • • • • • • • • • • • • • • • • • • • • • • • • • • • • • • • • • • • •
Materials and Objects
• • • • • • • • • • • • •
Power-Ups
• • • • • • • • • • • • • •
Episodes

Other
Tournaments • Events • Star Cup • Bird-O-Matic • Ports (Mobile Port • Windows 10 Port) • Achievements • • • Angry Birds Shop • Gallery • Glitches • Unused Content • Version History • Angry Birds: Hatching a Universe
Main article | Gallery | Beta elements | Version history | Achievements | Credits | Glitches | Re-releases (Free, HD, Free HD)
Playable characters
Angry Birds (Space Flock), (Bomb (Space Bomb), Bubbles (Atomic Bird), Chuck (Lazer Bird), Ice Bird, Red (Super Red), Terence (The Incredible Terence, Wingman), The Blues (Lightning Birds)) | Space Egg
Non-playable characters
Darth Maul | King Pig | Mighty Eagle (Mighty Buzzard, Space Eagle) | Slash Bird | Skunkbird | Toucan Sam
Enemies
Space Pigs (Corporal Pig, Foreman Pig, Hektor Porko, Minion Pig) | Spacecraft Pig | S.P.A.R.K.
Episodes
Pig Bang | Cold Cuts | Fry Me to the Moon | Utopia | Red Planet | Pig Dipper | Cosmic Crystals | Beak Impact | Brass Hogs | Solar System | Eggsteroids | Danger Zone | Froot Loops Bloopers (limited time)
Bosses
Pig Bang boss |

Cold Cuts boss

| Fat Pig | Red Planet boss | Pig Dipper boss | Alien Pig |

Beak Impact boss 1

|

Beak Impact boss 2

|

Brass Hogs boss

Items
Egg | Eggsteroid |

King Pig's UFO

| Nest | Powerup (Flock of Birds, Pig Puffer, Space Egg, Wingman) | Slingshot |

Space Egg Cannon

Gimmicks and obstacles
Glass | Stone | TNT | Water | Wood
Music
Angry Birds Space (Original Game Soundtrack)
Other
Angry Birds Comics (2016) #9 | Angry Birds Space: A Furious Flight into the Final Frontier | Angry Birds: Birds in Space | Angry Birds Space: Planet Block | Angry Birds Space comic | Angry Birds Space VR | The Daily - Birds in Space | Angry Birds Space: Colors |

Angry Birds Space: Numbers

|

Angry Birds Space: Maze Mania

|

Learn to Draw: Angry Birds Space

|

Angry Birds Space Joke Book

|

Angry Birds Space: Search and Find

| The Angry Birds Friends Golden Egg Level |

Destruction gauge

| Earth (Piggy Island) | Star | Angry Birds Space Assault! | Angry Birds: Hatching a Universe | Winnable Objects | Rocket Science Show