Template:Theme Infobox
Fry Me to the Moon 3-6 
is the sixth level in 
Fry Me To the Moon
.
Difficulty
The Corporal Pig can be tricky.
Strategy
For Fry Me To the Moon 3-6, fire Terence just within the gravitational field of the northwest planet. As he loops around, he will hit the pillar very high, hopefully popping all of the pigs on the east side. His girth should carry him around and additionally pop the pig on the southern edge of the planet. If you leave a pig or two on the east side, you may be able to get them with the next shot. Fire the Blue bird relatively close to the northwest planet, but just above it. This should give you a perfect line to the mustache pig.
Trivia
This is the only level in the episode with a Corporal Pig.
Walkthrough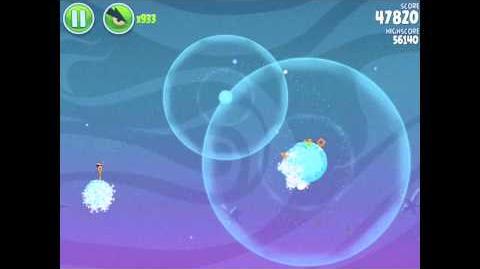 Angry Birds Space
Levels
Eggsteroids
Episode Key : Blue = Pig Bang; Cyan = Cold Cuts; Lightblue = Fry Me to the Moon; Pink = Utopia; Salmon = Red Planet; Lightgreen = Pig Dipper; Purple = Cosmic Crystals; RoyalBlue = Beak Impact
Community content is available under
CC-BY-SA
unless otherwise noted.