Garry
Gender
Male
Species
Pig (Sus Scrofa Domesticus)
Size
Small
Abilities
Shoots 2 Coffee Cups
Strength
Moderate
First appearance
The Angry Birds Movie 2
Latest appearance
Angry Birds Reloaded
Voiced by
Sterling K. Brown
Garry is a pig who appeared in The Angry Birds Movie 2 and Angry Birds Reloaded as a major character. He is voiced by Sterling K. Brown.
Appearance
He is a short green pig who has a dark green mustache below his snout, a goatee of the same color below his mouth, and dark green hair that seems to be wet. He wears orange glasses, a beige jacket with a white tank top or T-shirt, and white shoes. He seems to always bring a coffee cup with him.
Personality
Garry seems to be one of the smartest pigs of them all. He is great at inventing tools, such as Invisi-Spray and other crazy inventions. He is a big friend of Leonard, helping him and the birds. He also seems to be very serious and speaks with a British accent.
Game Appearences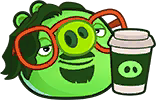 Garry appears in this game as a playable character in numerous levels in all 3 Eagle Island episodes. His power is a reskin of The Blues but he instead shoots two coffee cups.
Gallery
Garry appeared in Angry Birds Friends! on the Prank Wars Tournament , where he was a normal Medium Pig with hair, goatee and glasses, however, items could appear separately. He had no special ability or strength, remaining  the same as of a Medium Pig.
Garry appeared in Angry Birds Tennis as an opponent. Like all the characters, he used a 3D model that is new. He played tennis the same way as the other characters but his special power is unknown as he is unplayable.
Trivia
Sterling K. Brown, who voices Garry, would later go on to work with Josh Gad, the voice of Chuck, on the Disney movie: Frozen 2.
Gallery
v • e Pigs/Enemies
Main Pigs

( • • • Accessorized Pigs • Special Pigs) • • • •

Angry Birds

 ·

 ·

 ·

 ·

 ·

 ·

 ·

Angry Birds Seasons

 ·

 ·

 ·

Angry Birds Rio

 ·

 ·

Angry Birds Friends

• • • • • • • • • • • • • • • • • • • • • • • • • • • • • • • • • • • • • • •

Angry Birds Space

 ·

 ·

 ·

Bad Piggies

 ·

 ·

 ·

 ·

Angry Birds Star Wars & II

???

Angry Birds Epic

???

Angry Birds Transformers

???

Angry Birds Stella

 ·

 ·

 ·

 ·

 ·

 ·

 ·

 ·

 ·

 ·

 ·

 ·

 ·

 ·

Angry Birds Fight!

 ·

Reaper Pig

 ·

 ·

Magician Pig

 ·

Paladin Pig

Others

 ·

 ·

 ·

 ·

 ·

 ·

 ·

Tiny Minion Pig

 ·

Piglets

 ·