Template:Epic Infobox Level Template:LevelIntroEpic
Enemies
These data are only applicable when attempting the dungeon for the first time. Subsequent attempts will scale the stats based on your current level and whether you chose the Normal mode or the Elite mode.
Unless stated otherwise, there is only 1 of each type of enemy. Each enemy's stats are shown below per wave.
Wave 1
The player has to engage 4 Ghosts, 1 Ship's Kobold and 1 Poltergeist.. Each enemy's stats are shown below.
---
---
Wave 2
---
---
---
Wave 3
The player has to engage 1 Banshee, 2 Poltergeist and 1 Ghost.. Each enemy's stats are shown below.
---
---
Wave 4
The player has to engage 1 Undead Pirate Captain and 4 Ship's Kobolds.. Each enemy's stats are shown below.
---
Wave 5
---
Strategy
Note: This strategy assumes you have yet to clear this dungeon.
It is recommended to be at a higher level before attempting this dungeon. Once you have done that, choose any birds you would like (recommended would be Matilda for healing, Chuck for multiple attacks, or Jay, Jake, and Jim as spies for multiple targets) plus your friend's bird (Or Piggy McCool if you don't have any friends). Once that is done, follow the strategy below.
Attack all enemies but make sure all of them can be easily defeated within two turns of the first knocked out enemy. You might have to leave all of them alive as you wear them down so be sure to heal your birds with cakes and potions if they need so.
When you reach wave 3 and wave 4, there is a Banshee and a Undead Pirate Captain respectively. Prioritize them first, otherwise, they can call for additional reinforcements that can overwhelm you.
For the final wave, try to knock out the Zombie Knight so to keep your attack high.
In Summary
All enemies in this level are undead so it is best to use an attack that can target multiple enemies. Also, the Spirit Caller is a stronger version of the Necromancer, since his main attack can also deal damage over time.
Gallery
Walkthroughs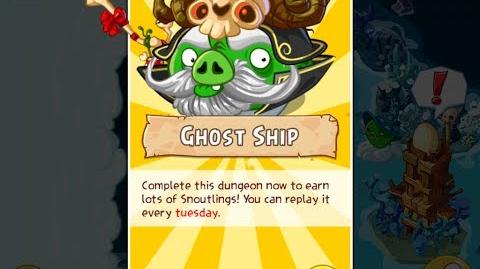 Errors
Before version 1.2.6, the level's board of information would have appeared every time the player cleared Star Reef - 5.
Community content is available under
CC-BY-SA
unless otherwise noted.