Template:Theme InfoboxGo Green, Get Lucky 1-7 is the 7th level of "Go Green, Get Lucky". Maybe one of the easiest levels in Go Green, Get Lucky, Theme P-7 includes three boulders that can be sent of the side of the cliff into a structure below by setting off some TNT. This level is almost entirely made of glass objects making the level easy with the amount of Blue Birds supplied. Loads of pigs are in this level so getting to each and one of them may seem tricky, but isn't hard at all.
Three Star Strategy
This level is quite simple so you shouldn't have trouble figuring out how to get three stars. Firstly, fire the first Blue Bird at the boulders splitting at the right moment hitting the TNT. Watch the boulders destroy the middle structure and the use the last two Blue Birds to destroy the other remaining glass structures.
Video Walkthrough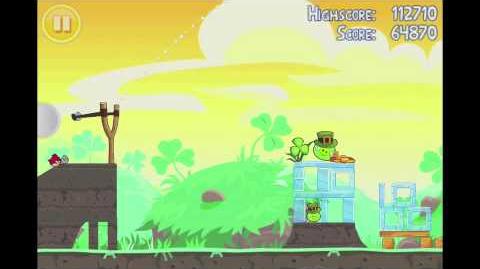 Community content is available under
CC-BY-SA
unless otherwise noted.