This page is a stub article

This article is a stub. You can help Angry Birds Wiki by expanding it and adding more information as soon as possible, then removing the stub tag.
Not to be confused with Golden Eggs.
For the episode, see The Golden Egg.
The Golden Egg is an artifact from Stella Toons. There are 3 known golden eggs located on the golden island. The locations of the eggs were contained within a book (which came with the golden crown). The Golden Egg has the ability to turn objects to gold and then turn them back to its original form. Unfortunately as a side effect, with every item the egg would turn to gold, even more, things across the island were turned to stone. The first Golden Egg was found in a secret garden and was later carried away by butterflies. The second Golden Egg was located within a tunnel system inside a volcano, Gale managed to claim it but lost it shortly after when the tunnels collapsed. The third golden egg was located on a pedestal, inside a cave, guarded by a large monster and its baby. Dahlia was first able to steal the egg by swapping it with a fake, but soon after the monsters came and reclaimed it. Later, Gale got a hold of it and discovered its powers upon accidentally turning the big monster into gold with it, Gale later escaped the cave with the Golden Egg. Gale then began turning a sort of items into gold, but as a result, was turning the whole island to stone. Anyone who defied Gale was turned into a gold statue. During a fight with Stella, Gale was turned into gold by the egg And then turned back into normal by Stella. Gale then ran away in fear of the egg, never to be seen again. Later, Stella's Flock used the egg to reverse the damage done to the island and then immediately launched the egg from the slingshot into the ocean. It was never ever seen again.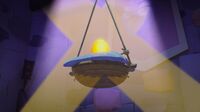 Appearances
Gallery
Trivia
The Golden Egg's ability is possibly a reference to the story of the Midas Touch, a story about a king who made a wish to make everything he touches to turn into gold.
Golden Island was probably named after the Golden Egg.
The Golden Egg is actually so powerful it turned a large part of the island and Artist Pig into stone. It can also turn objects into gold.
v • e
Protagonists
• • • • • •
Antagonists
• • • • • • • • • • • • • •
Materials and Objects
• • • • • • • • • • • •
Levels
Miscellaneous
• • New Pigs on the Block • Lost and Found Items • Cutscenes • • •
Further Info
Achievements • Comic-Con Trailer • Gallery (Textures & Sprites) • Glitches • Original Soundtrack • Unused Content • Version History
Other Media
Comic Series • Angry Birds Stella Diaries • Stella: Nana and the Magic English Words • Stella Super Interactive Annual 2015 •
Community content is available under
CC-BY-SA
unless otherwise noted.