Golden Egg Level 16 is the sixteenth Golden Egg Level in Angry Birds. This level contains car-like structures and a big building containing quite a lot of TNT Crates.
How to Obtain
Go to The Big Setup 11-15. You need to zoom out to see it. The Golden Egg is at the bottom right of the level. Waste the two Big Brothers and shoot the Boomerang Bird backward and boomerang himself back to the Golden Egg.
How to Complete
Simply shoot the Big Brother Bird to the vertical glass block on the left of the second floor of the building. It will cause a chain that will pop all of the pigs in the level. Sometimes, the two far-left and far-right pigs will still alive so you need to retry several times to complete.
Video Walkthrough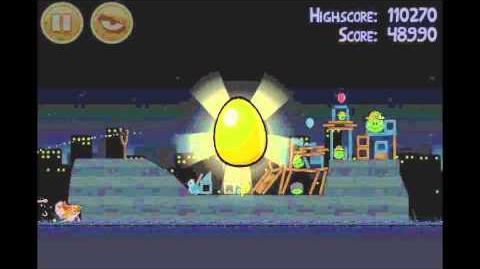 Template:GoldenNav