Golden Egg Level 25 is obtained by getting threeStars on all levels of Mine and Dine.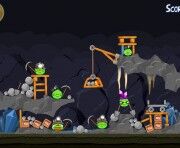 Star walkthrough
Shoot The Big Brother Bird so he hits the pig with the jewel on his head hiding behind the shovel handles.Stalactites will then fall from the sky, crushing all the Pigs.
Trivia
This is the first Golden Egg Level that requires all the stars of a chapter to be collected that does not involve a visual puzzle.
Template:GoldenNav