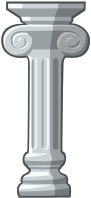 Greek Pillars are Items appearing in Angry Birds. They are the strongest of all the items.

Strategy
While the pillars are difficult to break (usually using around 2-3 Bombs) and limit the areas the Birds can reach, their main disadvantage is that usually there are not many of them in a level. Also, they do not protect the materials below nor above them. This allows birds to attack from above and in certain circumstances, below, causing it to fall down, leaving the rest of the structure unprotected. However, if one drops an egg bomb with Matilda and subsequently crashes the Corpse into the pillar, it will break.
They also appear in the Ancient Greece Tournament from Angry Birds Friends, where they are harder to destroy and come in different sizes. They made a recent comeback in The Ad-Hams Family Tournament.
Trivia
They are modeled after Ancient Greek pillars (more specifically, the 

Ionic style

) supporting monuments.
Main article | Gallery | Beta elements |

Credits

| Glitches | Version history | Achievements | Re-releases: Lite, Lite Beta, Free,

Kakao

, China, Time Travel
Playable characters
Angry Birds (Bomb (Shockwave), Bubbles, Chuck, Hal, Matilda, Red, Stella, Terence, The Blues) | Corporal Pig | Fat Pig | Female Pig | Minion Pigs
Non-playable characters
Mechanic Pig | Mighty Eagle
Enemies
Corporal Pig | Egg | Foreman Pig | King Pig | Leonard | Minion Pigs
Episodes
Normal
Tutorial | Poached Eggs | Mighty Hoax | Danger Above | The Big Setup | Ham 'Em High | Mine and Dine | Surf and Turf | Bad Piggies | Red's Mighty Feathers | Short Fuse | Flock Favorites | Bird Island | Piggy Farm | Jurassic Pork | Birdday Party (Birdday 5) | Golden Eggs | Bonus Levels*** | Magic**
New World*
Happy New Year |

Naughty Christmas

|

Lunar New Year of the Golden Pig

| Wandering Planet | Summer: Back to the Beach
Classic World*
Year of the Goat | Moon Fest
Other
Power-up University |

Mighty Eagle University

Items
Coins | Egg | Gems | Golden Egg | Power-up (

Birdquake

, King Sling, Power Potion,

Score Doubler

*, Shockwave, Sling Scope,

TNT Shield

) | Sardine | Slingshot | Lives****
Gimmicks and obstacles
Balloon | Beach ball | Cake | Dice | Gift | Glass | Greek pillar | Potion | Stone | TNT | Treasure chest | Water* | Wood
Modes
Daily Challenge (Angry Birds Time Travel**) | Golden King Pig | The Mighty League
Music
Albums

Angry Birds (Original Game Soundtrack)

Tracks
"Angry Birds Theme"
Other
"Angry Birds Cinematic Trailer" | "Angry Birds & the Mighty Eagle" | "Bomb Bird: Short Fuse" | Box2D |

Destruction gauge

| Earth (Bird Island (Bird Island Beach, Eagle Mountain), Piggy Island) | Level Failed | Piggy kingdom
*Appears in the Chinese version only
**Appears in Angry Birds Time Travel only
***Appears in Angry Birds Trilogy only
****Appears in

Angry Birds for Kakao

only
v • e
Protagonists
• • • • • • • • • • • • • • • • • • • •
Antagonists (Accessorized Pigs)
( • • • ) • • • • • • • •
Materials and Objects
• • • • • • • • • • • • • • • • • • • • • • • • • • • •
Power-Ups
• • • • * • •
Episodes

Cinematic Trailers
• • • • • • •
Comics
Moon Festival Comic • Ham'o'ween Comic • Christmas Comic • Year of the Dragon Comic
Songs
"Peace Song 2011" • "Fly Me Home Tonight" • "Ode to Snow" • "Santamental Me"
Other
Achievements • • • Cutscenes • Free version • Gallery • Glitches • List of Levels • • Soundtrack • • Unused Content • Version History
Key
* - Exclusive to the Chinese version