"Uh, did we win?"
— Hal, The Angry Birds Movie
Hal[note 1] is an emerald toucanet who serves as the seventh member of Red's Flock in the Angry Birds franchise. He was introduced in the episode Danger Above and has continued to appear in multiple Angry Birds games since; however, he remains as a lesser-represented character in the series. Hal's defining trait is his ability to boomerang back, usually due to him opening his beak wide open, though he sometimes does not need to activate his ability by doing this. Hal's personality has varied within the Angry Birds franchise, as he has been shown to be a young and clumsy character in some media, while being depicted as an older, wiser one in others; however, he is consistently shown to love adventure and plays the banjo as a hobby.
Appearance
Hal has a huge, orange beak (being the only bird in Red's flock with a beak color other than yellow). He has three top black feathers, like Matilda, and three spiky black feathers on his back (like Chuck). He has two eyes on either side of his beak with medium-sized eyebrows, and pure white chest feathers. In his earlier cartoon appearance he gains a three black thick brows in each sides, green eyes, his huge beak are dark yellow and orange and his feathers is medium green.
In Angry Birds Toons and Angry Birds Go!, Hal appears to have a near resemblance to a real Toucanet and now have black linings in each sides and gains a yellow eyebags on his eyes. He does not have the three top black feathers on his head and his huge beak is now in a different shades of orange. His feathers are now emerald green and his white stomach is not seen.
In The Angry Birds Movie, Hal appears as a green anthropomorphic Emerald Toucanet and is a combination between his classic game counterpart and his earlier cartoon appearance. His beak reverts back into orange and has orange feet. His black feathers on top is now green as the feathers at the back is also green and his stomach is now pale beige instead of white.
Personality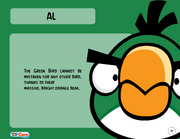 Hal has been inconsistent in terms of his personality, with different media showing different depictions of the character.
In multiple instances, like the Angry Birds Comic Series, Hal is shown as a very mature character. He is shown to have a deep love for the pleasures in life, as when he is found he is usually with his banjo or camping. He is a rather adventurous bird, and in Angry Birds Go!, he wears an adventurer's hat (which was included in promo art and the game toys and telepods) He finds no desire to be filled with anger and usually doesn't take place in any of the bird's fights with the pigs.
However, in situations like the Summer Pignic short movie, or The Angry Birds Movie, Hal is shown to be an extremely clumsy and goofy character. He is clearly much younger, and in place of a raspy, creaky voice he is given a squeaky, nasally one. Unlike his other, much different personality, this version of him has an extreme desire to become angry and fight the pigs, along with being an actual "angry" bird.
Powers and abilities
Powers
Boomerang - Hal's trademark ability is to spin back like a boomerang.
Tornatoes - Only showcased in Angry Birds Go!, Hal has the ability to summon tornatoes onto a player, significantly weakening them.
Transformation - When the EggSpark crashlanded on Piggy Island, Hal was transformed into Grimlock, Trypticon and Volcanicus.
Abilities
Musician - Hal likes to play the banjo.
Weaknesses
Relationships
Allies

Late Riser Bird

Smurfs

Papa Smurf

Smurfette

Brainy Smurf

Hefty Smurf

Smurfblossom

Smurflily

Neutral

Enemies

EggBot

Army

Unicron Pig

Gargamel

Azreal
Notes
Trivia
Hal did not make his pain noises, but he made Chuck's pain noises when being a corpse, thus making it the only bird without an original pain noise. This is probably because in the games, they have the same voice actor
Hal has a different launch voice in Angry Birds Seasons as of the Ham'o'ween update. However, later versions, along with the PC and Mac versions of Angry Birds Classic have the alternative voice of the bird.
Hal is the only bird that never appeared in Angry Birds Toons.
Hal is comparable to Ice Bird in that they first appeared trapped before being saved by the birds and becoming playable in the next level.
Hal's eyebrows in the older version of his sprite disappear when he blinks.
In Piglantis, Hal's ability does not work when he is underwater. The corpse will appear when the ability is activated.
In Angry Birds Friends, when Hal's boomerang ability is activated, he boomerangs back at a lower angle than in the main games.
v • e Birds and Allies
Game Introductions

Classic

Seasons

Rio

Friends

Space

Star Wars

Star Wars II

Go!

Epic

Stella

Transformers

POP!

AB2

Evolution

Red Birds

Yellow Birds

White Birds

Black Birds

Blue Birds

Mayhem Simulator

Custom Birds

•

Journey

Web Games

Media Introductions

Other

• • • •
(view: v)
Main article | Gallery | Beta elements | Credits | Glitches | Version history | Achievements | Re-releases (Lite, Lite Beta, Free, PSP, Trilogy, Kakao, China, Time Travel, Tencent QQ, Talkweb, Rovio Classics)
Playable characters
Angry Birds (Bomb (Shockwave), Bubbles, Chuck, Hal, Matilda, Red (Mighty Feathers Red), Stella, Terence, The Blues) | Minion Pig | Small Pig | Jetpack Pig | Bomb Pig | Bowling Ball Pig | Beaked Pig | Fat Pig | Balloon Pig | Female Pig
Non-playable characters
Mechanic Pig | Mighty Eagle | Ross | Rhinoceros
Enemies
Corporal Pig | Egg | Foreman Pig | King Pig | Leonard | Minion Pigs
Episodes
Normal
Tutorial | Poached Eggs | Mighty Hoax | Danger Above | The Big Setup | Ham 'Em High | Mine and Dine | Surf and Turf | Bad Piggies | Red's Mighty Feathers | Short Fuse | Flock Favorites | Bird Island | Piggy Farm | Jurassic Pork | Birdday Party (Birdday 5) | Golden Eggs | Bonus Levels*** | Magic**
New World*
Happy New Year | Naughty Christmas | Lunar New Year of the Golden Pig | Wandering Planet | Summer: Back to the Beach
Classic World*
Year of the Goat | Moon Fest
Other
Power-up University | Mighty Eagle University
Items
Coins | Egg | Gems | Golden Egg | Power-up (Birdquake, King Sling, Power Potion, Score Doubler*, Shockwave, Sling Scope,

TNT Shield

) | Sardine | Slingshot | Lives****
Gimmicks and obstacles
Balloon | Beach ball | Cake | Dice | Gift | Glass | Greek pillar | Potion | Stone | TNT | Treasure chest | Water* | Wood
Modes
Daily Challenge (Angry Birds Time Travel**) | Golden King Pig | The Mighty League
Music
Albums
Angry Birds (Original Game Soundtrack)
Tracks
"Angry Birds Theme"
Other
"Angry Birds Cinematic Trailer" | "Angry Birds & the Mighty Eagle" | "Angry Birds Bing Video" | "Bomb Bird: Short Fuse" | Box2D |

Destruction gauge

| Earth (Bird Island (Bird Island Beach, Eagle Mountain), Piggy Island) | Level Failed | Piggy kingdom | Rovio Account | Angry Birds: Hatching a Universe | Winnable Objects
*Appears in the Chinese version only
**Appears in Angry Birds Time Travel only
***Appears in Angry Birds Trilogy only
****Appears in Angry Birds for Kakao only
Main article | Gallery | Beta elements | Version history | Achievements | Credits | Re-releases (Free, HD, Free HD, Windows Phone, China)
Playable characters
Angry Birds (Bomb (Shockwave*), Bubbles, Chuck, Hal, Matilda, Red (Homing Bird, Telebird*), Stella, Terence (Wingman), The Blues) | Playable Pig* | Tony*
Non-playable characters
Little Timmy | Mighty Basketball | Mighty Dragon | Mighty Eagle | Penguins* | Postman Pig* | Ruby* | Santa Claus | Striped Bird | Unnamed female white bird*
Enemies
Chef Pig* | Clown Pig | Corporal Pig |

Dummy Pig

| El Porkador | Female Pig* | Foreman Pig | King Pig | Minion Pigs (Guard Pigs*) | Octopus Pig* | Scarecrow Pigs
Episodes
Ragnahog* | Hammier Things* | Piggywood Studios* | Summer Camp* | Marie Hamtoinette* | Fairy Hogmother* | Pig Days | Ski or Squeal* | Invasion of the Egg Snatchers* | Tropigal Paradise* | On Finn Ice* | Ham Dunk | South Hamerica | Arctic Eggspedition | Abra-Ca-Bacon | Winter Wonderham | Haunted Hogs | Back to School | Piglantis* | Cherry Blossom | Year of the Dragon | Wreck the Halls | Ham'o'ween | Moon Festival | Summer Pignic | Easter Eggs | Go Green, Get Lucky | Hogs and Kisses* | Season's Greedings | Trick or Treat | Exclusive Levels +
Seasons
Season 2016* | Season 2015* | Season 2014 | Season 2013 | Season 2012 | Season 2011 | Season 2010
Items
Bird Coins* | Egg | Golden Eggs (Ultrabook™ Egg) | Powerup (Allaka-BAM, Homing Bird, Power Potion, Score Doubler^, Shockwave*, Sling Scope, Telebird*) |

Present

| Sardine | Slingshot
Gimmicks and obstacles
Easter Egg | Glass | Greek pillar | Lava* | Stone | TNT | Water | Wood
Music
Albums
Angry Birds Seasons (Original Game Soundtrack) |

Best of Angry Birds Seasons

Songs
"Peace Song 2011" | "Peace Song 2012: Fly Me Home Tonight" | "Peace Song 2013: Ode to Snow" | "Peace Song 2014: Santamental Me"
Cinematic Trailers
Season's Greedings Short Movie | Summer Pignic Short Movie | Ham'o'ween Short Movie | Wreck the Halls Short Movie | Year of the Dragon Short Movie | Meet the Pink Bird | Trick or Tweet |

On Finn Ice Short Movie

Other
Angry Birds: A Halloween Special | Angry Birds: Christmas Special | Angry Birds: Hatching a Universe | Angry Birds: Moon Festival | Angry Birds: Wreck the Halls | Angry Birds: Year of the Dragon | Angry Birds Trilogy | Bird Wear | Box2D |

Destruction gauge

| Earth (Antarctica, Bird Island* (Mighty Eagle's cave*), Europe* (Finland* (Helsinki*)), Piggy Island (Pig City*), South America) | Level Failed | Moon | Piggy kingdom | Power-Up Test Site | The Pig Challenge
*Appears in the international mobile version only
^Appears in the Chinese version only
+Appears in Angry Birds Trilogy only
v • e
Playable characters
• • ( • ) • () • • • • • () •
Non-playable characters
• • • • • Sonam Kapoor Bird • Matt Damon Bird • • • VIXX • • • • • • • •
Enemies (Accessorized Pigs)
( • • • ) • • • • • • • • • • • • • • • • • • • • • • • • • • • • • • • • • • • • • • • • • • • • •
Materials and Objects
• • • • • • • • • • • • •
Power-Ups
• • • • • • • • • • • • • •
Episodes

Other
Tournaments • Events • Star Cup • Bird-O-Matic • Ports (Mobile Port • Windows 10 Port) • Achievements • • • Angry Birds Shop • Gallery • Glitches • Unused Content • Version History • Angry Birds: Hatching a Universe
Main article | Gallery | Beta elements | Version history | Achievements |

Credits

Playable characters
Angry Birds (Bomb, Bubbles, Chuck (Rocket Bird), Hal, Matilda, Red (Samba Burst), Stella (Shakira Bird**), Terence, The Blues) | Blu | Jewel
Non-playable characters
Foreman Pig | Luiz | Mauro | Nigel | Mighty Eagle | Minion Pigs | Rafael
Merchandise and marketing only characters
Charlie | Gabi | Nico & Pedro (Nico, Pedro)
Enemies
Caged Birds | Caged Dolphins | Marmosets
Episodes
Rio
Smugglers' Den | Jungle Escape | Beach Volley | Carnival Upheaval | Airfield Chase | Smugglers' Plane | Market Mayhem | Golden Beachball
Rio 2
Rocket Rumble | High Dive | Blossom River | Timber Tumble | Hidden Harbor | Treasure Hunt
Others
Playground | Bonus Levels*** | Awards Room
Bosses
Nigel (Jungle Escape) | Mauro (Carnival Upheaval) | Nigel (Smugglers' Plane) | Mauro (Market Mayhem) |

Blossom River boss

Items
Coins | Egg |

Golden Anchor

| Golden Fruit |

Golden Gear

|

Golden Rocket

|

Golden Treasure Chest

| Power-up (Call the Flock, Power Potion, Samba Burst, Sling Scope, TNT Drop, Score Doubler*) | Sardine | Slingshot
Gimmicks and obstacles
Balloon | Beach ball | Glass | Sand | Stone | TNT | Water | Wood
Songs
"Angry Birds Rio Samba" | "Angry Birds Rio 2 Theme"
Other
Super Bowl Golden Egg | Earth (Piggy Island, South America (Brazil (Rio de Janeiro))) | Level Failed! | Moon | Star | Free version | Angry Birds Trilogy | Angry Birds: Hatching a Universe
Key
* - Exclusive to the Chinese version, ** - Unused, *** - Exclusive to Angry Birds Trilogy
v • e

Playable characters
Angry Birds (The Blues, Bomb, Bubbles, Chuck, Hal, Matilda, Red, Silver, Stella, Terence) | Leonard
Non-playable characters
Hatchlings | Mighty Eagle | Postman Pig
Enemies
Minion Pigs (Special pigs)
Bosses
Chef Pig | Foreman Pig | King Pig | Zeta
World Map locations
Cobalt Plateaus | Pig City | Bamboo Forest
Items
Eggs | Gems | Lives | Apple | Slingshot | Spell (Blizzard, Chili, Golden Duck, Mighty Eagle, Pig Inflator, Sponsored Spells)
Gimmicks and obstacles
Score Multiplier Rank | Bumper | Balloon | Glass | Lava | Rocket | Stone | TNT | Water | Wood
Activities
Daily Challenge | Clans | The Nest | Mighty Eagle's Bootcamp | The Arena | Rowdy Rumble!
Albums
Angry Birds 2 (Original Game Soundtrack)
Other
Angry Birds 2 Creators | Earth (Piggy Island (Bamboo Forest, Cobalt Plateaus, Pig City)) | Star | Level Failed | Gallery | Beta elements | Credits | Glitches | Chapters
Main article | Gallery | Version history | Achievements | Credits | Glitches
Playable characters
Angry Birds (Bomb, Bubbles, Chuck, Hal, Matilda, Red, Silver, Stella, Terence (Wingman), The Blues) | Courtney | Garry | Leonard
Non-playable characters
Chef Pig | Mighty Eagle
Enemies
Corporal Pig | Eagles | Foreman Pig | Leonard | Minion Pigs (Construction Pig) | Zeta | Daft Piggies
Episodes
Bird Island/Piggy Island
Hot Pursuit | When Birds Fly | Party Crashers | Bacon Beach | Bamboom Forest | Wrecks & The City | Pigs In A Banquet
Eagle Island
Frenemies | Enter The Volcano | The Frozen Heart
Secret Area
Off The Menu | Pie Hard | Daft Piggies | Birdnapped
Items
Accessories | Billy | Bird Coins | The Eggs | Power-Ups (Birdquake, Boombox, King Sling, Power Potion, Sling Scope, Wingman) | Slingshot
Gimmicks and obstacles
Balloon | Billy | Cake | Dice | Donut | Easter Egg | Glass | Greek pillar | Grey block | Pumpkin | Rubber | Stone | TNT | Treasure chest | Wood | Sardine
Other
Earth (Bird Island, Eagle Island, Piggy Island (Cobalt Plateaus, Pig City, South Beach)) | Level Failed | Piggy kingdom | Star