Halloween is the tenth event of Angry Birds Epic, which started on October 23, 2015, and ended on November 1, 2015.

There was a total of 20 levels in this event. Each level has a different difficulty.
Collect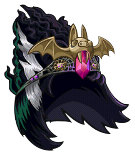 If you want to get Matilda's Witch Class for free, you have to collect 5

, 10, 15

, 15

and 20

. These items are on the Wheel of Fortune on the levels. You can also gain them by watching an ad on the map.
Defeat
Halloween - 1
Halloween - 2
Halloween - 3
Halloween - 4
Halloween - 5
Halloween - 6
Halloween - 7
Halloween - 8
Halloween - 9
Halloween - 10
Halloween - 11
Halloween - 12
Halloween - 13
Halloween - 14
Halloween - 15
Halloween - 16
Halloween - 17
Halloween - 18
Halloween - 19
Halloween - 20
Golden Pig Castle
Enemies
This is a list of enemies you can encounter. Unlike other levels, it is unknown which enemy will appear in a battle because the enemy will be set randomly. All undead enemies are in this event. The other pigs that can be encountered are the Apprentice, Pyropig, Lightning Pig, and a new pig called the Pumpkin Pig.
Coming Soon
Strategy
Choose the birds correctly and defeat the pigs.
Gallery
Walkthroughs
Coming Soon
Trivia
It is the third event featuring a Golden Pig Castle. The first being Into the Jungle.
Events with a mini-map have 2 bosses, staring from the Sonic Dash Event. One is in the middle of the map and the other at the end. The bosses are the Frankenpig and the Dracula King Pig.
Community content is available under
CC-BY-SA
unless otherwise noted.