Harvey is an inanimate character in The Angry Birds Movie 2.
Appearance
Harvey is a camouflage suit in the form of a white-blue eagle. The chest and abdomen have white plumage, and the wings, head, tail consisting of three long feathers, and back are blue. Harvey also has a small fringe in the form of three small blue feathers, a long orange beak hanging down, with an upper row of teeth, and around the two large eyes are small black feathers that mimic eyelashes. The interior is a metal-wood frame, shaped like a cage, to which are attached pedals with a clutch that drives the legs of the suit, and two wooden mock-up hands, ending in white gloves. The disguise is rather cumbersome and accommodates at least three pigs and two birds.
Personality
For the first time, Harvey can be seen as a wooden frame with limbs in the form of large bird paws on Leonard's submarine.
Later a ready-made costume you can notice after the return of Red to the rest of the team members after reconnaissance on Eagle Island. All members of the team suggested to their leader the story "Harvey", but Red refused, submitting that the suit will draw all attention on himself, and he will remain one. After that, he criticized the disguise and went climbing to the top of the extinct volcano, and after him rushed Silver. The rest of the team poisoned it to the main entrance to the base, where due to poor coordination of their nearly declassify the guards, but they still get on base, where they cut it Brad Eagleberger in the bathroom, and then participate in a dance duel with Axel and a little later with the rest of the eagles guards. Then he breaks into force of the uncoordinated actions of Chuck and Leonard.
Game Appearances
Harvey appeared in The Angry Birds Movie 2 event as an unlockable profile picture.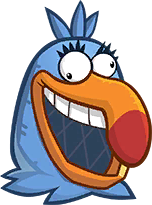 Harvey appears as a playable character with a power like Matilda's. He puts off Courtney, like Matilda's Egg Bomb but unlike Matilda's Egg Bomb, Courtney doesn't explode and because of this, she can destroy more objects, and she has the same strength of Matilda's Egg Bomb.
Gallery
v • e Birds and Allies
Game Introductions

Classic

Seasons

Rio

Friends

Space

Star Wars

Star Wars II

Go!

Epic

Stella

Transformers

POP!

AB2

Evolution

Red Birds

Yellow Birds

White Birds

Black Birds

Blue Birds

Bird Island

Custom Birds

•

Journey

Web Games

Media Introductions

Other

• • • • • Obama Bird
v • e Movie Dimension
Media Introductions

Game Introductions

Holiday

Evolution

Red Birds

Tony

,

Sam

,

Hugh

,

Meryl

,

Walter

,

Timothy

,

Frank

,

Noah

,

Winnie

,

Darlene

,

Margaret

,

Tommy

,

Lady Plume

,

Jasmine

,

Melody

,

Carter

,

Bette

,

Billie

,

Claude

,

Geraldine

,

Ricky "Red Menace" Redtzky

(

Elite Ricky

),

Angry Santa

,

Quentin

,

Muge

,

Fire Rooster

,

Beast

,

Peck Girl

Yellow Birds

Eugene

,

Patrick

(

Patrick the Santa

),

Bob

,

Kumiko

,

Connie

,

Lucy

,

Flavio

,

Mortimer

,

Charlotte

,

Cletus

,

Rod

,

Dalton

,

Derek

,

Gloria

,

Pauline

,

Doris

,

Brenda

,

El Gigante

,

Billy The Blitz

,

Cyril

,

El Jefe

,

Scrooge

,

Theo Walcott

,

Star Quarterback

,

Lady Bacon

,

Cold Turkey

,

Ciara

,

Major Pecker

White Birds

Elite Matilda

,

Kid YOLO

,

Mireille

,

Chip

,

Sadie

,

Hank

,

Capt'n Thrush

,

Millie

, (

Millie The Angel

),

Mikhail

,

Tiffany

,

Tara

,

Harold

,

Clive

,

Thelonius

,

Otis

,

Oliver

,

Jimmy

,

Owlpheus

,

Jacquie

,

Annie

,

Steve

,

Francis

,

Hot Grease

,

Captain Freedom

,

Elite Major Freedom

,

Klaus

,

Fringy

,

Lucha Libre

,

DedSw1n3

,

Dr. Strangebird

,

Master Beakagi

Black Birds

Anthony

,

Monday

,

Pam

,

Dolores

,

Mia

,

Richard

,

Max

,

Tonya

,

Lianne

,

Eddie

,

Shrapnel

,

Earl

,

Duane

,

Ember

,

Keira

,

Kowalski

(

Kowalski the Elf

),

Zain

,

Carson

,

Cenk Tosun

,

Byron

(

Black Metal Byron

),

Bob Boomer

,

Van Hellbird

,

Dutch

,

Xenoflocker

,

Dr. Probotnik

,

Eddie The Bird

Blue Birds

Leland

,

Toby

,

Shirley

,

Sidney

,

Tyler

(

Tyler The Festive Surfer

),

Myles

,

Greg

,

Andrew

,

Amy

,

Eggbert

,

Kim Fli Hy

,

Clint

,

Sinbad

,

Helmut

,

Wade

,

Trey

,

Ron

,

Paige

,

Gylfi Sigurdsson

,

Murphy

,

Birdstilano Eagaldo

,

Angromedon

,

Grandfather Frost

,

Li'l Pecker

,

Heavy Metal Annie

,

Thrash

,

Snow Maiden Marisha

,

Piggy Nian

Pigs

Match

Hatchlings

(

Sandy

•

Dina

•

MC Mintie

•

DJ Tulip

•

Liam

•

Sophia

•

Skip

•

Kerry

•

Kiwi

•

Arianna

•

Gail

•

Phillip

•

Emma

•

Chloe

•

Sparky

•

Corey

•

Ginny

•

Riley

•

Flint

•

Drew

•

Madison

•

Viggo

•

Aria

•

Hailey

•

Alisha

•

Avery

•

Charlie

•

Fluffy

•

Aiden

•

Maya

•

Beth

•

Naomi

•

Sofia

•

Evan

•

Otis

•

Jackson

•

Billy

•

Olivia

•

Matt

•

Abby

•

Alex

•

Angela

•

Lana

•

Lumi

•

Walker

•

Ashton

•

Sven

•

Taiga

•

Crystal

•

Keiko

•

Noam

•

Chara

•

Macario

•

Farah

•

Willie

•

Ninni

•

Theo

•

Cecilia

•

Ellen

•

Miko

•

Sandra

•

Coral

•

Romeo

•

Evian

•

Kiusa

•

Ariel

•

Ahti

•

Walton

•

Banana

•

Tico

•

Mango

•

Bo

•

Baloo

•

Astro

•

Carrie

•

Lazer

•

Mars

•

Cosmo

•

Estella

•

Martin

•

Danny

•

Grace

•

Woody

•

John

•

Mae

•

Tim

•

Morgan

•

Haider

•

Brendan

•

Ellie

•

Jessica

•

Hugo

•

Marek

•

Kayleigh

•

Ellice

•

Tyreese

•

Joely

•

Aaran

•

Codey

•

Lola

•

Phillipa

•

Eben

•

Cathy

•

Kiki

•

Eddie

•

Lou

•

Rixi

•

Pine

•

Rudolph

•

Finn

•

Gabriel

•

Aurora

•

Marina

•

Eugene

•

Paris

•

Amelia

•

Herbert

•

Betty

•

Bonnie

•

Austin

•

Jesse

•

Emmett

•

Iris

•

Sage

•

Polly

•

Storm

•

Jack

•

Embyr

•

Drogo

•

Ryu

•

Hazel

•

Raven

•

Frankie

•

Noelle

•

Jasper

•

North

•

Yang

•

Kai

•

Ling

•

Lily

•

Sunny

•

Buddy

•

Chica

•

Salla

•

Hops

•

Mary

•

Ilia

•

Edward

•

Nugget

•

Cheez

•

Nacho

•

Umbra

•

Scarlet

•

Fae

•

Scott

•

Quincy

•

Mina

•

Rowan

•

Apple

•

Aurelia

•

Annie

•

Ginger

•

Lux

•

Twinkle

•

Lee

•

Mei

•

Gengi

•

Cherry

•

Rose

•

Daisy

•

Popper

•

Lush

•

Mint

•

Yam

•

Toothy

•

Maribell

•

Steve

•

Roger

•

Calypso

•

Chilla

•

Lime

•

Aqua

•

Vicca

•

Lupin

•

Pixie

•

Candy

•

Igor

•

Murray

•

Maple

•

Sienna

•

Crispin

•

Misty

•

Lucy

•

Hammy

•

Hua

•

Bao

•

Lin

•

April

•

Maggie

•

Willy

•

Violet

•

Esther

•

Allan

•

Krissy

•

Elle

•

Anne

•

Devin

•

Charley

•

Vickie

•

Jayson

•

Janelle

•

Emmie

•

Derek

•

Coby

•

Kayley

•

Loki

•

Glenn

•

Mindy

•

Nile

•

Peggy

•

Olly

•

Mitchell

•

Tina

•

Loan

•

Han

•

Mai

•

Jorge

•

Saoirse

•

Ria

•

Harvey

•

Monika

•

Evelyn

•

Milana

•

Jorden

•

Sheena

•

Oceana

•

Derry

•

Priya

•

Bayley

•

Cayson

•

Kara

POP Blast

Bird Island
Main article | Gallery | Version history | Achievements | Credits | Glitches
Playable characters
Angry Birds (Bomb, Bubbles, Chuck, Hal, Matilda, Red, Silver, Stella, Terence (Wingman), The Blues) | Courtney | Garry | Leonard
Non-playable characters
Chef Pig | Mighty Eagle
Enemies
Corporal Pig | Eagles | Foreman Pig | Leonard | Minion Pigs (Construction Pig) | Zeta | Daft Piggies
Episodes
Bird Island/Piggy Island
Hot Pursuit | When Birds Fly | Party Crashers | Bacon Beach | Bamboom Forest | Wrecks & The City | Pigs In A Banquet
Eagle Island
Frenemies | Enter The Volcano | The Frozen Heart
Secret Area
Off The Menu | Pie Hard | Daft Piggies | Birdnapped | Finding Zeta | Midsummer Mayham | Piglantis
Items
Accessories | Billy | Bird Coins | The Eggs | Power-Ups (Birdquake, Boombox, King Sling, Power Potion, Sling Scope, Wingman) | Slingshot
Gimmicks and obstacles
Balloon | Billy | Cake | Dice | Donut | Easter Egg | Glass | Greek pillar | Grey block | Pumpkin | Rubber | Stone | TNT | Treasure chest | Wood | Sardine
Other

Destruction gauge

| Earth (Bird Island, Eagle Island, Piggy Island (Cobalt Plateaus, Pig City, South Beach)) | Level Failed | Piggy kingdom | Star