Haunted Hogs
Info
Release Date:
October 23 2012 (for pc)
Levels:
30
Episode No.:
14
Previous Episode:
Back to School
Next Episode:
Unknown
Game(s):
Angry Birds Seasons
For the similar episode featured in Seasons 2011, see Trick or Treat.
For the similar episode featured in Seasons 2012, see Ham'o'ween.
Haunted Hogs is the fourteenth episode of Angry Birds Seasons, the third episode celebrating Halloween, and the first episode of the Seasons 2013 package. It is rumored to be released in October 23rd, 2012 for iOS and PC.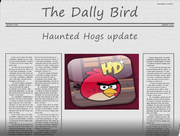 marking the second birthday/anniversery of the Seasons app. Little is known about this episode at this time. It was first revealed on the Game Center leaderboards and was recently reported by
Angry Birds Nest
on October 18, 2012.
Community content is available under
CC-BY-SA
unless otherwise noted.