Hells Bells - 10 is the 210th level of Chronicle Cave in Angry Birds Epic. When the level is finished, the player may spin for a treasure chest. The dark cupid is fought there.
Cutscenes
The dark cupid is defeated and the gate to pirate bay is unlocked.
Cave Effects
Breath of Fire- Deals damage to a random warrior every two turns.
Pigs
Dark Cupid
Reaping Swing
- Deals 736 damage. The Dark Cupid is healed by 2946 health for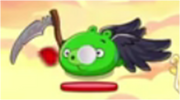 the next three turns.
Shattering Smite- Charge: 3 turns. Deals 7365 damage and 100% chance to stun target for 1 turn. All other enemies receive 3683 damage.
Pig Headed- Passive: Pig is stunned for 1 turn after attacking.
Community content is available under
CC-BY-SA
unless otherwise noted.