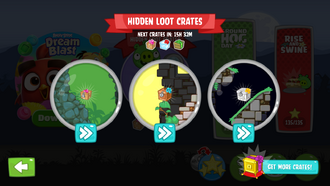 The Hidden Loot Crates are objects in Bad Piggies, being released in the Custom Contraptions update.
Obtaining
Three crates of random types can be found daily. New crates come in 00:00:00 and are available to 23:59:59. There are 7 types of them:
Cardboard (2 items)
Glass (3 items)
Bronze (4 items)
Marble (5 items)
Wood (3 items)
Metal(4 items)
Gold (8 items)
They can be found mainly in the Hidden Loot Crates option, where there are three of them daily and can be found in a level. To ease the find of the crate, the player can watch a video and the level that the crate is located will open and it will be marked in the level's button, or if it isn't unlocked, it will only be marked on the level needed to unlock and the player will go to the section of the crate.
The Icon for where the Loot Crate is located is not precisely where it is, it's an image of the level it's located with a Loot Crate. The Loot Crates are often found in locations where it's almost impossible to get them.
The player needs to hit the crate once to obtain it, which it can only be obtained by Ross, King Pig and the vehicle's Core objects. After the player obtains it, the screen will focus on the crate and the player needs to tap it thrice to open it, giving the items.
The Hidden Loot Crates can also be attracted by the "Magnet" power-up.
Daily Loot Crates
Sunday: 1 Wooden Crate, 1 Glass Crate and 1 Cardboard Crate;
Monday: 1 Marble Crate, 1 Bronze Crate and 1 Cardboard Crate;
Tuesday: 1 Wooden Crate, 1 Glass Crate and 1 Cardboard Crate
Wednesday: 1 Wooden Crate and 2 Glass Crates;
Thursday: 1 Wooden Crates, 1 Glass Crate and 1 Cardboard Crate;
Friday: 1 Bronze Crate, 1 Wooden Crate and 1 Glass Crate and
Saturday: 1 Metal Crate, 1 Bronze Crate and 1 Wooden Crate.
Items
Scrap
Desserts
Power-Ups
1 to 3 Stars Custom Parts
Experience
If you get an item you already have, then it will be replaced by a number of nuts. The scrap (nuts) can be used in the Scrap Machine to get custom parts.
Cake Race
A Crate is awarded to the player when a race is won, the type of the crate varies according to how many points the player has. If the player has more points than the opponent, the better the crate will be.
Afterwards, the Crate will be put in the crate slot and it will be opened for free after some time:
Cardboard Crates: 2 Hours
Glass Crates: 4 Hours
Wooden Crates: 8 Hours
Bronze Crates: 14 Hours
Marble Crates: 24 Hours
Metal Crates: 32 Hours
The crate's time can be speed up with coins. Crates can also be obtained from the Leaderboard:
Piggy Cup (Level 5-9).Reward: Glass Loot Crate.
Helmet Cup (Level 10-14). Top 5 Reward: Wooden Loot Crate.
Mechanic Cup (Level 15-19). Top 5 Reward: Bronze Crate.
Mustache Cup (Level 20-24). Top 5 Reward: Metal Crate.
Chef Cup (Level 25-29). Top 5 Reward: Marble Crate.
King Cup. (Level 30+). Top 5 Reward: Golden Crate.
Credits
A free Wooden Crate can be found in the Credits, just like the Golden Egg in Angry Birds Classic. It awards no experience, however.
Shop
Crates can be bought in the shop:
Wooden Crate: 160 Coins
Metal Crate: $1.79 (Varies according to national currency)
Golden Crate: $3.99 (Varies according to national currency)
The first time before you purchase a wooden crate with coins, you get a free crate. Purchasing Field of Dreams will give you a free Gold Loot Crate.
Cutscene
Notifications
Those notifications warn the player about loot crates:
Have A Crate Day
Don't miss your daily hidden loot crates!
Loot crate unlocked!
Gear up!
Instructional video
Trivia
The Amazon Underground version does not have any videos.
External Links
v • e
Pigs
• •
Supporting Characters
• •
Pig's enemies
• • • • • •
Vehicle Parts
• • • • • • • • • • • • • • • • • • • • • • • • •
Collectables
• • •
Power-Ups
• • • •
Levels

3-1

•

3-2

•

3-3

•

3-4

•

3-5

•

3-6

•

3-7

•

3-8

•

3-9

•

3-10

•

3-11

•

3-12

3-13

•

3-14

•

3-15

•

3-16

•

3-17

•

3-18

•

3-19

•

3-20

•

3-21

•

3-22

•

3-23

•

3-24

3-25

•

3-26

•

3-27

•

3-28

•

3-29

•

3-30

•

3-31

•

3-32

•

3-33

•

3-34

•

3-35

•

3-36

Bonus Levels:

I

•

II

•

III

•

IV

•

V

•

VI

•

VII

•

VIII

•

IX

4-1

•

4-2

•

4-3

•

4-4

•

4-5

•

4-6

•

4-7

•

4-8

•

4-9

•

4-10

•

4-11

•

4-12

4-13

•

4-14

•

4-15

•

4-16

•

4-17

•

4-18

•

4-19

•

4-20

•

4-21

•

4-22

•

4-23

•

4-24

4-25

•

4-26

•

4-27

•

4-28

•

4-29

•

4-30

•

4-31

•

4-32

•

4-33

•

4-34

•

4-35

•

4-36

Bonus Levels:

I

•

II

•

III

•

IV

•

V

•

VI

•

VII

•

VIII

•

IX

5-1

•

5-2

•

5-3

•

5-4

•

5-5

•

5-6

•

5-7

•

5-8

•

5-9

•

5-10

•

5-11

•

5-12

5-13

•

5-14

•

5-15

•

5-16

•

5-17

•

5-18

•

5-19

•

5-20

•

5-21

•

5-22

•

5-23

•

5-24

Bonus Levels:

I

•

II

•

III

•

IV

•

V

•

VI

6-1

•

6-2

•

6-3

•

6-4

•

6-5

•

6-6

•

6-7

•

6-8

•

6-9

•

6-10

•

6-11

•

6-12

6-13

•

6-14

•

6-15

•

6-16

•

6-17

•

6-18

•

6-19

•

6-20

•

6-21

•

6-22

•

6-23

•

6-24

6-25

•

6-26

•

6-27

•

6-28

•

6-29

•

6-30

•

6-31

•

6-32

•

6-33

•

6-34

•

6-35

•

6-36

Bonus Levels:

I

•

II

•

III

•

IV

•

V

•

VI

•

VII

•

VIII

•

IX

R-1

•

R-2

•

R-3

•

R-4

•

R-5

•

R-6

•

R-7

•

R-8

S-1

•

S-2

•

S-3

•

S-4

•

S-5

•

S-6

•

S-7

•

S-8

•

S-9

•

S-10

Minigames
•
Cinematic Trailers
•
Miscellaneous
Cutscenes • • • •
Further Info
Achievements • Angry Birds Classic Episode • Comic • Bad Piggies' Egg Recipes (Gallery) • Gallery • Glitches • Original Soundtrack • The Sequel • Shuffle & Spawn • Unused Content • Version History