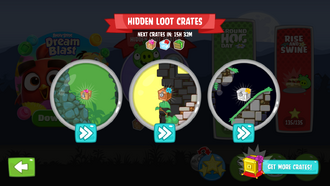 The Hidden Loot Crates are objects in Bad Piggies, being released in the Custom Contraptions update. Three crates of random types can be found daily. There are 7 types of them, listed in a section below. They are also known as Boxes. One must find one via looking at levels, watching a video, buying one in the shop, or winning them in the Cake Race. They can feature alternate items (see Custom Parts), cakes, scrap, Power-Ups or disguises for Ross and King Pig. You can get a 1-star, a 2-star or a 3-star object, as well as an alien one. A wood crate can be purchased for 160 Snout Coins, and the silver and gold crates can be purchased by real money. The loot crates have to be tapped 3 times to open them. Loot Crates reward a certain amount of XP when earned.
The Icon for where the Loot Crate is located is not precisely where it is, it's an image of the level it's located with a Loot Crate. The Loot Crates are often found in locations where it's almost impossible to get them. A wooden loot crate can be found in the credits, Similar to Angry Birds, where you can find a Golden Egg in the credits. However, this loot crate will reward no XP. The Hidden Loot Crates can also be attracted by the "Magnet" power-up. The first time before you purchase a wooden crate with coins, you  get a free crate. Purchasing Field of Dreams will give you a free Gold Loot Crate.
If you get an item you already have, then it will be replaced by a number of nuts. The scrap (nuts) can be used in the Scrap Machine to get custom parts.
Daily Loot Crates
Sunday: 1 Wooden Crate, 1 Glass Crate and 1 Cardboard Crate;
Monday: 1 Marble Crate, 1 Bronze Crate and 1 Cardboard Crate;
Tuesday: 1 Wooden Crate, 1 Glass Crate and 1 Cardboard Crate
Wednesday: 1 Wooden Crate and 2 Glass Crates;
Thursday: 1 Wooden Crates, 1 Glass Crate and 1 Cardboard Crate;
Friday: 1 Bronze Crate, 1 Wooden Crate and 1 Glass Crate and
Saturday: 1 Metal Crate, 1 Bronze Crate and 1 Wooden Crate.
Cutscene
Crate types
Cardboard (2 items)
Glass (3 items)
Copper or Bronze (4 items)
Marble (5 items)
Wood (3 items)
Silver or Metal (4 items)
Gold (8 items)
Instructional video
Trivia
The amazon underground version Does not have any videos.
External Links
Community content is available under
CC-BY-SA
unless otherwise noted.